Here are seven recommended outings on Awaji Island for those without children.
Zenbo Seinei
Zenbo Seinei is a Zen meditation retreat that offers a 360-degree view of nature, healthy vegetarian cuisine, and a program with five themes including calligraphy, incense, and tea ceremonies. It is a mindful experience for adults.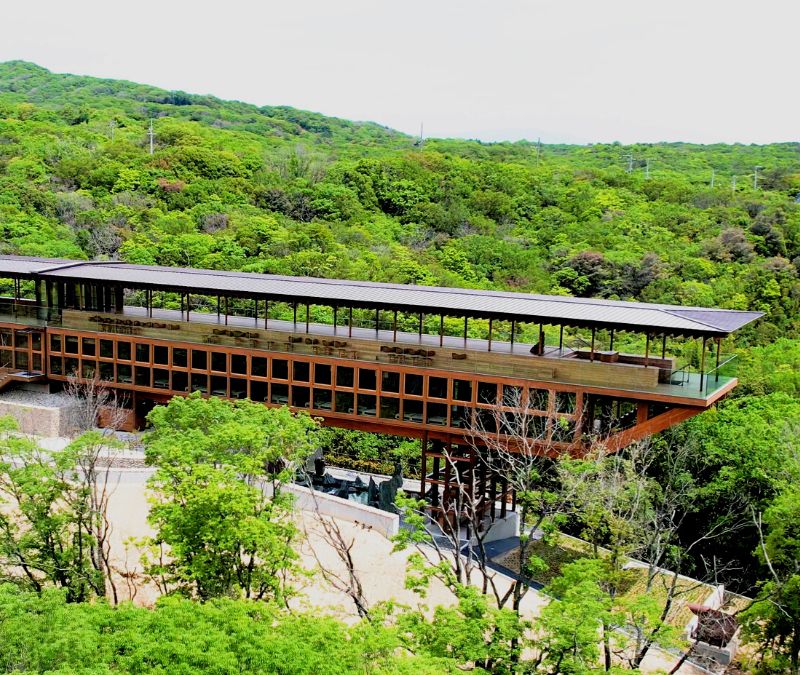 In Zen, you will unify your spirit with a 360-degree view of nature in all four seasons. It will be an "aerial zazen experience," sitting on a 100-meter-long wooden deck made of a combination of Japanese cedar designed by architect Shigeru Ban.
For lunch, congee, tofu, and vegetables are served. In calligraphy, characters are written one by one, stroke by stroke, with single-minded devotion. In the incense ceremony, visitors can appreciate the fragrance of various aromatic woods. In tea ceremony, tea is prepared in a calming manner.
In addition to the one-day plan, there is an overnight plan. The overnight stay plan includes five themes plus "washing the mind" to soak the body in the hot spring to wash and purify the mind, and a room with a wood-scented floor and windows that allow sunlight to shine in.
Please refer to the official website "Zenbo Seinei " for more detailed information, including day trip plans and accommodation plans.
Click here for details of ZEN Wellness SEINEI
Haru San San
Haru San San is a farmhouse restaurant. You can eat and drink in a rich natural setting away from the hustle and bustle of the city. In this earth-friendly space, you can enjoy healthy food and think about sustainability.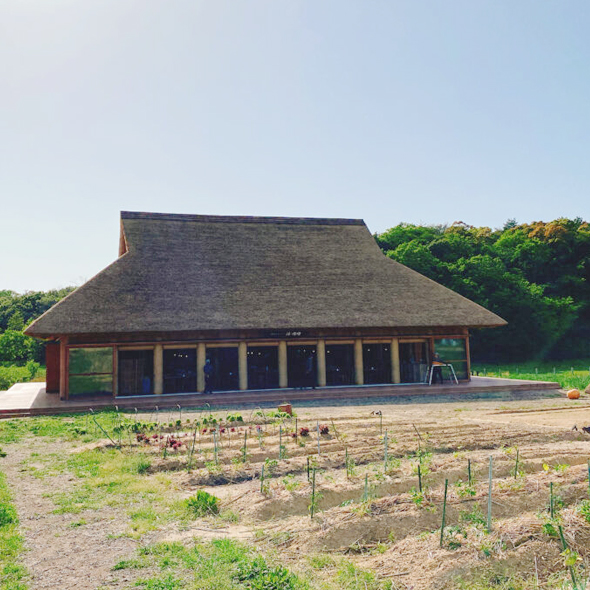 The dishes will be prepared using body- and environment-friendly vegetables grown on the company's own farm, and ingredients grown with care by the producers in the fertile soil. Eating Awaji Island's bounty as a meal in which vegetables play a leading role will help you build a healthy body.
The menu is produced by Chef Nobuaki Fuseki, known for his brewing of vegetables and Japanese herb, and Chef Masayuki Okuda, one of the world's 1000 chefs. The building was designed by a renouwned architect, Shigeru Ban. It features a paper tube framework and thatched roof.
For lunch, we recommend the set lunch, which includes a choice of "field" pasta, seasonal pizza, or meat dish for the main course, salad, and soup. For dessert, we recommend the"field" tiramisu and melt-in-your-mouth tarte chocolat.
Please refer to the official website "Haru Sansan" for more information on business hours, menu, etc.
Click here for details of Haru San San
SEIKAIHA
SEIKAIHA is a theater and restaurant complex including Western and Japanese restaurants, bar & shop, and a theater. It is a place where you can enjoy Japanese culture and traditions of food, history, and performing arts. You can spend an elegant adult time.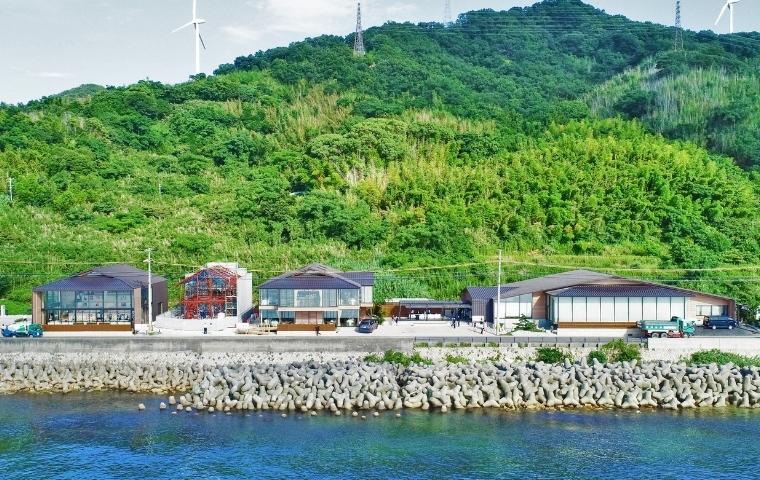 The theme of the Western-style restaurant Uminoya is the classic style of the Meiji era. Western-style dishes interpreted in a Japanese way in the Meiji era are served as full-course meals and a la carte. The atmosphere is glamorous, decorated with chandeliers and antique furnishings.
Seasonal ingredients are the themes of the Japanese restaurant, Aonoya. Nigiri sushi and tempura unique to the island are served. All seats on the tiers face the sea and offer a spectacular view of the Harimanada Sea, chosen as one of the Top 100 Sunsets in Japan.
Theatre "Naminoritei" presents a wide variety of traditional Japanese performing arts. Performances by directors and guests from famous theater companies, Japanese traditional music and animation are presented on a monthly basis. It is a venue for young storytellers and performers to showcase their talents.
The shop and bar "Koshunoya" offer "Koshu", long-aged vintage sake as well as light menus along with pairings selected by a sommelier. In principle, sake, shochu, plum wine, etc. aged for more than 10 years are tasted and sold.
Please refer to the official website "Seikaiha" for detailed information on opening hours and each facility.
Click here for details of SEIKAIHA
Auberge French Forest
Auberge French is a restaurant where you can enjoy French cuisine and stay overnight. It is an extraordinary experience for adults where you can taste French cuisine that brings out the best of Awaji Island's seasonal ingredients in three different buildings with different styles of French cuisine.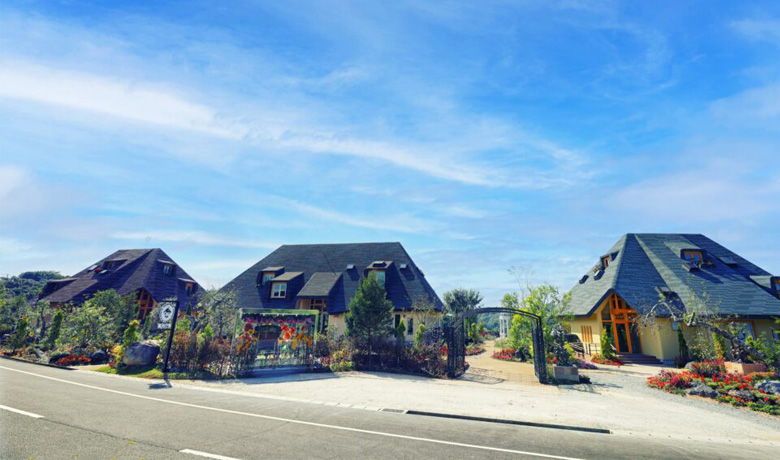 "Grand Baobab" is a casual French restaurant where you can enjoy French cuisine in a casual atmosphere. It offers a fusion of French and Italian cuisine, especially Mediterranean cuisine. Both cuisines are good at bringing out the charm of the ingredients and this is a perfect collaboration.
La Rose is run by an up-and-coming chef who trained at a three-star French restaurant. The restaurant offers a fusion of Japanese and French cuisine.
"Prince Etoile" is an auberge where you can enjoy a fusion of French cuisine and Basque cuisine that lets you feel the ingredients themselves, created by the land and sea of Awaji Island. Both Awaji Island and Basque are are known as an area of "Gourmet Food" and a perfect match.
For more information about opening hours and menu, please refer to the official website "Auberge Frenchnomori".
Click here for details of Auberge "French Forest"
Ocean Terrace
Ocean Terrace is a grill restaurant. You can enjoy fresh meat such as Awaji Beef, the highest brand of Awaji beef, which is famous as a a breeding cattle for brand-name beef in Japan. As the name of the restaurant suggests, you will be impressed with a view of the ocean while dining.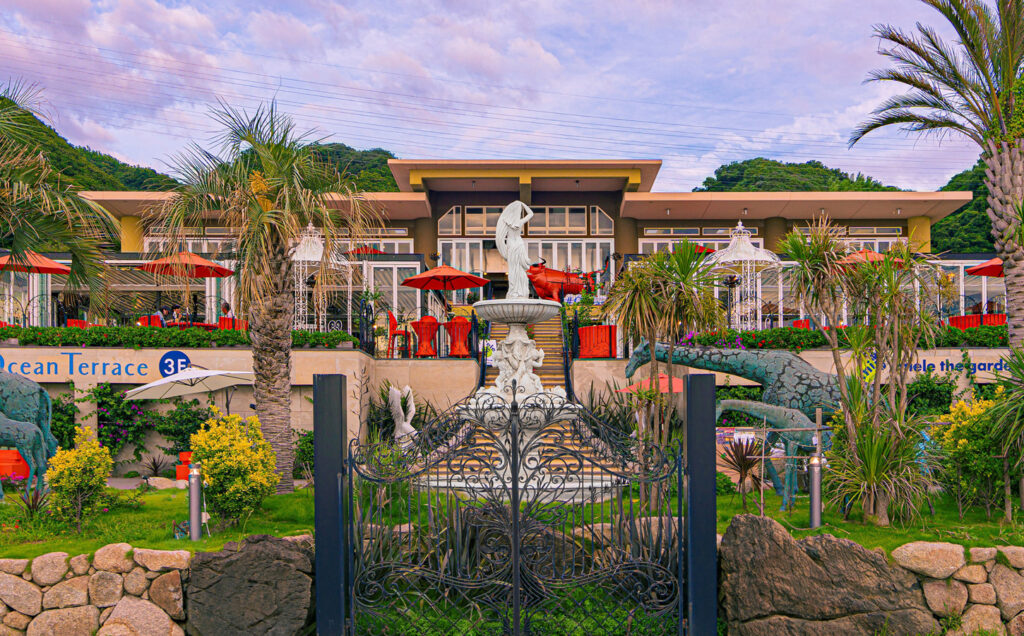 The Premium Full-Course Meal allows you to choose your favorite part and gram from Awaji Beef and Beef from Awaji. It is the first self roast style in Japan. Salad, bread, soup, rice, dessert and drink are included.
Lunch menu includes a meat set lunch, dice steak, steak curry, hamburger and many more. You can taste Awaji beef, which is characterized by its fine fat with a low melting point that is marbled into the fine muscle fibers.
Every Saturday night we hold "Jazz Night", performing live jazz masterpieces. You can enjoy the nightlife of Awaji Island with an exquisite full-course steak dinner and music echoing in the sea at night.
Please refer to the official website "Ocean Terrace" for details on opening hours, menu, etc.
Click here for details of Ocean Terrace
Nojima Scuola
Nojima Scuola is a complex based on the theme of "agriculture, food, learning, and art". Visitors can play with animals, enjoy Italian meals, a dog terrace café, a fresh produce market, and a freshly baked bakery.
The building of the complex is a renovated closed-elementary school.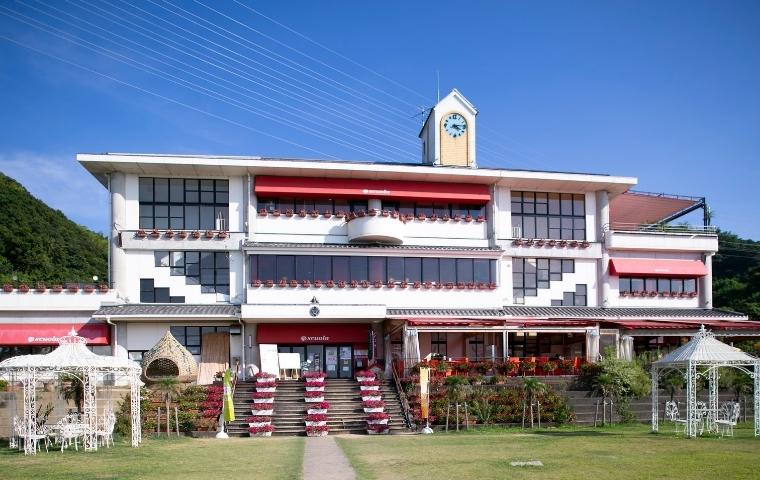 The Italian full-course meals are produced by Chef Masayuki Okuda, one of the world's 1000 chefs who strongly believes in use of local produce, seafood and meats. The freshly baked bread is gentle to the body, with no preservatives or coloring agents, and the ingredients are domestically produced.
The Cafe on the Dog Terrace serves lunch and dolce. There is also a natural grass dog run.
The Market sells about 250 different products, including morning-harvested vegetables and other agricultural products, specialties, and sweets.
A kissing alpaca and an aerial goat are popular for animal petting at the Nojima Zoo. The fluffy, fuzzy guinea pigs are also adorable. An admission fee is required for the zoo.
For more information about opening hours and each facility, please refer to the official website "Nojima Scuola".
Name
Nojima Scuola
Adress
843 Nojimahikinoura, Awaji City, Hyogo Pref. 656-1721
Website
https://www.nojima-scuola.com/
Reservations
2F Ristorante Scuola
https://www.tablecheck.com/en/shops/nojima-scuola/reserve
Tel
0799-82-1820
Operation Hours
1F Marché /Bakery: Weekdays 10:30~19:00
Sat., Sun., & Public Holidays 10:00~19:00

1F Café Scuola: Weekdays Lunch 11:00~14:00/ café 14:00~18:00
Sat., Sun., & Public Holidays breakfast 10:00~11:00
Lunch 11:00~15:00
Café 15:00~18:00

2F Ristorante Scuola: 11:30~15:30 (in by 14:00) / 18:00~21:30 (in by 19:30)

Outdoor Zoo: Weekdays 11:00~16:00
Sat., Sun. & Public Holidays 10:00~16:00 (13:00~14:00 animals in recess)

Closed: Wednesdays (Open on Public Holidays)
Click here for details of Nojima Scuola
Miele
Miele is a café-restaurant with the theme of "health". Original dishes using Awaji ingredients and honey are served. You can enjoy a luxurious adult time with a spectacular view of the Top 100 Sunsets in Japan.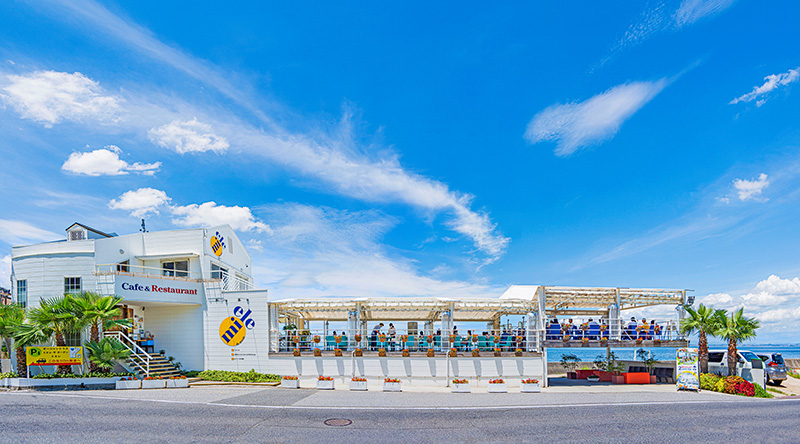 This is an excellent location along the Awaji Sunset Line. From the open wood terrace with ocean view, you can see the blue sky, the sea and the horizon of Harimanada in the daytime, and the sunset over the Seto Inland Sea in the evening.
On the lunch menu, we recommend the Awaji Island Shirasu Pizza with unlimited boiled shirasu (Whitebait) sprinkled on top, the Hachimitsu Mayonara Pizza with unlimited onions, and the Miele Awaji beef premium gourmet burger.
Awaji honey is the main ingredient on the cafe menu, and all menu items can be topped with honey according to your preference. We recommend the "Honey Butter Banana Waffle" and the "Homemade Miele Honey Lemonade".
Please refer to the official website "Miele" for more information on hours of operation, menu, etc.
Name
miele
Adress
785-9 Nojimahikinoura, Awaji City, Hyogo Pref. 656-1721
Tel
0799-80-2600
Operation Hours
Weekdays 11:00~19:00 (L.O.18:30)
Sat., Sun, & Public Holidays 9:30~19:30 (L.O.19:00)
Closed: Tuesdays
In Aug. and Sept. it will not be closed on Tuesdays
Website
https://www.miele-da-scuola.com/
Click here for details of miele
Closing
We have carefully selected the best spots for an outing filled with playful experiences that only adults can enjoy.
Enjoy adult time by enjoying mindfulness experiences, experiencing Japanese culture and performing arts, indulging in classic-style dining, and savoring the taste of fine foods.
Beautify your spirit, experience cultural arts, admire spectacular views, indulge in gastronomy, learn about the SDGs, touch animals, feel agriculture, and enjoy yourself with all five senses.