Nestled in the heart of the Seto Inland Sea, Awaji Island offers a wealth of natural scenic and cultural attractions for visitors to explore. And what better way to experience it than with a bicycle?
Awaji Island holds multiple cycling routes to choose from. In general, roads along the coast are fairly flat while the hilly routes lay in the interior parts. The main route for cyclists to conquer is the "Awaichi" route. A circumnavigation of Awaji Island is 150 kilometers in total distance with approximately 1,500 meters of total elevation change. We interviewed a well-practiced cyclist Alex Thacker, 28, who did the Awaichi route last year and shared his insights on it.
An Interview with Alex Thacker
A Route and Preparation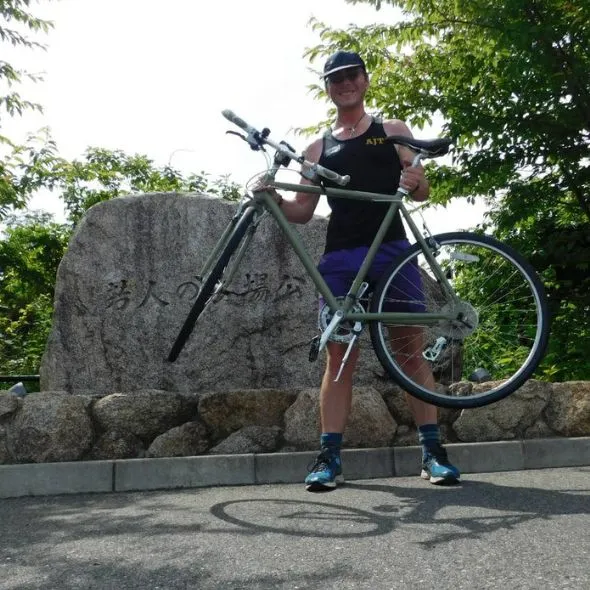 Wanting to explore the local nature and relax on his own, Alex cycled the route in early June by himself. The circumnavigational Awaichi is rather easy to follow since "you're cycling around something there's no chance of really getting lost because you're just following the road" Alex said and therefore he did not use any maps or navigation apps. He also did the route in reverse course. Awaichi is usually biked clockwise, starting from the Northern town of Iwaya, but Alex biked it counterclockwise starting from his housing in the middle of the island because "the southern part is very hilly, so I wanted to get that out of the way".
The route itself is not complex, but as there aren't designated bike lanes beside the island's northern parts it can be a bit hazardous since big trucks use the coastal roads as well. "A lot of times you have to be very conscious of what's behind you", Alex stated. Especially when biking in the southern part of the island since it is already very hilly and the roads are quite narrow. He also gives a word of warning not about the roads but about the scarcely existing konbinis (convenient stores) on the west side of the island. So planning your water and resting stations beforehand will come in handy. Also the best type of a bike for the journey he says would be a hybrid or a road bike since the route is long and too challenging for a mama-chari ("bicycle for mothers") type of a bike.
The people who do Awaichi in one day are "pretty intense" according to Alex, himself included, since he finished the 150 km in 6 hours. "For most people they take their bike on the ferry and start from there and do it all in one day. If you were to do it all at once I recommend being more experienced in biking." If one wants to take it a bit easier there are possibilities to stay the night on the island, splitting the journey to two days or take one of the shorter routes on the northern part of the island. "If someone who's a beginner and wants to cycle around and explore a bit, you can segment the trip into just the top half, where you go from Iwaya, cycle about 10-15 km, and then just loop back". There's less elevation change even though the route goes through the mountain area.
Alex did his biking on a weekday and only came across about five other Awaichi cyclists. "On a weekend it's a lot more popular from what I've heard", he states which makes sense since many of them come from outside of Awaji to do the route as a day trip.
Charming Points of Awaichi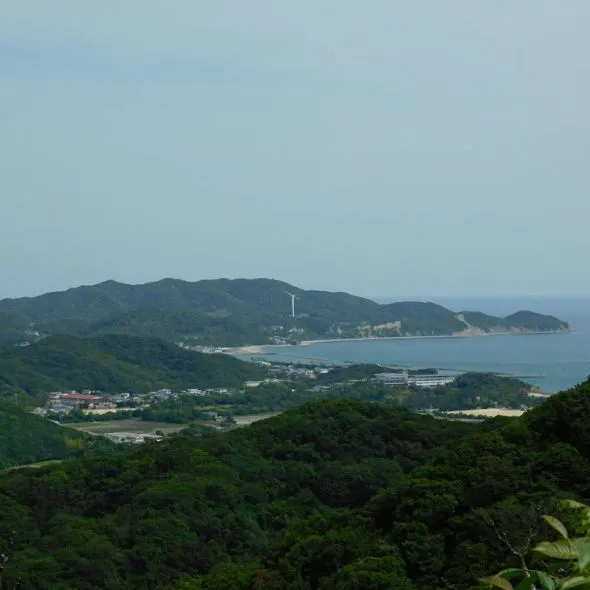 Having also biked other routes in Japan, like the Biwaichi (193 km lakeshore loop of Biwa Lake in Shiga), Alex noted that "compared to cycling around a lake, I think cycling around Awaji and being surrounded by the sea was nice." This probably is the principal reason why people take the Awaichi route. Cycling around an island one gets to see semi-populated areas, very sparsely populated and nature filled areas and also Sumoto city. With all the variety along the 150 kilometer route there certainly is something for everyone to see and enjoy, like "a number of independently owned cafes and such on the east side".
When asked what was his favorite part of Awaichi, Alex said "it would've been the Southeast part of the island" – although he also states the southern part is still tough due to the mountains. But he still found a spot near the monkey-park in the south pretty: "As you're going across the mountain pass you kind of see Wakayama (the prefecture on Honshu), so it's quite idyllic."
Awaichi info:
Starting and finishing point: Iwaya (most common)
Length: 150 km
Elevation change: app. 1,500 m
Hours to complete: 6-12 hours (can also be done in parts)