For a carefree, easy Zen experience on Awaji Island, Zenbo Seinei now offers a new Afternoon Tea plan on certain days. Enjoy culinary delights made from natural ingredients in a place of peace and serenity.
Two Types of Plans
Currently there are two types of plans for the ZEN Afternoon Tea Plan. The first type comes with a 30 minutes meditation before the actual tea and sweets/savory. It's called the ZEN Wellness & ZEN Afternoon tea. The experience starts at 1 p.m. and ends at 3.30 p.m.
The second one focuses only on the tea and sweets/savory so it starts at 2 p.m. and ends at 3:30 p.m. The plan is called ZEN Afternoon tea.
Let's you enjoy the afternoon tea provided in peace over the course of one and a half hours in the midst of Zenbo Seinei's magnificent wooden deck.
Welcoming Beverage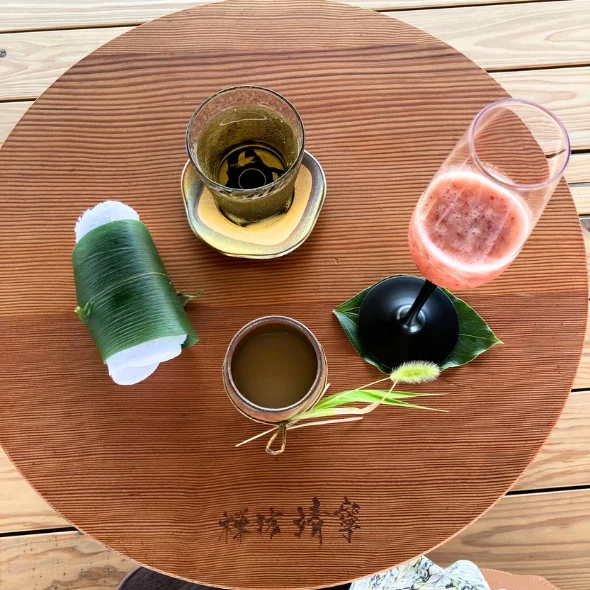 The doctor of the future will no longer treat the human frame with drugs, but rather will cure and prevent disease with nutrition.

Thomas Edison
The Tea plan starts off with a "welcoming beverage" that is green jasmin tea and then a smoothie like drink that is made of fresh and organic berries. They're served with a cooling and scented oshibori, a small hand towel to clean your hands
The next drink is amasake, and it's served with the first sweets plate (although in the name of authenticity, Zenbo hardly ever uses plates, but rather wraps the food in a leaf). The Amasake has a corn taste to it with a hint of the fermentation process and it is cold and refreshing.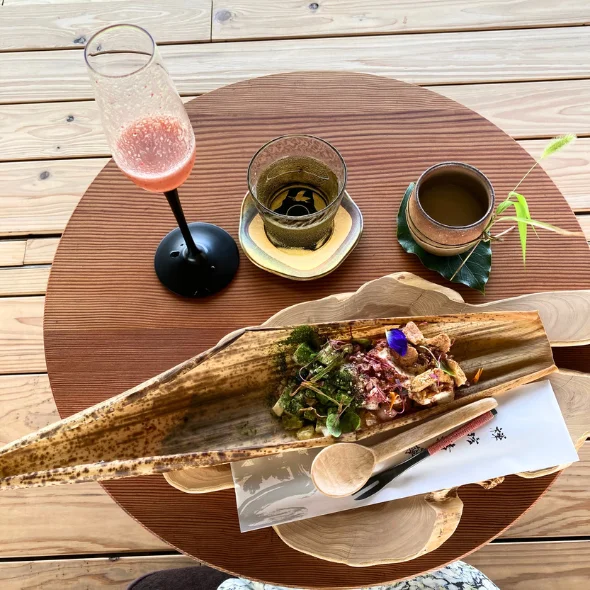 The "parfait" on your leaf has three section, coconut, raspberry and matcha sections, which are recommended to eat from right to left. While eating this way you will maximize the flavors' essence and get the best experience. Of course, you can mix things up and try the parfait how you see fit.
It's Teatime
Later you get to choose your own tea, that is delivered in a unique pot (all different and handmade!) and mug. The rest of the food is served in a pristine two storied bamboo box, that has a sweet and savory layer. The savory layer offers various types of small vegan sushi bites and pickled vegetable. The sweet section has different types of desserts made of vegan ingredients and decorated with eatable flowers.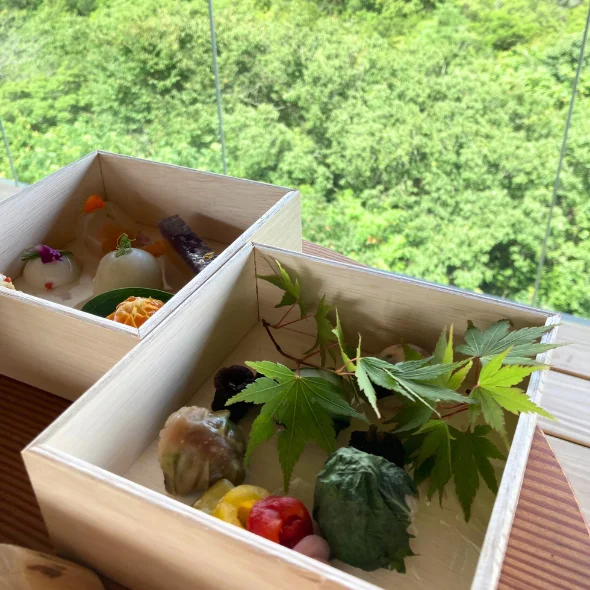 While enjoying the afternoon tea, you can gaze upon the greenery from the famous Zenbo Seinei wooden deck that provides a perfect 360 view towards the mountainous forests.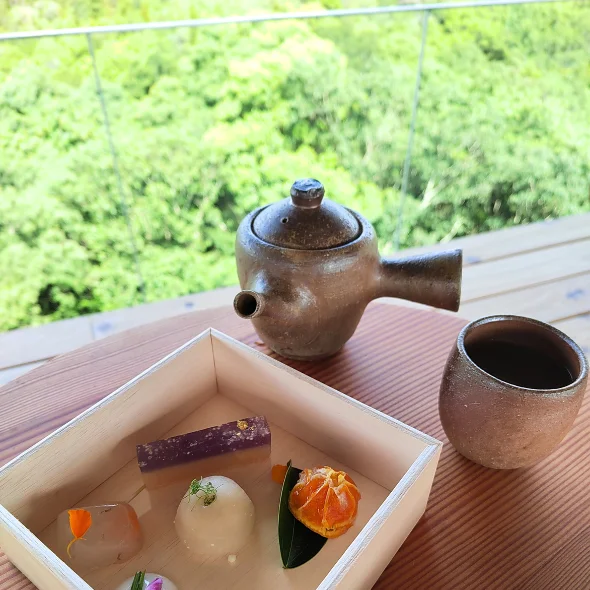 The Afternoon tea plan is perfect for those who wish to have a calming moment in the afternoon and indulge themselves in culinary refinement. The amount of food is enough to satisfy anyone and the atmospheric setting of Zenbo Seinei provides a photogenic background to this experience.