There are countless remarkable experiences awaiting travelers in Japan, from its rich cultural heritage to its modern marvels. Amidst these wonders, a particularly enchanting spectacle awaits those who seek it: the mesmerizing beauty of a Japanese sunset. Japan is renowned for its breathtaking sunsets that paint the sky in an array of vibrant hues, casting a spellbinding glow over the landscape. In this article, we embark on a journey to explore ten handpicked sunset spots that showcase the country's unparalleled natural beauty.
1. Tottori Sand Dunes (Tottori)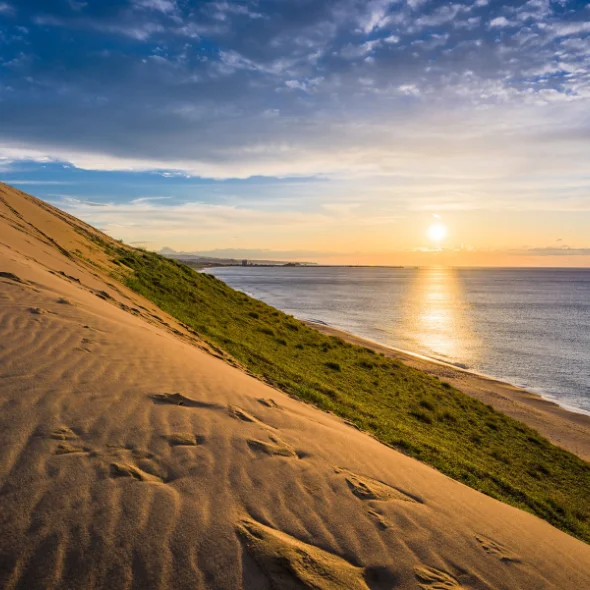 The Tottori Sand Dunes, often dubbed the "Desert of Japan", constitute a mesmerizing landscape nestled along the coastline of Tottori Prefecture. These sprawling sand dunes, spanning approximately 30 square kilometers, have been sculpted by the relentless forces of coastal winds and tides over millennia.
Renowned for their resemblance to a desert environment, the Tottori Sand Dunes provide a captivating stage to witness the sunset. With their vast open space and undulating contours, the dunes offer an unobstructed view of the horizon, allowing visitors to partake in an immersive and tranquil sunset experience. As the sun gracefully dips beneath the Sea of Japan, the interplay of light and shadows across the shifting sands transforms the landscape into a living canvas of colors.
2. Tojinbo (Fukui)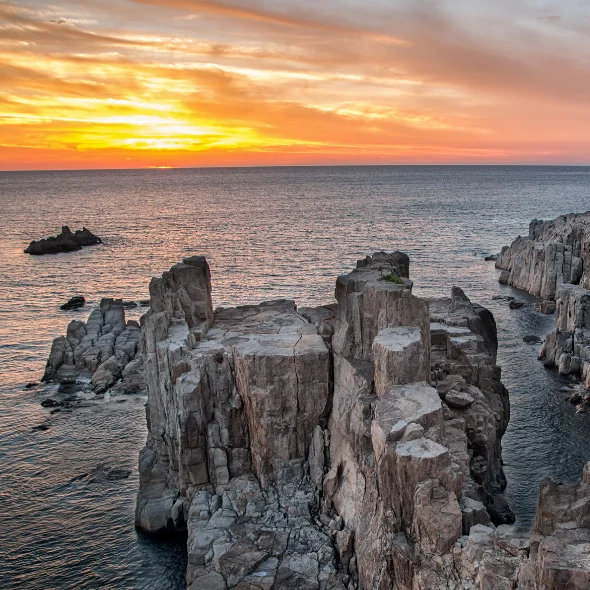 Tojinbo, a spectacular coastal cliff formation located in Fukui Prefecture, Japan, holds a unique charm that makes it an exceptional spot to witness the sunset. Comprising a series of awe-inspiring basalt columns, Tojinbo rises dramatically from the Sea of Japan, creating a stunning natural view that attracts visitors from all over the world. These striking hexagonal columns were formed through volcanic activity and millions of years of erosion, and as the sun descends beneath the horizon, its warm hues cast a mesmerizing glow upon the rugged scene.
3. Chichibugahama Beach (Kagawa)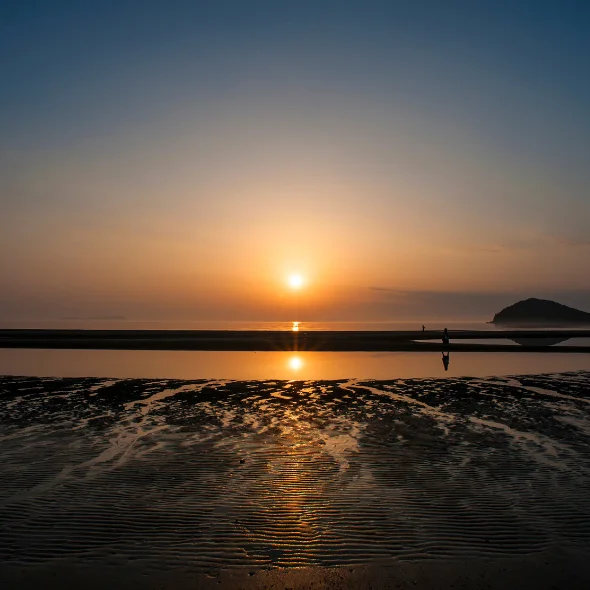 Chichibugahama Beach, nestled in Kagawa Prefecture on the island of Shikoku, Japan, is a captivating coastal gem renowned for its stunning sunsets. Its name, which translates to "Thousand Bowls Beach", alludes to the mirrored reflections of the sky on the wet sands during low tide, creating an enchanting spectacle. This natural phenomenon, coupled with the beach's pristine sands and crystal-clear waters, forms an idyllic setting that draws visitors seeking a tranquil and mesmerizing sunset experience. As the sun begins its descent, the horizon transforms into a tapestry of warm and vibrant colors, casting a magical aura over the waters.
4. Shibuya Scramble Building (Tokyo)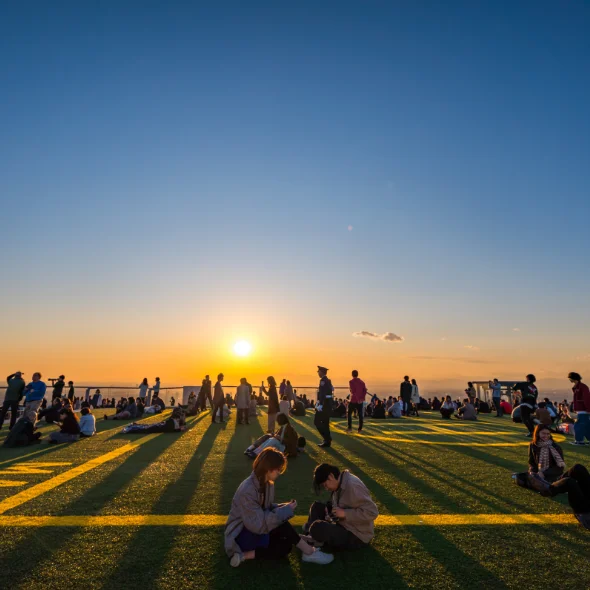 The Shibuya Scramble Building, situated in the heart of Tokyo's bustling Shibuya district, is a remarkable urban vantage point that offers a unique perspective to enjoy the sunset. As one of the tallest structures in the area, this building provides an unparalleled panoramic view of the cityscape. With its strategic location overlooking the iconic Shibuya Crossing and the surrounding metropolitan landscape, the Shibuya Scramble Building becomes an exceptional spot to witness the transition from day to night. As the sun sinks below the horizon, the bustling energy of Shibuya is bathed in warm, golden light, creating a captivating combination between the urban hustle and the tranquility of nature's spectacle.
5. Tateyama (Chiba)
Another great place to watch beautiful Japanese sunsets unfold is Minamiboso, the southern tip of Chiba prefecture. It's just two hours from downtown Tokyo, but it feels like a different world. There are any number of breath-taking vantage points here, and from all of them, there is the tantalising chance that the silhouette of the iconic Mount Fuji will make up part of your view.
Hojo beach in Tateyama comes highly recommended. As well as being one of Japan's Top 100 Sunsets, the beach is within easy reach. It sits at the centre of Tateyama's sweeping bay, just a short 5-minute walk from the station. Another incredible viewpoint is from the 66m hilltop of Tateyama Castle, which overlooks the southern end of the bay. The view from the garden there is nothing short of spectacular.
6. Mount Moiwa (Hokkaido)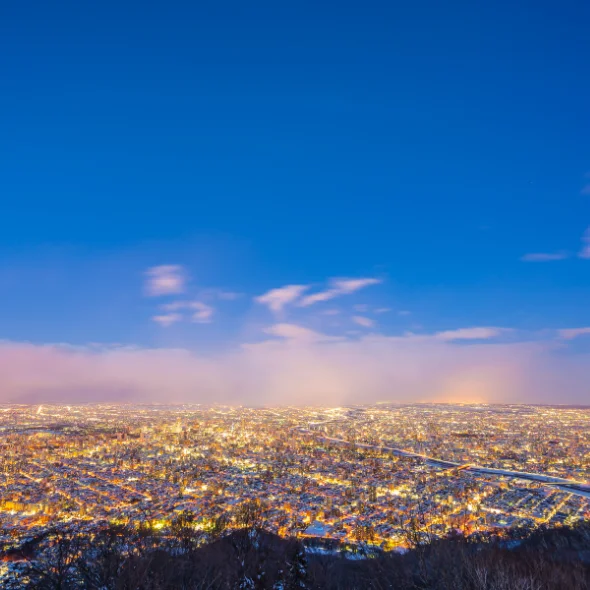 Mount Moiwa, a majestic peak overlooking Sapporo, Hokkaido, offers an enchanting location to witness a captivating sunset. With its elevated position and panoramic vistas of the city below, the mountain presents an unparalleled opportunity to observe the sun's descent amid a breathtaking backdrop. As the daylight wanes, the city's twinkling lights begin to illuminate, creating a mesmerizing contrast between the fading sky and the urban landscape. Renowned as one of Japan's top three-night views, Mount Moiwa stands as an ideal destination for observing both sunset and the mesmerizing cityscape after dark.
Awaji Island: A Hidden Gem in Japan to Enjoy a Perfect Sunset View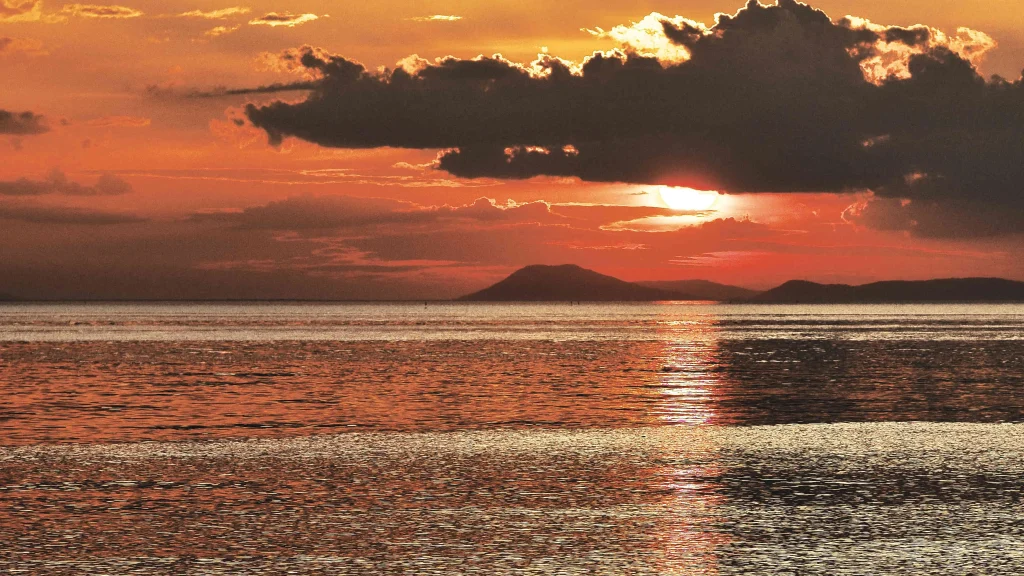 Awaji Island is situated in the eastern part of the picturesque Seto Inland Sea. Despite its relatively small size, Awaji Island is rich in natural beauty, historical significance, and cultural heritage. Awaji Island is also renowned as one of the best destinations for sunset views, and as the "sunset line" graces nearby locations with unparalleled views, it creates a sense of wonder and anticipation.
As the name implies (sunset line), prefectural Route 31 stretches along the western shoreline of Awaji Island. It offers a splendid opportunity for visitors to witness the sun's exquisite descent over the Harima-nada Sea during the early evening hours, making it a favored route for scenic drives. In the upcoming section, we will present various locations across Awaji Island that offer excellent opportunities to relish its beautiful sunset views.
7. SEIKAIHA Koshunoya (Awaji Island, Hyogo)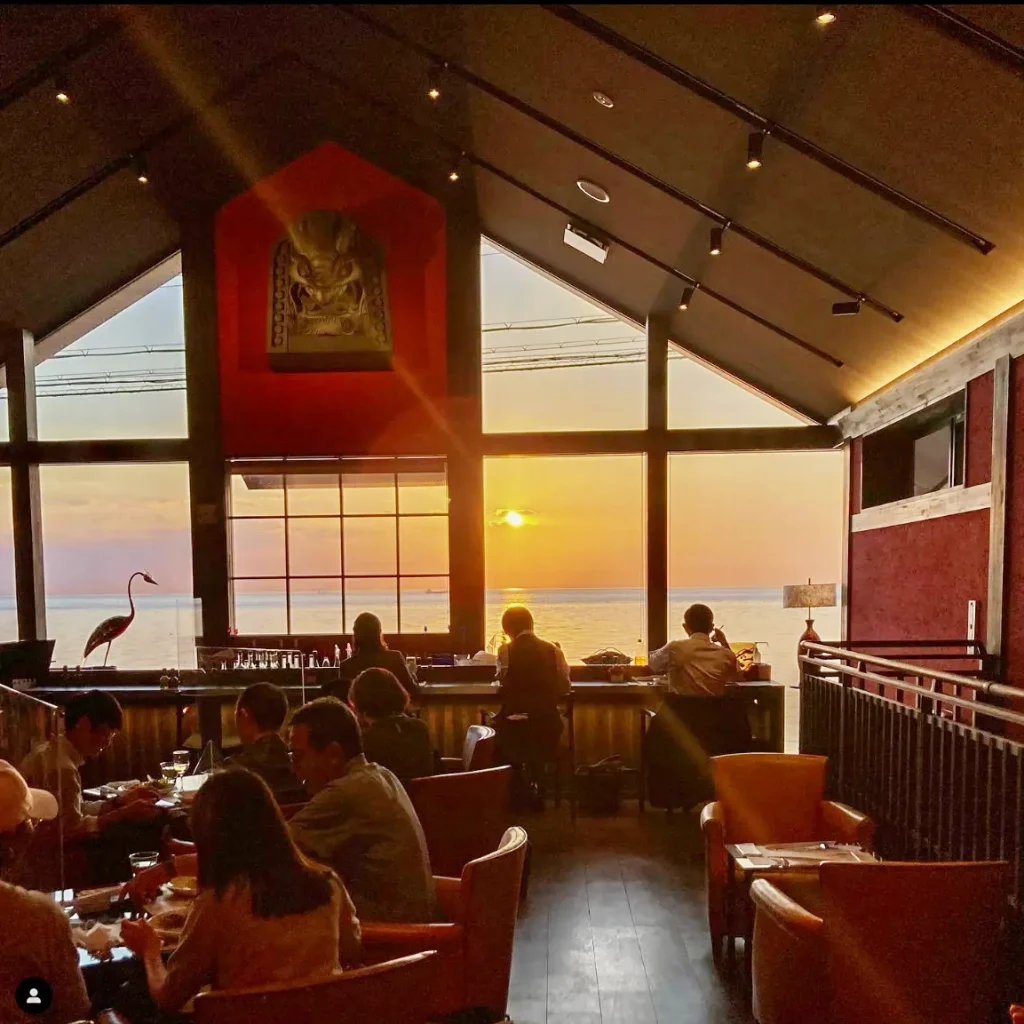 SEIKAIHA Koshunoya is a special place where visitors can enjoy carefully selected aged sake, shochu, and plum wine from various reputable breweries in Japan. Providing a serene and elegant setting, Koshunoya features a seaside counter that grants a view of the stunning sunset, ranked among Japan's top 100. The bar lounge presents an opportunity to unwind, enjoying a glass of sake while beholding the sun's descent over the Harimanada Sea. The establishment offers an extensive assortment of aged beverages, complemented by a menu of expertly crafted dishes designed to harmonize seamlessly with the drinks. As the sun begins to set, a captivating and nostalgic ambiance envelops the restaurant.
Click here for details of SEIKAIHA – Koshu no Ya
8. Ocean Terrace (Awaji Island, Hyogo)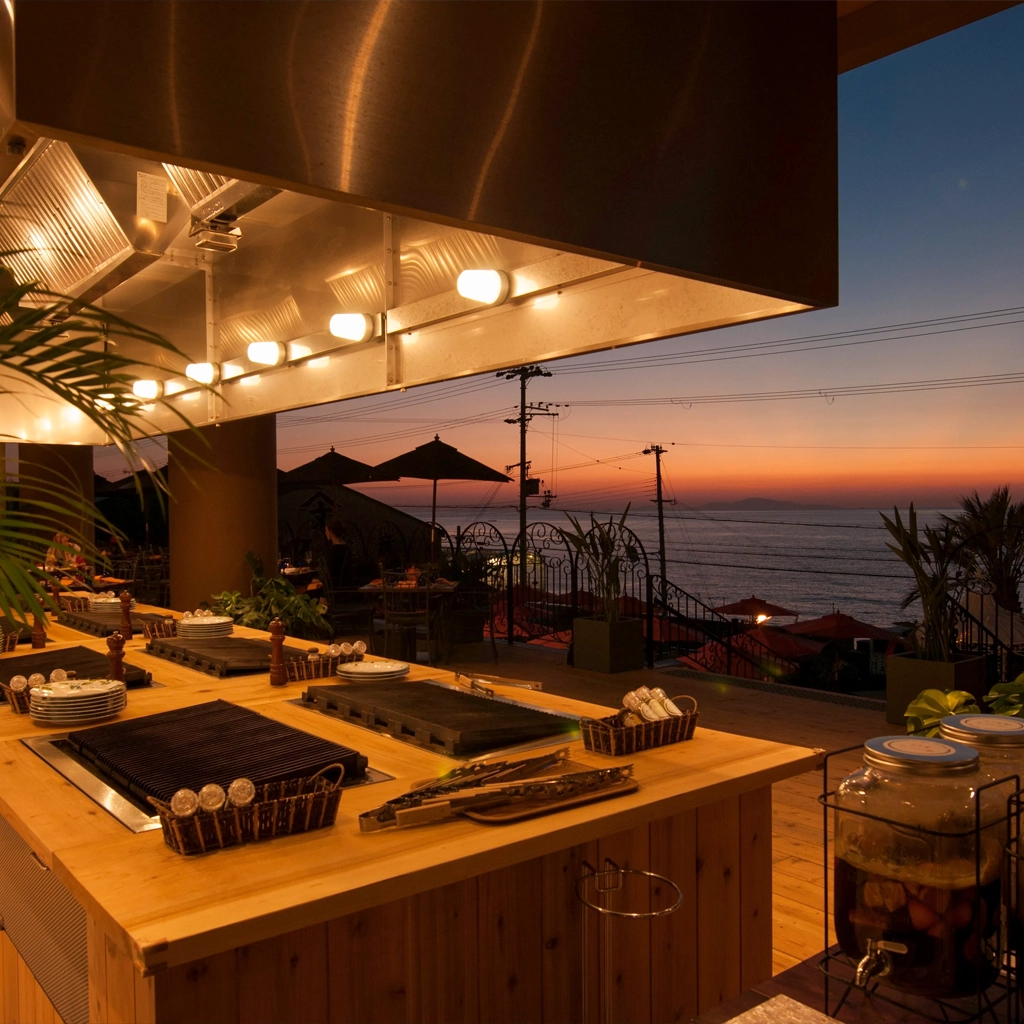 Ocean Terrace is a charming oceanfront grill restaurant with a delightful dining experience. As its name suggests, the Ocean Terrace provides an unobstructed view of the vast expanse of sea and sky. Here, the boundary between water and sky blurs, allowing visitors to witness nature's own masterpiece.
Situated atop a hill, its terrace provides a picturesque vantage point for guests to relish exquisite Awaji beef steaks while gazing out at the expansive Harimanada Sea. Helmed by the skilled Executive Chef Yamashita Hal who is also a distinguished representative at the World Gourmet Summit, the restaurant promises culinary excellence. Adding to the ambiance, a live jazz ensemble graces the space every Saturday, making it an ideal location to unwind, bask in the enchanting melodies of jazz, and even set the stage for a memorable date.
Click here for details of Ocean Terrace
9. Akashi Kaikyo Bridge (Awaji Island, Hyogo)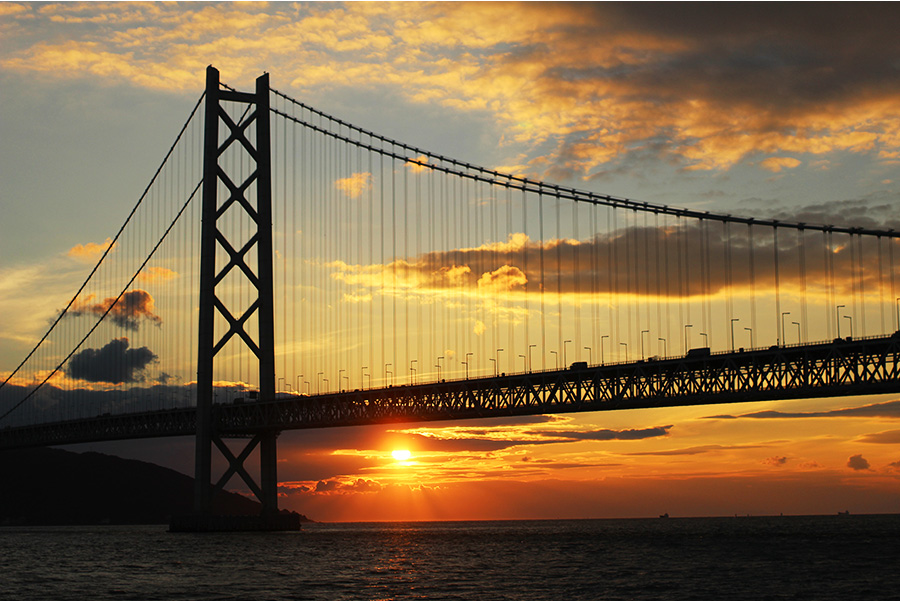 The Akashi Kaikyo Bridge is a magnificent engineering marvel that spans the Akashi Strait, connecting the city of Kobe on the Japanese mainland to Awaji Island. Notably, it holds the distinction of being the world's second-longest suspension bridge, boasting impressive architectural and structural design. The Akashi Kaikyo Bridge provides a spectacular vantage point to witness a captivating sunset due to its strategic location and breathtaking views. As the sun begins its descent, the bridge's towering presence casts shadows over the tranquil waters of the Akashi Strait, creating a mesmerizing interplay of light and shadow. The radiant hues of the setting sun painting the sky, combined with the bridge's elegant silhouette, make for a truly awe-inspiring visual view.
10. Ristorante Scuola (Awaji Island, Hyogo)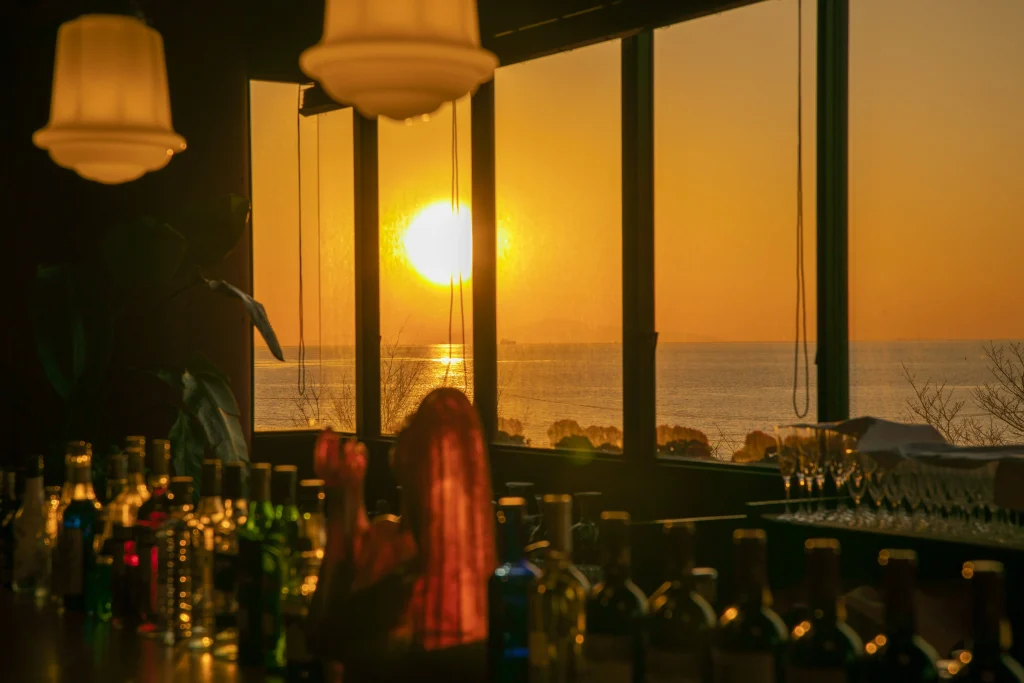 Transformed from the former Nojima Elementary School, which ceased operations in 2010, this now-revitalized site has evolved into a charming attraction known as Nojima Scuola. Encompassing a diverse range of amenities, including a market, a small zoo, and a cozy café-restaurant, Nojima Scola invites visitors to relish a nostalgic vantage point for admiring the sunset. The second-floor Ristorante Scuola offers an authentic Italian culinary journey orchestrated by the esteemed chef-owner, Masayuki Okuda, who is known as one of the top 1000 chefs in the world. Here, visitors can indulge in a sumptuous dining affair while being treated to a magnificent sunset panorama, enhancing the dining experience with an exquisite natural backdrop. As the sun descends beyond the horizon, it conjures a breathtaking and magical spectacle within the restaurant.
Name
Nojima Scuola
Adress
843 Nojimahikinoura, Awaji City, Hyogo Pref. 656-1721
Website
https://www.nojima-scuola.com/
Reservations
2F Ristorante Scuola
https://www.tablecheck.com/en/shops/nojima-scuola/reserve
Tel
0799-82-1820
Operation Hours
1F Marché /Bakery: Weekdays 10:30~19:00
Sat., Sun., & Public Holidays 10:00~19:00

1F Café Scuola: Weekdays Lunch 11:00~14:00/ café 14:00~18:00
Sat., Sun., & Public Holidays breakfast 10:00~11:00
Lunch 11:00~15:00
Café 15:00~18:00

2F Ristorante Scuola: 11:30~15:30 (in by 14:00) / 18:00~21:30 (in by 19:30)

Outdoor Zoo: Weekdays 11:00~16:00
Sat., Sun. & Public Holidays 10:00~16:00 (13:00~14:00 animals in recess)

Closed: Wednesdays (Open on Public Holidays)
Click here for details of Nojima Scuola
Closing
Japan's allure extends far beyond its cultural treasures and modern marvels. The country's sunset spots offer a unique and enchanting perspective, where time seems to stand still, and the world is painted in hues of gold and rose. From the tranquil shores to the heart of bustling cities, each location presents a distinct canvas for nature's nightly masterpiece. Make sure not to miss out on these recommended destinations when you travel to Japan!