If you are planning to go sightseeing on Awaji Island, you are probably thinking of places where you can enjoy the outdoors surrounded by the sea and mountains and full of nature. In fact, there are many sightseeing spots that you should visit on rainy days. In this article of Awaji Island Sightseeing, we will introduce a carefully selected list of recommended indoor tourist spots where you can fully enjoy Awaji Island even on rainy days. 
Nojima Earthquake Memorial Park
The official name of the park is Hokudan Earthquake Memorial Park. Many people may remember it by this name because of the famous Nojima Fault. The park preserves the fault line that appeared during the Great Hanshin-Awaji Earthquake in southern Hyogo Prefecture. It is a valuable facility where visitors can observe various topographical changes caused by the fault. Visitors can learn the importance of being prepared for earthquakes and natural disasters by gaining knowledge about earthquakes and remembering the lessons of this great earthquake. This is one of the facilities where rain is not a problem because it is an indoor exhibit.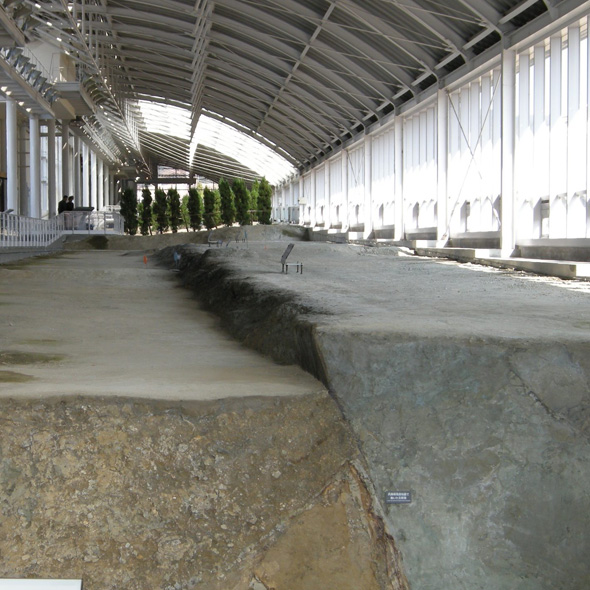 Parche Fragrance Hall
This is a complex facility where you can find workshops on various fragrances, stop by to take a bath, and buy souvenirs. The workshops, which can be enjoyed even on rainy days, are exciting for flower-loving people.
Awaji Puppet Theater
Awaji Ningyo Joruri (literally, puppet ballad drama) is a traditional performing art designated by the national government as an important intangible folk cultural asset. It is located in Minami-Awaji City. From the northern end of the city, take the expressway toward Shikoku. It takes about 15 minutes from the Saidan Mihara I.C. For more information on performances and other details, please visit the official website.
SEIKAIHA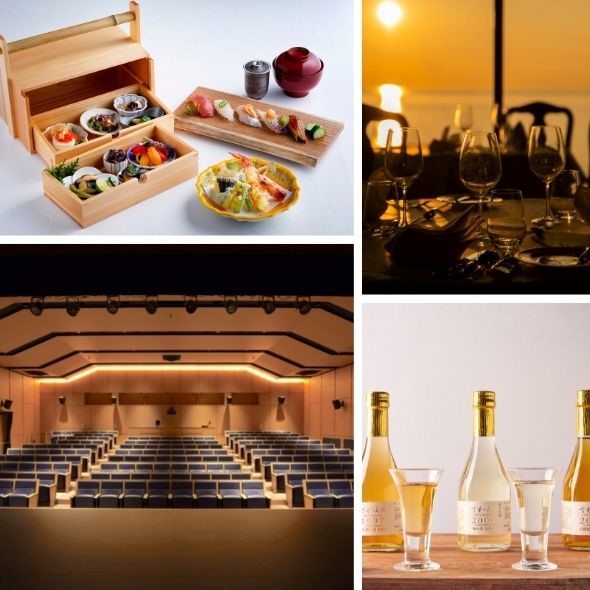 SEIKAIHA located on the west coast of Awaji Island is a complex consisting of a theater, restaurants, a bar and a store. 
Naminoritei
Namanoritei is an indoor theater that can be used even on rainy days. Various programs such as opera, ballet, and rakugo are performed on a monthly basis.
The theater always holds performances that can only be seen here, such as Yose programs in collaboration with Yoshimoto Kogyo (company of comedians and entertainers), programs by directors from famous theater troupes, and ocean-themed performances. 
For many of the performances, we offer two types of tickets, one for the performance only and the other with a special meal.
Uminoya
Uminoya is a Western-style restaurant with a classical atmosphere where you can enjoy your meal with a view of the sea. And to top it off, you can enjoy live music with your meal!
After enjoying a beautiful opera or musical performance, why not soak up the afterglow with delicious food and music?
Click here for details of SEIKAIHA - Umi no Ya
Aonoya
Aonoya is a Japanese restaurant boasting tempura and sushi made with ingredients from Awaji Island. The restaurant features a staircase theater-style seating area with ocean views from every seat. During the evening hours, when the ocean is not visible, you can enjoy projection mapping. 
Aonoya, like Uminoya, also offers live music with your meal.
Click here for details of SEIKAIHA - Ao no Ya
Koshunoya
If you've come all this way on a trip, you must have some souvenirs…
Koshunoya sells aged vintage sake and plum wine. 
This is the only place in Japan that has such a large selection of vintage sake!
The restaurant/bar on the second floor offers a chance to compare the different types of sake with a meal, so be sure to find the one you like best. 
Click here for details of SEIKAIHA – Koshu no Ya
HELLO KITTY SMILE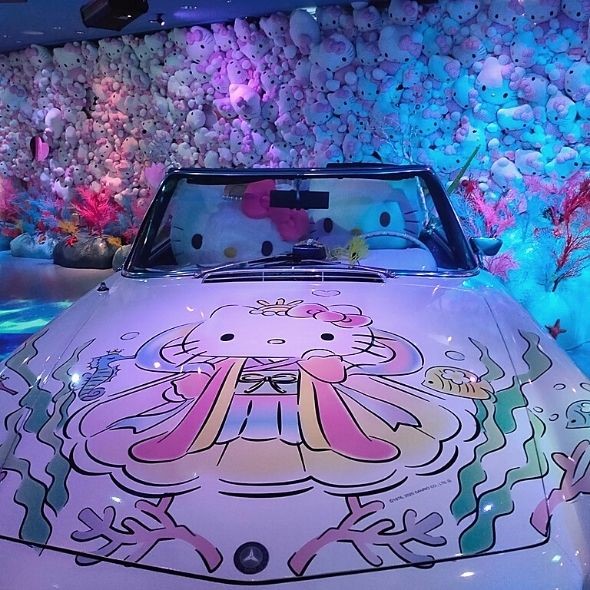 If you want to enjoy all the fun with your children in the rain, HELLO KITTY SMILE is the place for you!  
You can easily recognize Hello Kitty's big face from a distance.  
Once you enter the facility, you are in the blue sea! Enter the world of Ryugujyo (the Palace of Dragon), where Hello Kitty lives as princess!  
In the Palace of Dragon, you can enjoy the world of Hello Kitty with light and sound effects.  
After enjoying the Palace of Dragon, enjoy a delicious meal with Hello Kitty motifs. Depending on the time of day, you may even be able to meet Hello Kitty!  
In addition, you can try your hand at making your own original Sanrio goods in the event area, purchase souvenirs at the store, and have fun at this popular spot for children and adults alike.  
Click here for details of HELLO KITTY SMILE
HELLO KITTY SHOW BOX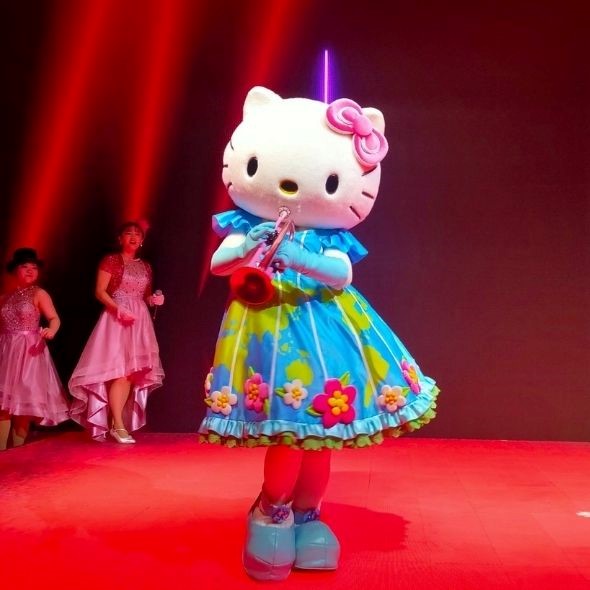 There's one more facility where you can enjoy Hello Kitty in the rain!  
HELLO KITTY SHOW BOX is a theater restaurant where you can enjoy a Hello Kitty show along with delicious vegan food.  
Vegan cuisine is made without animal products such as meat, fish, and eggs, and only plant foods such as rice, wheat, beans, and vegetables are used.  These dishes are not only healthier for the body, but are also safe for children with allergies to dairy products and other allergens.  
HELLO KITTY SHOW BOX offers a variety of shows during both lunch and café hours, with Hello Kitty singing, dancing, and performing.
After the show, there is a meet and greet time with Hello Kitty, so Hello Kitty lovers will not be able to resist!
Photos with Hello Kitty of Awaji Island will be a special memory♪
© 2023 SANRIO CO., LTD. APPROVAL NO. L630162
| | |
| --- | --- |
| Location | HELLO KITTY SHOW BOX |
| Address | 177-5 Nojimahirabayashi, Awaji City, Hyogo Pref. 656-1724 |
| Access | 10 minutes by car from Awaji IC and 15 minutes from Hokudan Interchange on Kobe-Awaji-Naruto Expressway. |
| Phone Number | 0799-70-9022 |
| Parking | Free parking available |
| Closed | Wednesdays |
| Operating Hours | 11:00-17:00 |
| Show Time | 12:10-13:30(Open at 11:00, Last In at 12:00) |
| Café and Greetings by HELLO KITTY | 14:00-17:00 Greeting at 14:30-/16:00- Café Show and Greetings by HELLO KITTY: 14:30~ / 16:00~ |
| Website | https://awajiresort.com/hellokittyshowbox/ |
| Reservations | https://www.tablecheck.com/en/shops/hellokittyshowbox/reserve |
Click here for details of HELLO KITTY SHOW BOX
Awaji Yumebutai
A complex of facilities designed by architect Tadao Ando. It includes a wide range of facilities such as a hotel, restaurants, and greenhouses. The Awaji Yumebutai complex is characterized by the inorganic concrete that is synonymous with Ando's architecture, yet it blends in with nature and looks completely different depending on the weather and the season. The complex is also a popular instagrammable spot.  
Also, all facilities within Awaji Yumebutai are connected indoors, making it safe even on rainy days.   
Hyogo Prefectural Awaji Yumebutai Kouen Greenhouse, "Awaji Green Pavilion" (Formerly the Botanical Garden of Miracle Planet)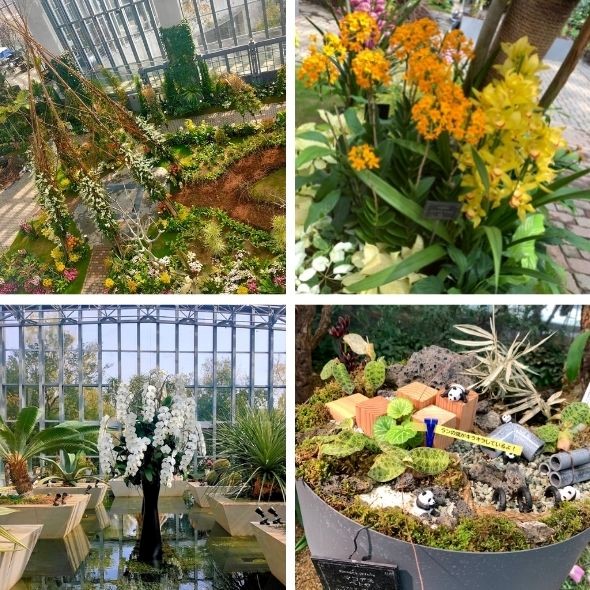 The Awaji Green Pavilion is one of the largest greenhouses in Japan, located within Awaji Yumebutai. The programs that change with the seasons and the unique exhibition garden are fun for both children and adults. There is also a cute cafe inside the greenhouse, making it a spot where you can take a breather!
Grand Nikko Awaji Umi-no-Kyokai (Church)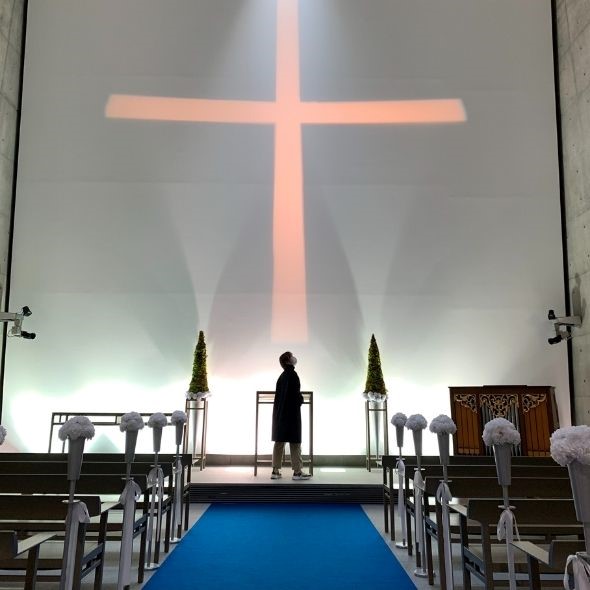 The church is located on the second floor of the Grand Nikko Awaji, a hotel in Awaji Yumebutai.
The inside of the church, surrounded by concrete, is quiet and has a fantastic and solemn atmosphere. The cross projected by the light coming in from the ceiling shows different expressions depending on the light. The church is open to visitors free of charge except when weddings are being held, so please visit the church.
For more information, please refer to the official website "Awaji Yumebutai".
Closing
What do you think of Awaji Island, which is full of fun spots even on rainy days? Even on a rainy day, please do come visit these indoor facilities for both children and adults alike!