A Restaurant with a Spectacular View Serving Delicious Barbecue and Seafood Bowls
Craft Circus
Craft Circus is a seaside market and restaurant. There are two restaurants, one of which, Awaji Island Kaiou Market, offers seafood barbecue, where fresh Awaji Island seafood is taken from a 4-meter-long fish tank and processed on the spot.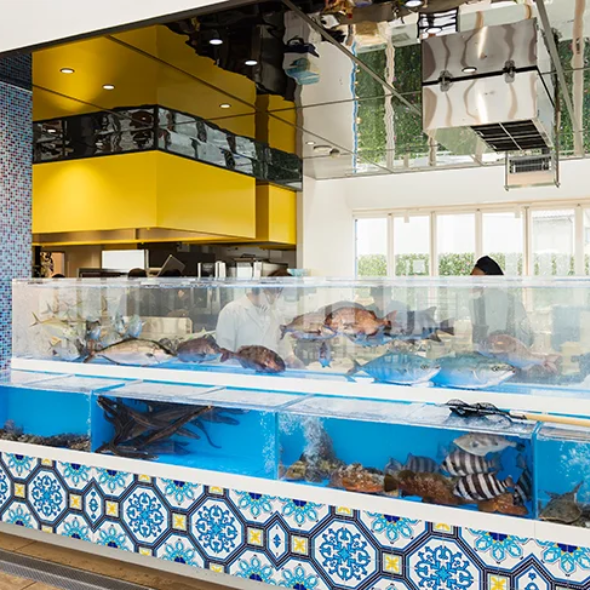 There are two sets of barbecue to choose from. Both sets include Awaji beef, today's seafood and Awaji vegetables. Today's seafood includes squid, shrimp, shellfish, and so on depending what is available on the day. One of the sets includes abalone in addition . You can enjoy a barbecue on the casual and open terrace.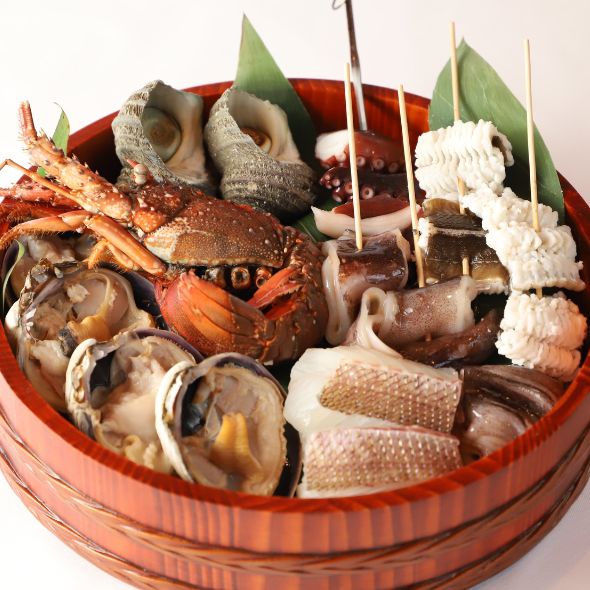 Families, couples, and friends can enjoy Hamayaki barbedue while basking in the pleasant sea breeze. The seafood caught in the coastal waters of Awaji Island is fresh and vibrant, so be sure to try it. In addition, Craft Circus has other restaurant serving pizza, burgers and paella, a market selling local farm products and Awaji Island souvenirs, and a shop selling goods made in Japan and overseas.
Location
CRAFT CIRCUS
Address
2-2 Nojima-Hirabayashi, Awaji City, Hyogo Pref. 656-1724
Access
15 minutes by car from Awaji IC on Awaji-Kobe-Naruto Expressway. 10 minutes by car from Iwaya Port (Jenova Line Ferry).
Parking
80 spaces
Business Hours
Weekdays: 10:30-20:30 (last order 19:30)
Weekends/Holidays: 9:30-20:30 (last order 19:30)
Closed
Thursdays (excluding national holidays)
Tel
0799-82-1855
Website
https://awajicraftcircus.com/
Reservations
https://www.tablecheck.com/en/shops/craftcircus/reserve
Click here for details of CRAFT CIRCUS
Pirate Cuisine with Boldly Prepared Seafood from Awaji Island
Aman no Shokutaku "Utage"
Aman no Shokutaku are divided into "Utage" on the first floor and "Sajiki" on the second floor. At Utage, the famous "Awaji Island Pirate Platter", a bold platter of seasonal seafood caught in the waters around Awaji Island, is served.
Other dishes such as sashimi platters are also offered.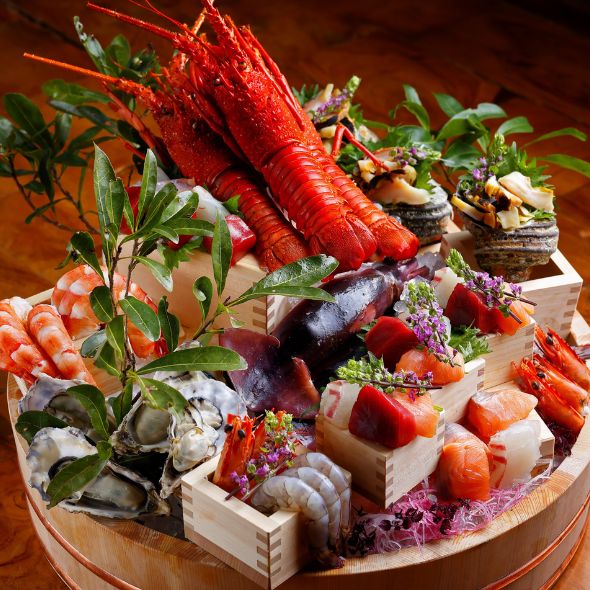 Seafood such as lobster, turban shell, abalone, oysters, snapper, tuna, and salmon are beautifully arranged. A large platter (for 6 to 7 persons) and a medium platter (for 4 to 5 persons) are available for families, couples, and friends to share.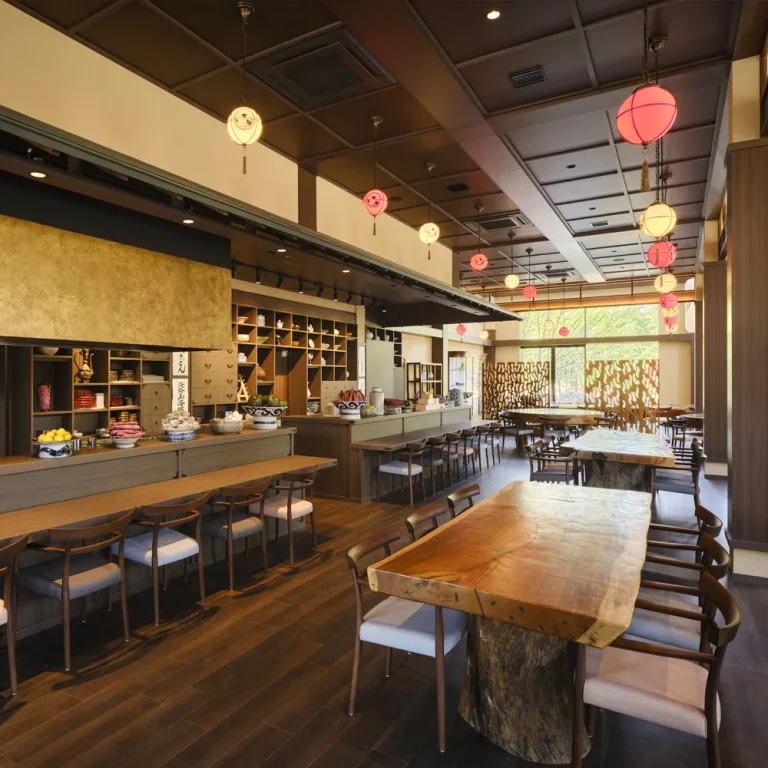 The contents of the menu will vary depending on the seafood caught on the day, so if you would like to know in advance, please contact the restaurant. The price is 18,800 yen (including tax) for the large platter and 12,800 yen (including tax) for a medium platter. Why not enjoy a pirate cuisine with so many kinds of fresh seafood?
Click here for reservations Utage Click here for reservations Sajiki
Click here for details of Aman no Shokutaku
A Full-Course Meal Including a Course with Seasonal Seafood
Auberge French Forest
Auberge French Forest is a restaurant that also offers overnight stays. It consists of three restaurants with different French styles of cuisine and atmospheres. The full-course menu includes a fish course with seasonal seafood from Awaji Island.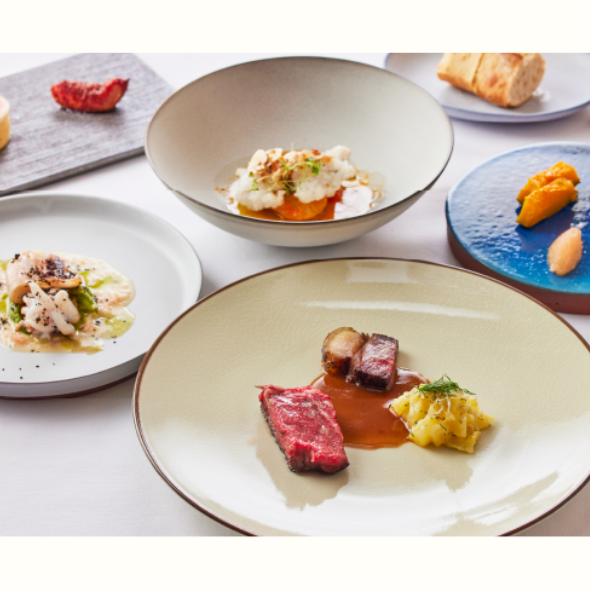 Although the fish courses vary depending on the season, you can enjoy French cuisines prepared by Japanese chefs using Awaji beef and other fresh ingredients from Awaji Island as well as other specialty seafood and produce from various areas of Japan.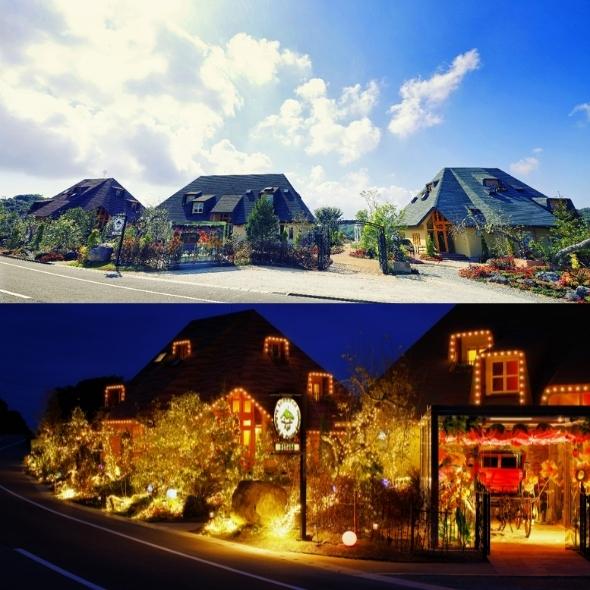 Click here for details of Auberge "French Forest"
Western-Style Restaurant with Plenty of Seasonal Seafood
SEIKAIHA – Uminoya
SEIKAIHA is a theater and restaurant consisting of four establishments. The Western-style restaurant "Uminoya" offers a variety of fish and meat courses, using seasonal seafood and vegetables.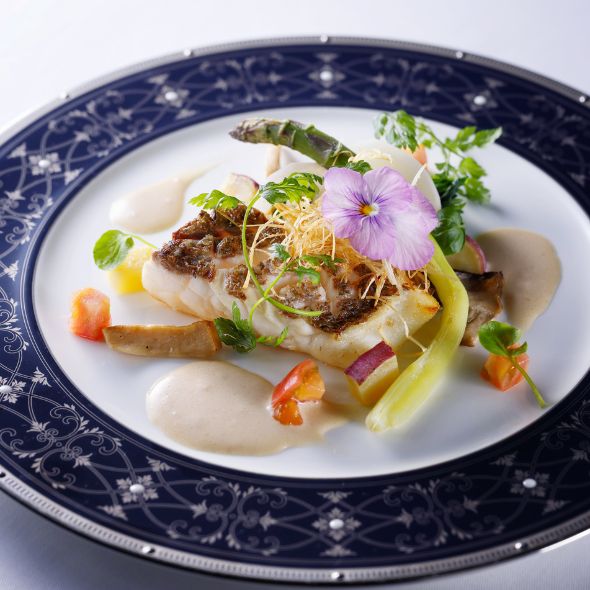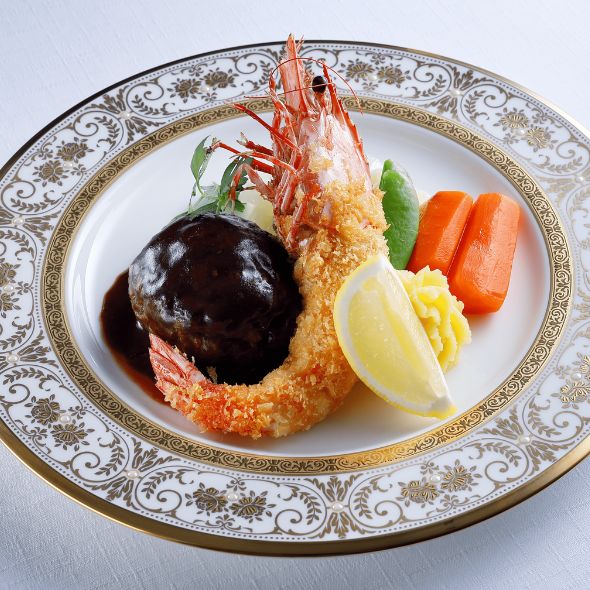 While there is an extensive a la carte menu as described above, special full-course menus are also available for each season: a spring special full-course meal from March to May, one for summer from June to August, one for autumn from September to November, and one for winter from December to February. All of these full-course meals are very satisfying with seasonal ingredients from Awaji being used to the fullest.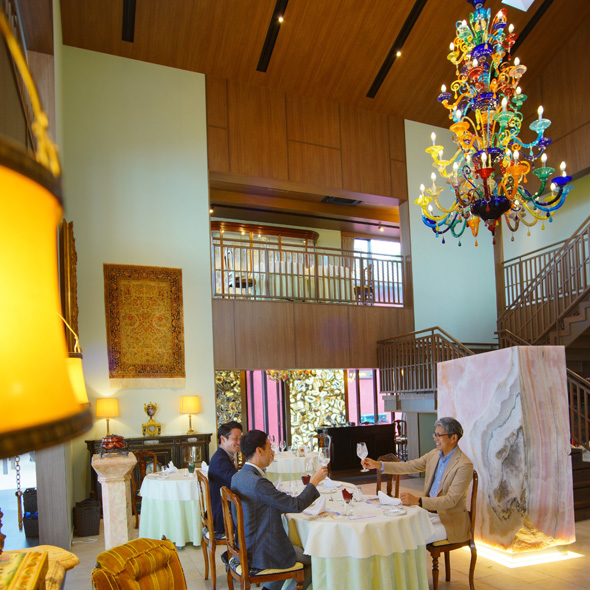 In addition, SEIKAIHA has other restaurants: Aonoya, a Japanese restaurant serving sushi and tempura and Kosyunoya, a store and bar serving vintage Japanese sake (aged sake). It also has a theater, Namonotei, which presents musicals, rakugo, ballet, and classical music
Click here for details of SEIKAIHA
Authentic Italian Cuisine Including Fish Dishes
Ristorante Scuola
Nojima Scola is a complex facility that includes a restaurant, a marché, a cafe, and a store. The Italian restaurant "Ristorante Scuola" offers full-course meals including fish dishes such as shirasu, pike conger, torafugu (Tiger Puffer), sea urchin, Spanish mackerel, and sakura trout.
All the full-course meals are seasonal using seasonal seafood, vegetables, fruit and Awaji Island meats such as Awaji Beef for a limited time only.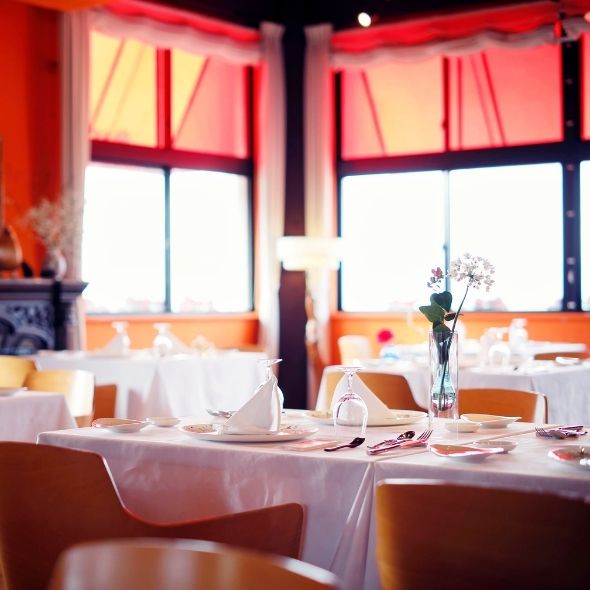 Nojima Scuola has a bakery popular for its freshly baked bread, a marché selling farm produce and local specialties, a café where you can enjoy eating and drinking with your dog, and a zoo featuring kissing alpaca, so please visit this facility with its many attractions.
Name
Nojima Scuola
Adress
843 Nojimahikinoura, Awaji City, Hyogo Pref. 656-1721
Website
https://www.nojima-scuola.com/
Reservations
2F Ristorante Scuola
https://www.tablecheck.com/en/shops/nojima-scuola/reserve
Tel
0799-82-1820
Operation Hours
1F Marché /Bakery: Weekdays 10:30~19:00
Sat., Sun., & Public Holidays 10:00~19:00

1F Café Scuola: Weekdays Lunch 11:00~14:00/ café 14:00~18:00
Sat., Sun., & Public Holidays breakfast 10:00~11:00
Lunch 11:00~15:00
Café 15:00~18:00

2F Ristorante Scuola: 11:30~15:30 (in by 14:00) / 18:00~21:30 (in by 19:30)

Outdoor Zoo: Weekdays 11:00~16:00
Sat., Sun. & Public Holidays 10:00~16:00 (13:00~14:00 animals in recess)

Closed: Wednesdays (Open on Public Holidays)
Click here for details of Nojima Scuola
Closing
There are many restaurants on Awaji Island that make the most of the seafood caught in the waters around Awaji Island in a variety of ways, such as beach barbecue, pirate platters, and French courses. They cater to a variety of occasions for couples, friends, and families, so be sure to try a seafood lunch on Awaji Island.