Awaji Island in Hyogo Prefecture located in the Seto Inland Sea is 30 min. from Kobe and 1 hour from Osaka by car. It is a perfect spot to add to your trip to the Kansai region. Here is a recommended elegant trip to Awaji Island.
Awaji Island Luxury Trip Recommendation #1:
Mindfulness in a healing space where the flow of time changes
Access
Kobe Sannomiya Bus Terminal
↓Kita Awaji West Coast Line (bus) 50 minutes (bus timetable)
Zenbo Seinei-mae bus stop
---
This is the newest spot on Awaji Island. Experience a day plan at Zenbo Seinei where you can have a ZEN and mindfulness experience. Spend a healing time while you are surrounded by nature on the aerial deck. It will be a time away from the hustle and bustle of daily life, and will be like a reward to yourself for working hard in your daily life to satisfy your mind and body. The cuisine is Zen Buddhist cuisine that makes you beautiful from the inside out.
The facility integrated with the surrounding nature was designed by Shigeru Ban, 2014 Pritzker Architecture Prize winner, is astonishing. Especially the 100m-long wood deck is something not to be missed!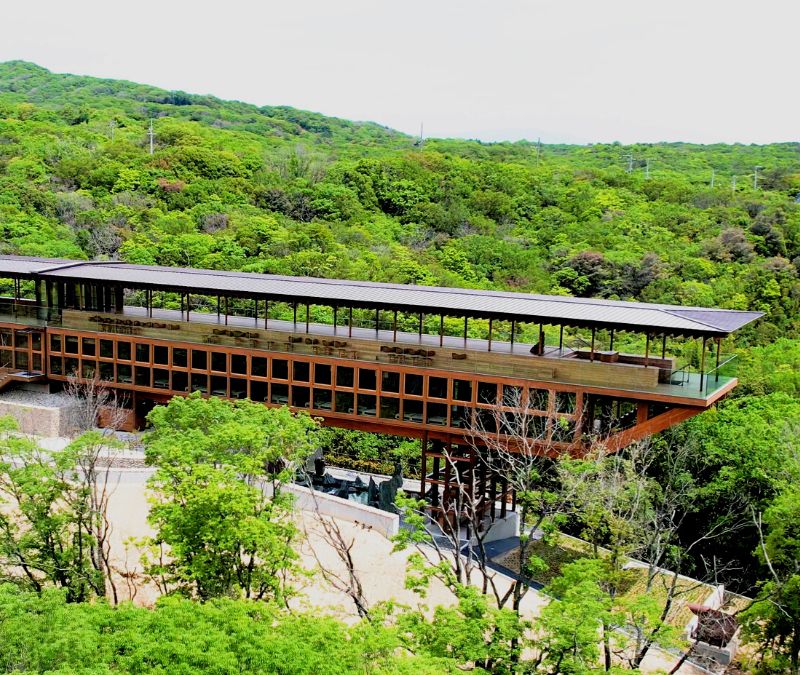 Click here for details of ZEN Wellness SEINEI
Awaji Island Luxury Travel Recommendation #2:
A top-class hotel filled with spiritual energy standing at 135° east longitude
Access
Zenbo Seinei
↓Free shuttle bus, 6 minutes (Free shuttle bus timetable>>)
Nijigen-no-mori F parking lot
↓ 5 minutes by hotel free shuttle bus
Arrive at Grand Chariot Front
Check in at GRAND CHARIOT, which was selected as one of "the Top Hotel to Stay at Least Once" by Rakuten Travel. Located on a hill, the hotel offers spectacular views of the ocean and forests below. Each room is a cocoon-shaped individual house, and all the scenery and facilities make the hotel feel very special. Enjoy a relaxing and luxurious stay in a hotel filled with magical energy that stands on a ley line.
Each cocoon is equipped with a hinoki cypress bath. You can also enjoy the enzyme bath in the separate building, take a walk around the grounds, or enjoy the sunset. Please take plenty of time to enjoy the elegance and luxury of the hotel. All the drinks provided in your room are complimentary and well stocked. We also recommend spending some time at the BAR under the stars located on the premises. We also have rooms where you can spend time with your dog. Anime character rooms such as NARUTO, Dragon Quest, and Crayon Shin-chan and HELLO KITTY are very popular and we highly recommend to reserve it well in advance.
The meals are very popular, supervised by Hal Yamashita, who has 13 restaurants in Japan and abroad, including one in Tokyo Midtown. The sumptuous menu includes a rich sea urchin hot pot that makes the most of Awaji Island ingredients and sukiyaki with specially selected Awaji beef. Especially recommended during the winter season is the 3-year tiger pufferfish menu.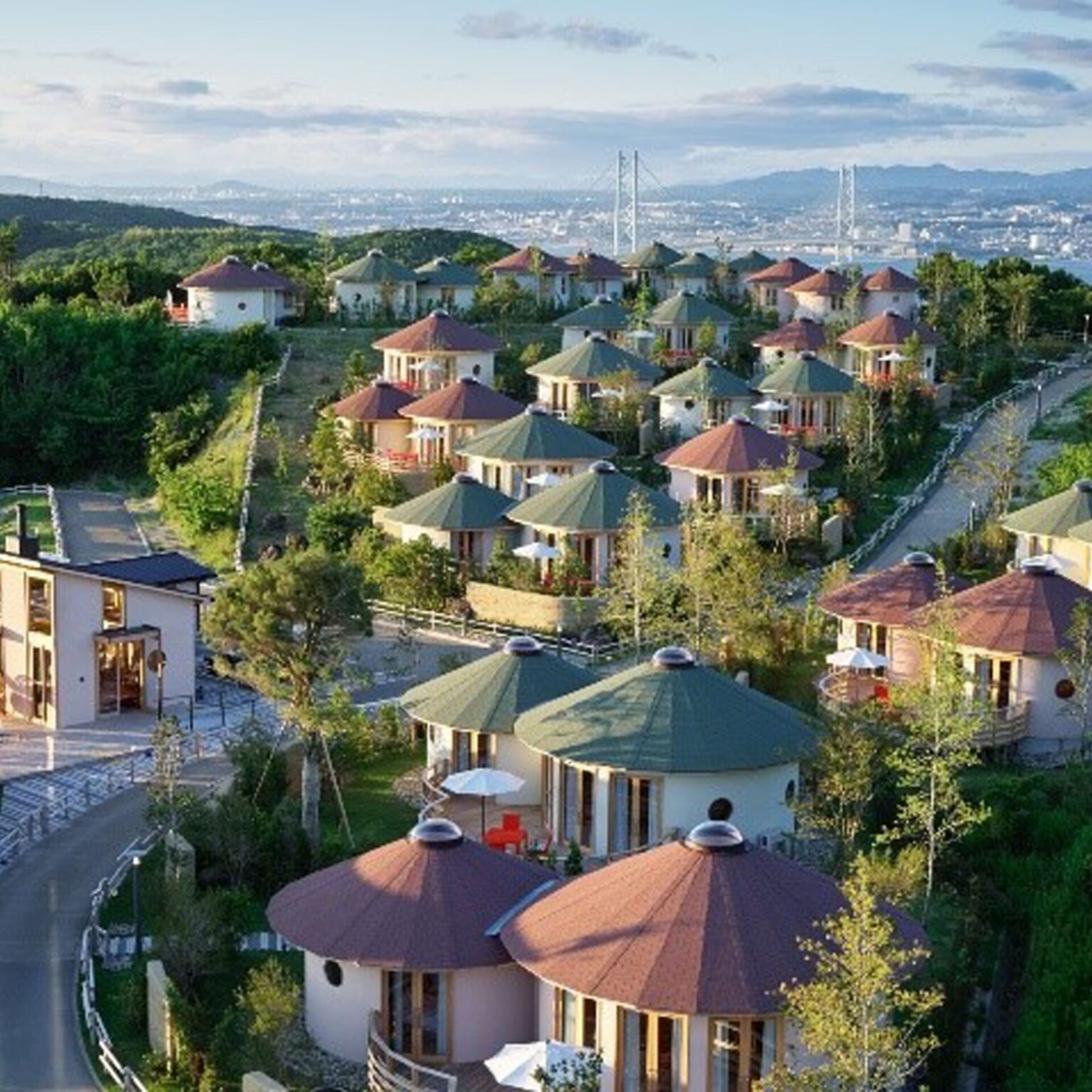 Winter Only: Luxurious Awaji Island 3-Year Tiger Pufferfish in a Hot Pot
The Awaji Island 3-year Tiger Pufferfish in a Hot Pot, available only during the winter season, can be enjoyed throughout February.
Awaji Island's 3-year torafugu (Tiger Pufferfish) is a species of pufferfish that is cultivated in the Naruto Sea, where the water temperature is the lowest and the tides are swiftest among all fish farms in Japan.
The tidal currents are fast, making the meat tight and rich. Generally, farmed pufferfish are shipped after their second year of cultivation, but three-year torafugu is cultivated for one year longer. Awaji Island's 3-year torafugu, which has grown nearly twice as large as the original, has larger soft roe.
Only those chefs who are licensed by each prefectural government to prepare a pufferfish are allowed to serve pufferfish at a restaurant. You don't need to be concerned about a poisonous part of a pufferfish.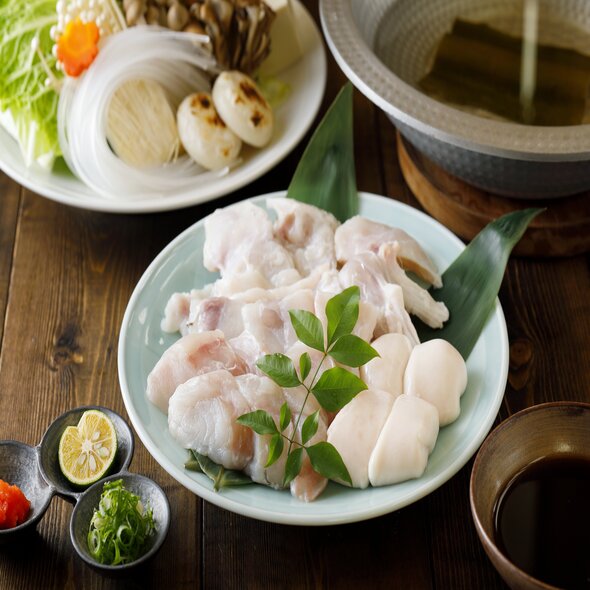 Click here for details of GRAND CHARIOT
Awaji Island Luxury Travel Recommendation #3:
Sightseeing spots where you can enjoy parks, modern Ando architecture, and botanical gardens
Access
GRAND CHARIOT
↓Taxi: 16 minutes (Taxi can be arranged at the hotel)
Awaji Yumebutai
Awaji Yumebutai, the symbol of Awaji Island, was designed by world-renowned architect Tadao Ando. It is a museum-like structure made of cast concrete, typical of Ando's architecture, with a "shellfish beach" where water flows and about 1 million scallop shells are laid out all over the beach. The "Hyakudanen" with colorful seasonal flowers on many steps offers a spectacular view of the Akashi Kaikyo Straits as you climb the stairs.
Awaji Yumebutai was originally a soil and sand excavation site for the construction of Kansai International Airport. Through world-class environmental creation efforts, the greenery that was once lost has been restored. Not only the greenhouses on the site, but also the site itself is living strongly as "a stage where people and nature coexist in harmony". This facility is worth seeing as a stage where human hands have revitalized land that was once a wasteland.
Akashi-Kaikyo Park is also located next door, with seasonal flowers and plants in full bloom, making it a perfect spot for a stroll. The Awaji Green Pavilion on the site was also built by Tadao Ando.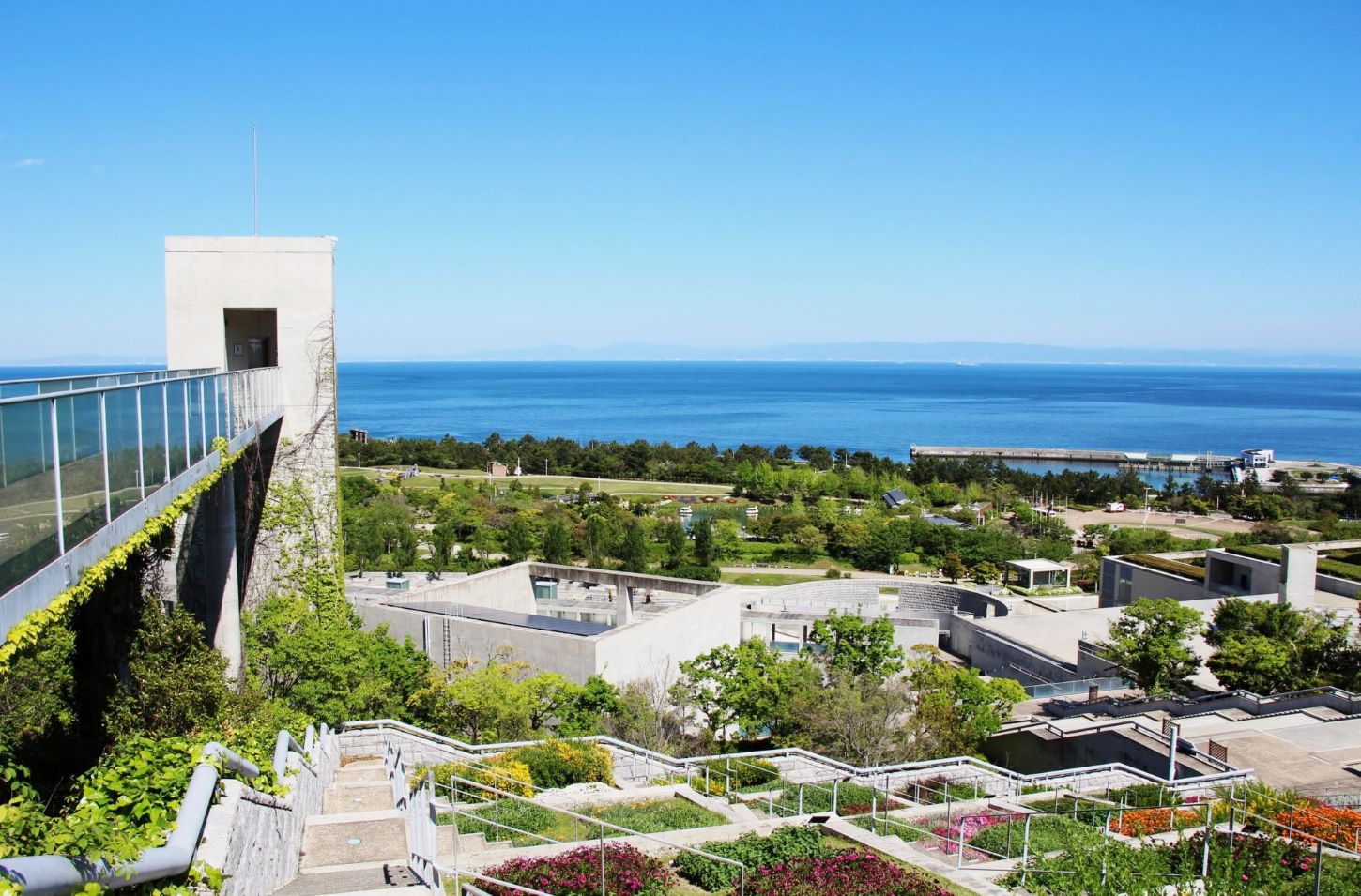 Awaji Island Luxury Travel Recommendation #4:
A fairy tale world! Luxurious French cuisine with Awaji Island ingredients
Access
Awaji Yumebutai
↓Cab: 14 minutes (can be taken from the Grand Nikko Hotel rotary)
Auberge French Forest
Auberge French Forest can be called a hideaway spot on Awaji Island. The abundant ingredients of Awaji Island are the talk of the town among chefs. Local gastronomy is a trend of the times. It is one of the restaurants practicing local gastronomy, which is to taste freshly picked local ingredients in the local area. You can enjoy a full-course meal of French cuisine that focuses on ingredients at the restaurant surrounded by nature. Please enjoy an elegant lunch by tasting luxurious seasonal Awaji Island ingredients.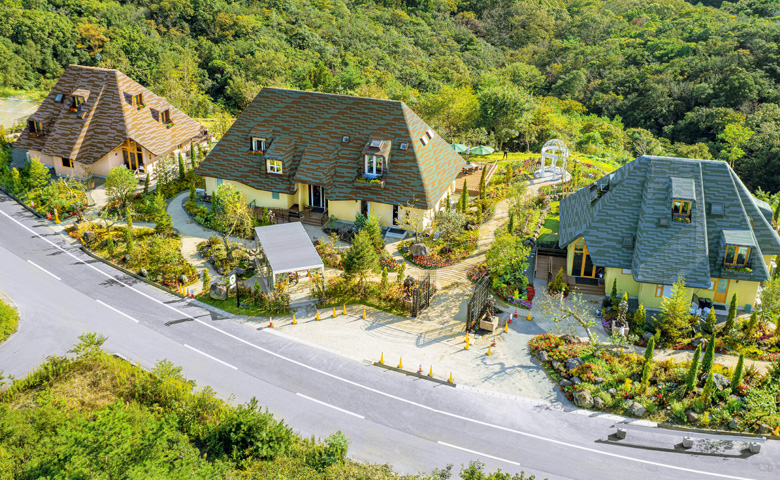 Click here for details of Auberge "French Forest"
Awaji Island Luxury Trip Recommendation #5:
Sunset cruise to see the Akashi Kaikyo Bridge from the sea
Access
Auberge French Forest
↓Free shuttle bus: about 15 min.
Iwaya Port
↓walk 5 min.
Akashi-Kaikyo Bridge Cruise boarding area
The Akashi-Kaikyo Bridge Cruise takes passengers on a route that passes directly under the Akashi-Kaikyo Bridge. The cruise takes about 75 minutes and cruises from Iwaya Port to the west coast of Awaji Island. Enjoy an elegant cruise with plenty to see and do. After lunch, we recommend the last trip, which departs at 15:30. (Please check the official website.)
Awaji Island Luxury Trip Recommendation #6:
Open-air bath to enjoy the illumination of the Akashi Kaikyo Bridge
Access
Akashi-Kaikyo Bridge Cruise boarding area
↓Circular bus about 6 minutes
Biyu Matsuho no Sato
After the cruise, we recommend visiting Biyu Matsuho no Sato (stopover hot spring), also in the Iwaya area. It has luxurious natural radon hot spring water. It is sure to warm your body after the cruise and the sea breeze. It is a locally famous beautiful hot spring. The outdoor hot spring is a popular facility with a beautiful view of the illuminated bridge from the open-air bath. The Akashi Kaikyo Bridge is illuminated in seven different colors every hour. In winter, the air is clearer and the lights look even more beautiful.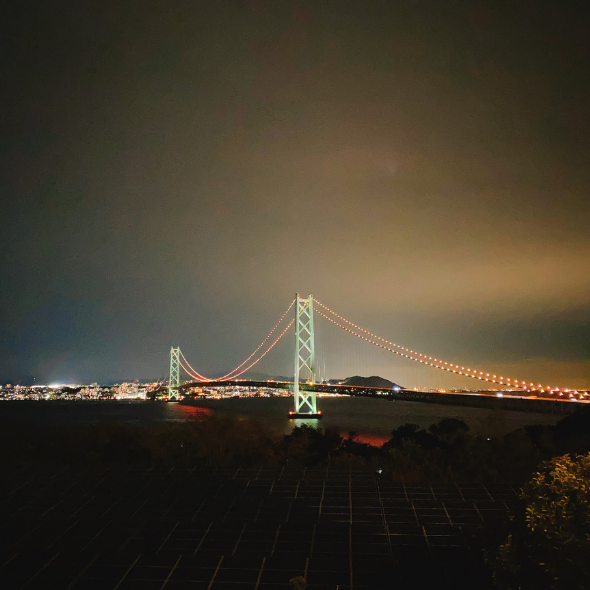 Return by highway bus from Awaji IC
Biyu Matsuho no Sato
↓Taxi 6 min.
Awaji IC Highway bus stop
From the Awaji IC, you can access Maiko Station, Kobe-Sannomiya Station, and JR Kobe Station.
It takes about 40 minutes to Kobe Sannomiya.
A luxurious 2-day/1-night trip to fully enjoy Awaji Island is an elegant plan that includes the latest spots that can only be found on Awaji Island, gourmet food, a cruise, and a stopover at a hot spring. Of course, the entire trip can be done by cab, and all the spots are in the northern area of Awaji Island. We have introduced a car-free plan for those who are not good at driving or those who want to drink. Please come to Awaji Island to enjoy the clear air and beautiful nature that only the cold season can offer.