On the west coast of Awaji Island, there are many restaurants suitable for family trips. You can enjoy your meal in an open space surrounded by nature. Recommended for those who want to enjoy a resort atmosphere away from the hustle and bustle of the city, or for those who want to enjoy a meal while watching the sunset. Here are some recommended restaurants where everyone can enjoy sharing day or night. Please take a look at them as a reference for sightseeing on Awaji Island.
Winter Only – Hot Pot Dishes to be Enjoyed in the Cold Season:
Craft Circus Kaiou Ichiba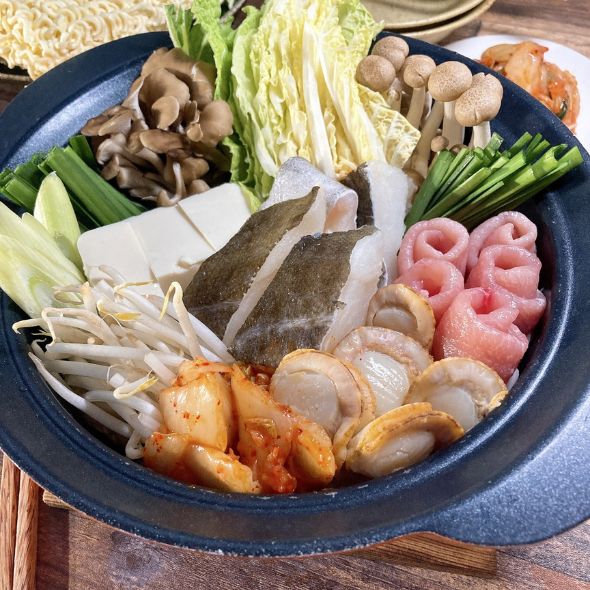 Kaiou Ichiba at Craft Circus is a seaside restaurant that offers casual fare such as hamayaki, which is made with plenty of fresh fish from the Seto Inland Sea, seafood rice bowls, and nigiri sushi. Additinally "Kaiou Ipponabe Set" is served only in winter. "Nabe" has an image of being shared by everyone, but you can enjoy a "konabe" meal which is an individual portion of Nabe without sharing. It can be arranged by individuals to suit their individual tastes. We also recommend adding zosui (rice porridge) or noodles to finish the meal.
Casual and Impactful Menu  

Craft Circus: Craft Kitchen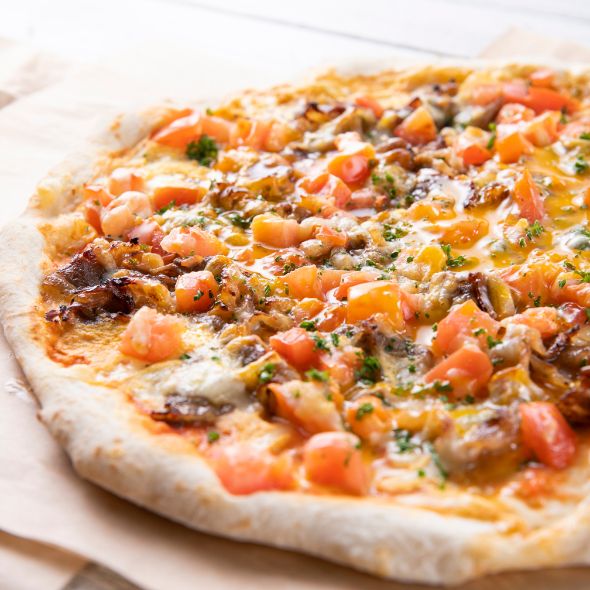 Craft Circus' "Craft Kitchen" offers a wide variety of menu items that can be shared with friends and family. The Craft Kitchen's specialty, "Island Pizza," boasts a diameter of 40 cm and makes a great impact. The pizza is lavishly made with ingredients from Awaji Island, and pleasing to both your eyes and palate.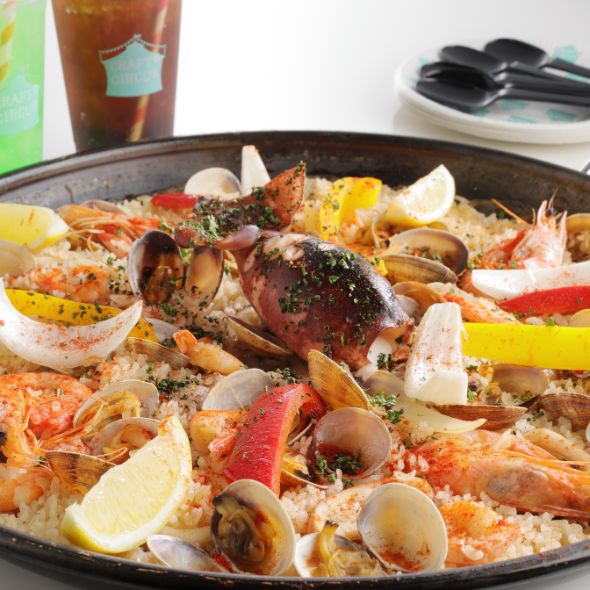 This oversized seafood paella is 40 cm in diameter and made with fresh seafood and onions from Awaji Island. You can enjoy the delicious flavor of seafood and savory roasted rice in this authentic paella that will certainly satisfy your appetite.
* Takes about 20 minutes for cooking.
Location
CRAFT CIRCUS
Address
2-2 Nojima-Hirabayashi, Awaji City, Hyogo Pref. 656-1724
Access
15 minutes by car from Awaji IC on Awaji-Kobe-Naruto Expressway. 10 minutes by car from Iwaya Port (Jenova Line Ferry).
Parking
80 spaces
Business Hours
Weekdays: 10:30-20:30 (last order 19:30)
Weekends/Holidays: 9:30-20:30 (last order 19:30)
Closed
Thursdays (excluding national holidays)
Tel
0799-82-1855
Website
https://awajicraftcircus.com/
Reservations
https://www.tablecheck.com/en/shops/craftcircus/reserve
Click here for details of CRAFT CIRCUS
Fresh Salad Bar with Seasonal Delicacies
Cafe Scuola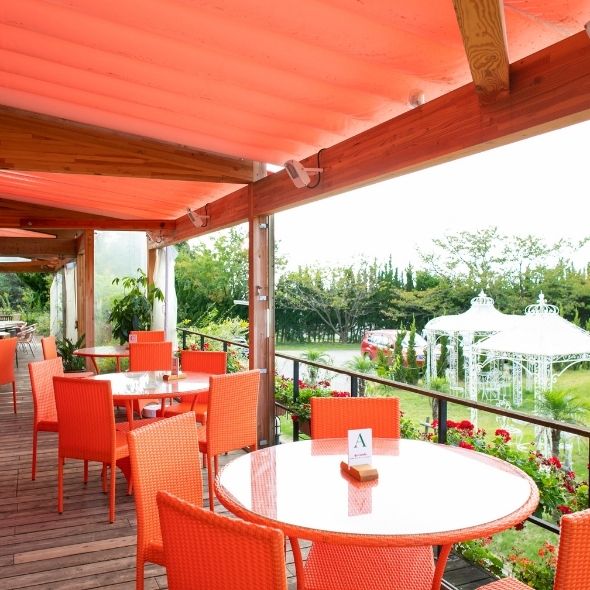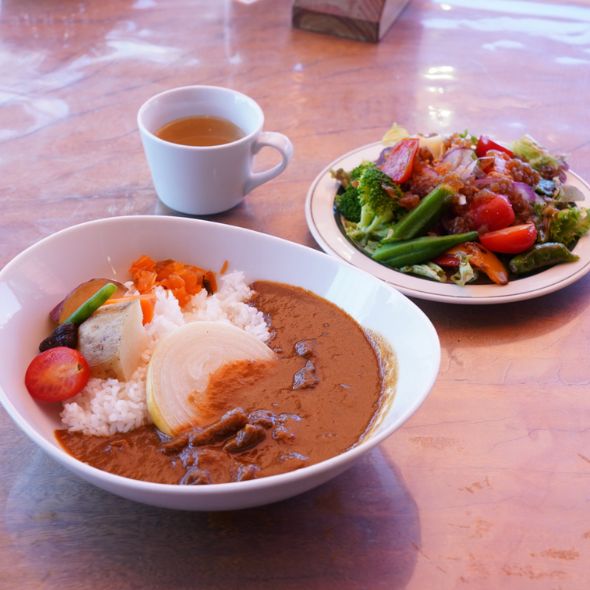 Cafe Sucola, located on the first floor of Nojima Scuola, has an interior renovated from an elementary school and terrace seating where you can enjoy meals with your pets. At lunch time, in addition to main dishes such as pasta and curry, a salad buffet with a wide selection of freshly picked seasonal vegetables from Awaji Island is served.
Lava Stone Grill for the Original Taste of Meat
Ocean Terrace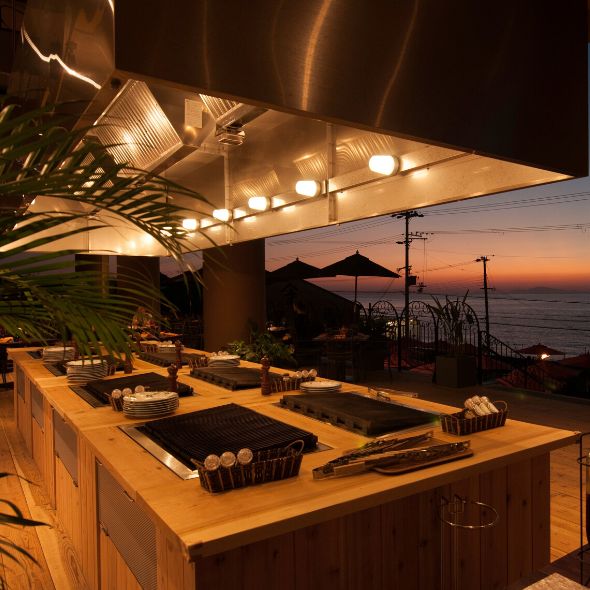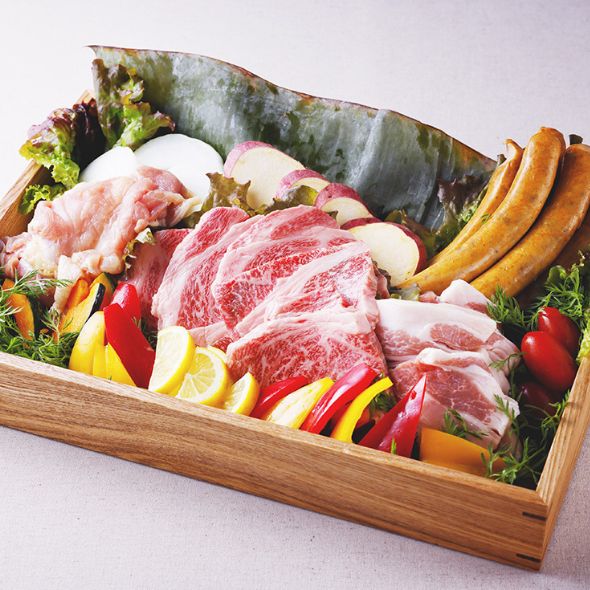 Ocean Terrace is a restaurant with an ocean view where you can enjoy seasonal ingredients such as Awaji beef, Awaji Island chicken, pork, and vegetables grilled in a resort-like atmosphere. The "Ocean BBQ Grill" is a self-roasting style using a lava rock grill. The lava rock grill allows the meat to be grilled to a tender and juicy perfection without the need to be conscious of the heat level. This is a menu item that is recommended for those who want to enjoy the grilled food with friends and family.
Click here for details of Ocean Terrace
We have listed the best restaurants for everyone to share. Each restaurant is located about a 10-minute drive from the other, making them ideal for stopping by after a day of fun at the West Coast attraction facilities. Why not make your trip memorable by enjoying a casual lunch or dinner surrounded by the beautiful nature while sightseeing on Awaji Island?