Dessert pizza represents a delightful and innovative twist on the classic Italian dish, enjoyed by many people worldwide. Meanwhile, pizza, in all its forms, holds a cherished place in Japan's culinary landscape. Eaten on various occasions, it serves as a delightful experience, bringing friends and family together.
Dessert pizza combines the familiar pizza base with an assortment of sweet toppings, offering a mouthwatering fusion of flavors and textures. In this article, we will delve into the essence of dessert pizza and its rise in popularity. We will also introduce you to a unique destination where you can savor this delectable treat on Awaji Island.
Dessert Pizza: A Sweet Twist on a Savory Dish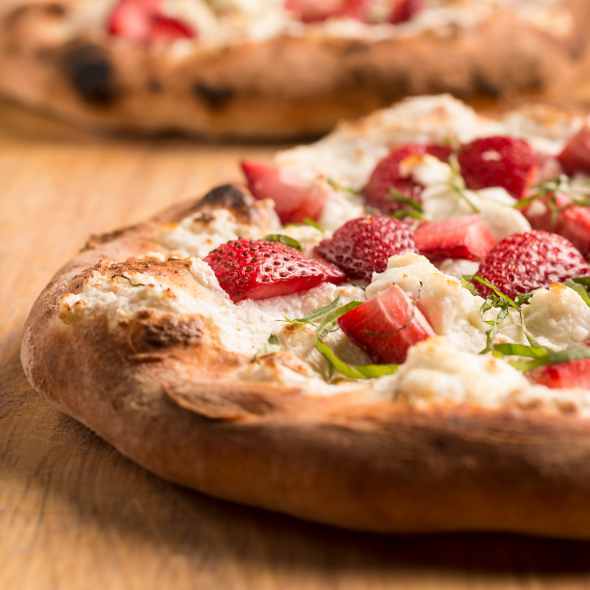 Dessert pizza is a creative departure from the traditional savory pizza, replacing tomato sauce, cheese, and toppings like pepperoni with a variety of sweet ingredients. The base remains familiar, typically a soft and doughy crust, but the toppings are where the magic happens. Imagine it as a delectable, sweet masterpiece where the crust acts as a base. This sets the foundation for an extremely unique flavors that you have never tried before.
The Surge in the Popularity of Dessert Pizza
The recent surge in the popularity of dessert pizza can be attributed to several key factors. Firstly, the ever-evolving landscape of food trends has propelled dessert pizza into the spotlight. Culinary experimentation is on the rise, and it serves as an enticing canvas for chefs to showcase their creativity.
Moreover, the widespread influence of social media platforms has played a pivotal role in spreading the word about dessert pizza, drawing in food enthusiasts from all corners. Younger generations, who are known for their adventurous tastes and tendency to share their culinary experiences online, have been instrumental in fueling the dessert pizza trend's huge rise.
Introducing A Unique Restaurant Serving Dessert Pizza on Awaji Island: miele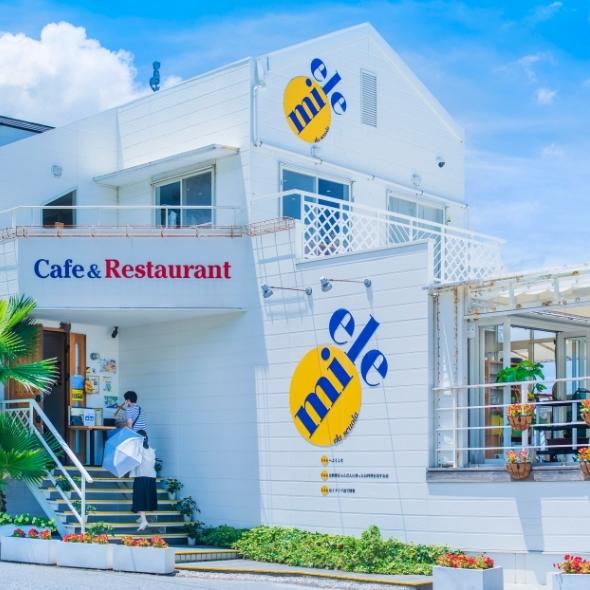 Now, let's journey to Awaji Island, a picturesque gem in Japan's Hyogo Prefecture. Located in the eastern portion of the Seto Inland Sea, Awaji Island holds the distinction of being Japan's largest island within this inland sea. Although it may be modest in size, Awaji Island boasts an abundance of natural wonders, historical importance, cultural treasures, and of course, delicious and unique culinary food. Here, you'll be able to find a hidden culinary gem known for its dessert pizza, miele.
miele on Awaji Island is a culinary gem that offers a unique experience. The restaurant combines exceptional food and service with stunning views to create an unforgettable experience. As soon as you enter miele, you will be greeted by a welcoming and inviting atmosphere. The elegant interior design and soft lighting combine to create a calming ambiance, instantly making you feel at ease and at home.
What truly sets miele apart is its extraordinary and distinctive culinary offerings, including the enticing allure of unlimited onion and whitebait-topped pizzas, delectable honey-infused creations, and an array of other unique delights. This time, we'll focus specifically on the restaurant's renowned specialty: their exceptional dessert pizzas and our opinions after eating them!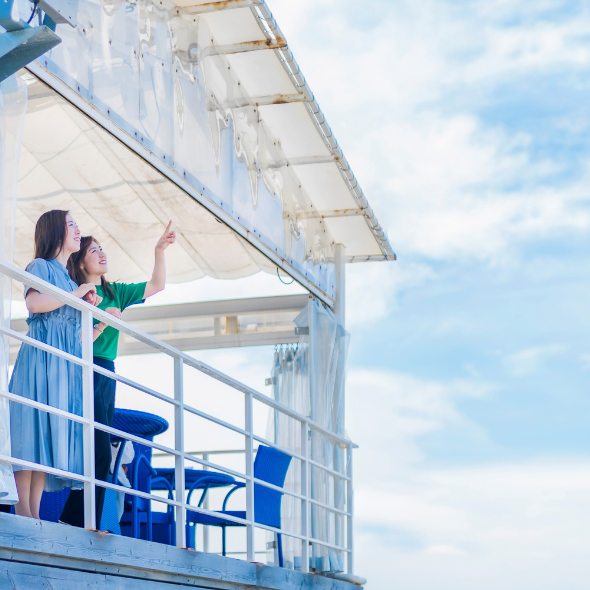 Dessert Pizza #1: Strawberry Pizza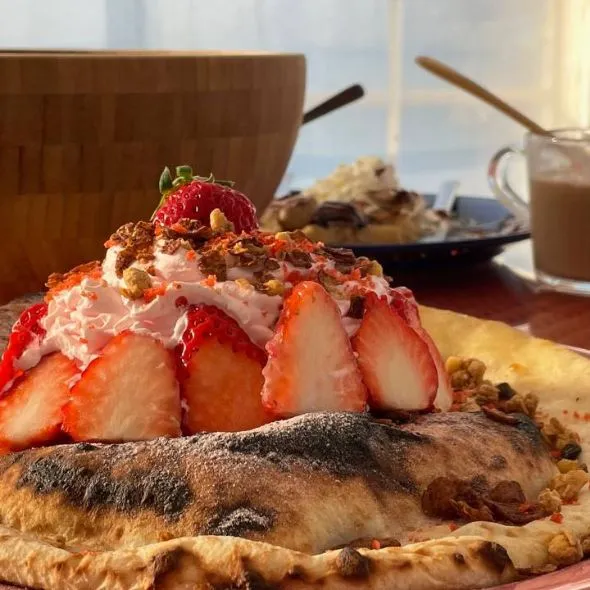 During Valentine's period, an intriguing dish that can be enjoyed at miele is their strawberry dessert pizza. Yes, you read that correctly, strawberry pizza. Initially, there were some concerns about the taste, but after trying it ourselves, it turned out to be amazing.
The first bite was a revelation, as the flavors harmonized exceptionally well. The crust, characterized by its thin and crispy texture with a perfectly charred edge, provided an ideal foundation for the sweet and tangy strawberry cream topping. This unexpected yet delightful combination managed to strike a balance that simply worked, leaving a lasting impression.
Dessert Pizza #2: Honey Pizzas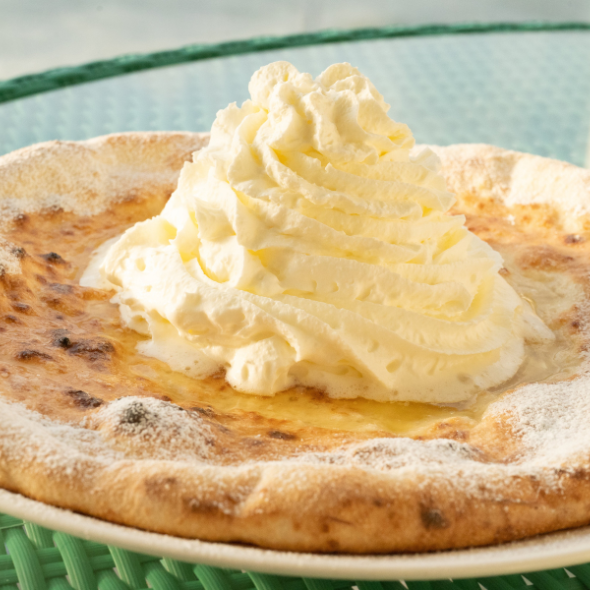 "Miele" means honey in Italian, and this is beautifully reflected in their array of honey-inspired desserts. Among their specialties, the honey dessert pizzas stand out. One of their regular menu items is the "Honey Mayo Marinara Pizza", featuring the magic touch of Awaji honey, small shrimp, a special sauce, and unlimited onion toppings. The interplay of sweetness from the honey and the savory elements is truly exceptional.
Another delightful surprise from their specialty selection is the "Fresh Cream Pizza with Butter Honey". Can you imagine it? A pizza adorned with fresh cream! But upon trying it, we were pleasantly astonished by its delectable flavor profile. Imagine the essence of sweet pancakes but elevated by the crispy pizza crust and the rich, flavorful honey. It's a taste sensation that must be experienced firsthand. Don't hesitate to give it a try and prepare to be pleasantly surprised by the unique flavors of the dessert pizza.
Dessert Pizza #3: Mont Blanc Pizza
One particularly unique creation that made an appearance at miele during Halloween last year was the Mont Blanc Dessert Pizza. Mont Blanc Dessert, traditionally consisting of sweetened chestnut purée shaped like vermicelli and crowned with a dollop of whipped cream, is a classic dessert in its own right. However, the idea of placing it atop a pizza might initially raise eyebrows.
Surprisingly, this unconventional combination works remarkably well, and here's why: The Mont Blanc Dessert brings a rich, nutty sweetness from the chestnut purée, while the whipped cream adds a luxurious creaminess. When paired with the pizza crust, which often carries a subtle hint of savory undertones, a delightful contrast emerges. Get ready to also try miele's one-of-a-kind Halloween dessert pizza this year!
Dessert Pizza #4: Matcha Pizza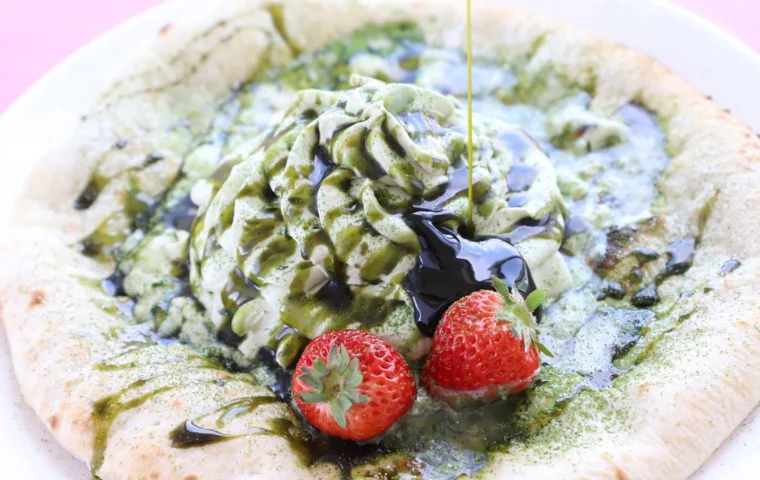 As part of their limited-time offerings, miele introduced the Matcha Pizza, showcasing a delightful fusion of flavors. This specialty featured a layer of high-quality matcha cream atop a crispy pizza crust. The combination of the rich matcha with the sweetness of the cream and the pizza's crispy texture creates an exceptionally unique and enticing culinary experience.
Anticipate the Arrival of miele's Upcoming Dessert Pizza!
miele, the culinary standout on Awaji Island, has consistently charmed diners with their inventive dessert pizza. While many of these delightful creations are only on the menu for a limited time, they underscore miele's commitment to offering fresh and innovative choices. Their dessert menus have gained significant attention for their creativity and deliciousness. So, be sure to stay tuned for miele's upcoming dessert pizza creations, as they continue to surprise and delight with new and exciting additions. Your taste buds are in for a delectable experience!
Name
miele
Adress
785-9 Nojimahikinoura, Awaji City, Hyogo Pref. 656-1721
Tel
0799-80-2600
Operation Hours
Weekdays 11:00~19:00 (L.O.18:30)
Sat., Sun, & Public Holidays 9:30~19:30 (L.O.19:00)
Closed: Tuesdays
In Aug. and Sept. it will not be closed on Tuesdays
Website
https://www.miele-da-scuola.com/