In this article, we will introduce five places on Awaji Island recommended for you to visit during your summer vacation. In these places, both children and adults can have lots of fun through the various attractions, media art, activities, theater shows, and meet and greets. This article is for anyone who wants to make the most of their summer trip to Awaji.
HELLO KITTY SMILE
Hello Kitty Smile is a Hello Kitty-themed media art play space and restaurant. Visitors can enjoy play experiences with mystery-solving games, meet & greet opportunities, shows, lunch greetings, and art and craft experiences. It is also popular as a place on Awaji Island that can be enjoyed even on a rainy day. But whatever the weather, it is the top of our list of must-visit places for families. They will share an experience that will live long in their collective memory.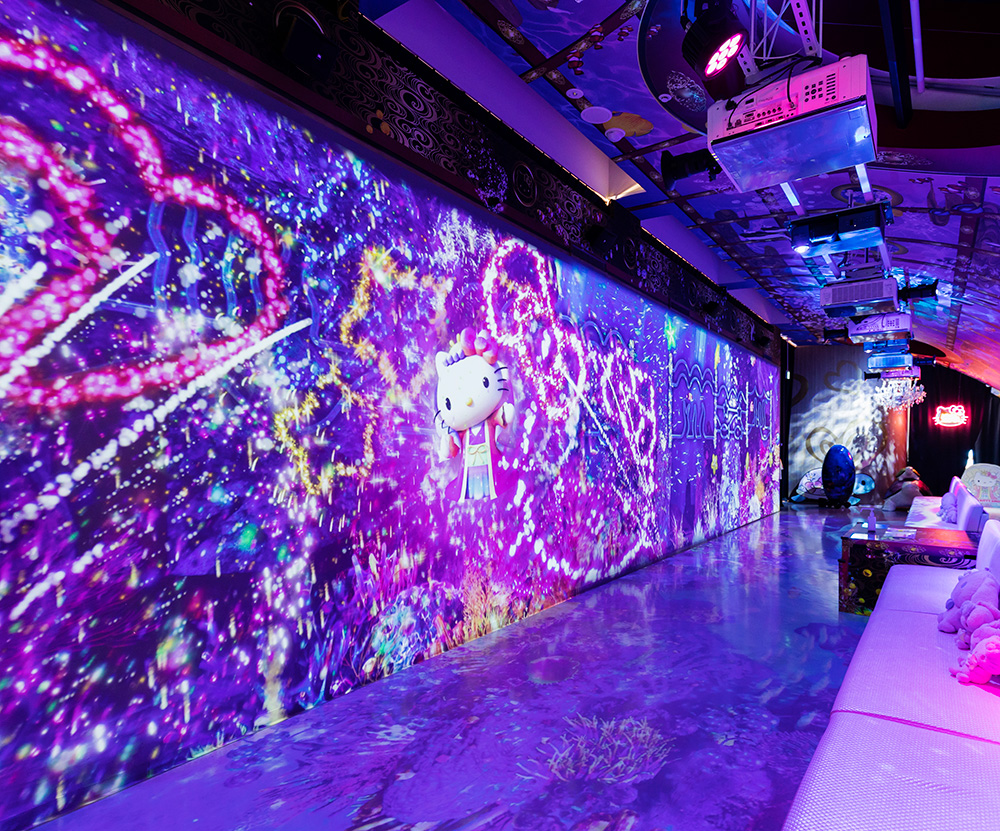 © '22 SANRIO CO., LTD. APPR. NO. L630788
Otohime Ryugujo is a media artwork that recreates the underwater world of Hello Kitty and is truly amazing to see. Visitors can also receive a gift for completing the puzzle-solving game, and take a look at Hello Kitty's Mercedes Benz car, a fun plush room, a giant kaleidoscope, and a mirror maze.
At the greeting event, visitors can enjoy chatting with Hello Kitty and taking pictures with her. She will even come to your table in the restaurant to play with you for a while. In addition to all this, visitors can express their creativity enjoying fun art and craft experiences, such as unglazed pottery painting, vinyl painting, and sand painting.
There are two restaurants at Hello kitty Smile. You can enjoy authentic Chinese cuisine on the terrace, or a healthy one-person hotpot, with original Hello Kitty latte art, and high tea.
There are also two stores. Hello Kitty and Sanrio character goods and limited edition goods are all on display. The theme of the shop is "kawaii for adults," and there is a wide range of collaborative products including Swarovski crystal and various crocodile products.
Click here for details of HELLO KITTY SMILE
HELLO KITTY SHOWBOX
Hello Kitty Showbox is a Hello Kitty-themed theater restaurant, where you can enjoy a special Hello Kitty show, and meet and greet the beloved character herself. Right next door, you can enjoy a 360° theater and a unique play experience at the Hello Kitty Apple House with its special observation deck. Why not come to Awaji Island during your summer vacation to experience the world's largest apple-shaped observation deck, as registered by the Guinness Book of World Records®?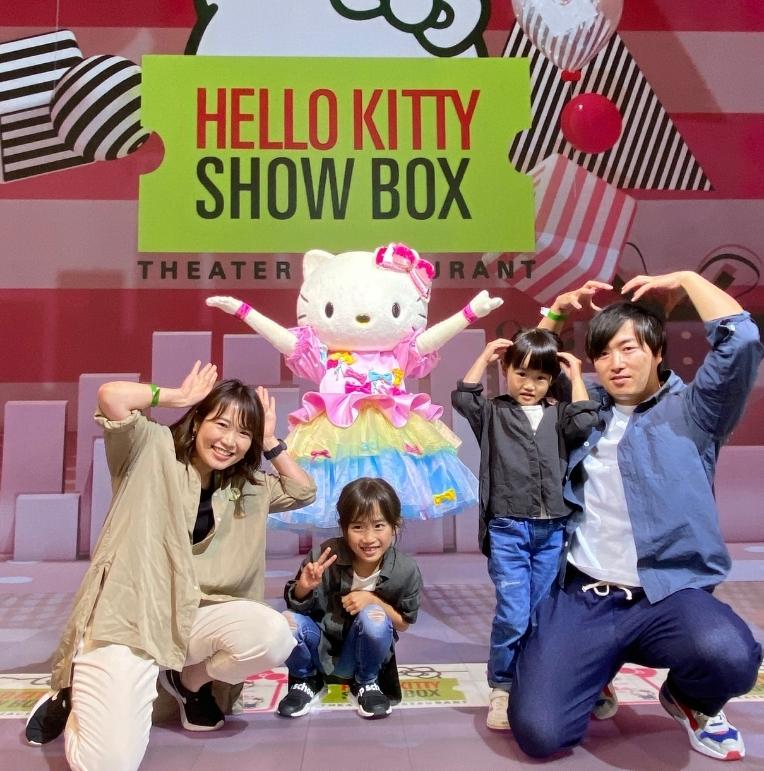 © '22 SANRIO CO., LTD. APPR. NO. L630788
The Hello Kitty Apple House 360° dome theater depicts a day in the life of Hello Kitty. The observation deck offers a great view of the giant Hello Kitty face on the roof of the Show Box next door. It's amazing to think that the whole Hello Kitty Show Box building is in the shape of the cute character. It's even more amazing to see this for yourself from the observation deck.
For the show and the meet & greet, Hello Kitty and members of the musical band sing and dance with the backdrop of the giant LED theater. It is a spectacular show with live music. Afterwards, there is a meet and greet where you can take commemorative photos and have a chat with the star of the show.
During the special lunch of delicious and healthy vegan cuisine, you can watch the spectacular live show, starring Kitty herself. And during café time, live music will be played while the tasty treats are served.
The gift store offers a wide variety of Sanrio character goods and other original goods. For more detailed information, including lunch and café plans, please refer to the official website HELLO KITTY SHOW BOX. The best part is, HELLO KITTY SMILE is a sister store of HELLO KITTY SHOW BOX, and sit right next door to each other, so you can enjoy both attractions in one day!
| | |
| --- | --- |
| Location | HELLO KITTY SHOW BOX |
| Address | 177-5 Nojimahirabayashi, Awaji City, Hyogo Pref. 656-1724 |
| Access | 10 minutes by car from Awaji IC and 15 minutes from Hokudan Interchange on Kobe-Awaji-Naruto Expressway. |
| Phone Number | 0799-70-9022 |
| Parking | Free parking available |
| Closed | Wednesdays |
| Operating Hours | 11:00-17:00 |
| Show Time | 12:10-13:30(Open at 11:00, Last In at 12:00) |
| Café and Greetings by HELLO KITTY | 14:00-17:00 Greeting at 14:30-/16:00- Café Show and Greetings by HELLO KITTY: 14:30~ / 16:00~ |
| Website | https://awajiresort.com/hellokittyshowbox/ |
| Reservations | https://www.tablecheck.com/en/shops/hellokittyshowbox/reserve |
Click here for details of HELLO KITTY SHOW BOX
Nojima Scuola
Nojima Scuola is a complex facility renovated from a old elementary school under the theme of agriculture, food, learning, and art. Visitors can experience various delights of the zoo and the dog run, and also in the café, the marché, the restaurant, and the bakery. It is a popular place to visit all year round, but especially in the summer vacation, and a place where you can enjoy your time with your dog, your family, or your loved one.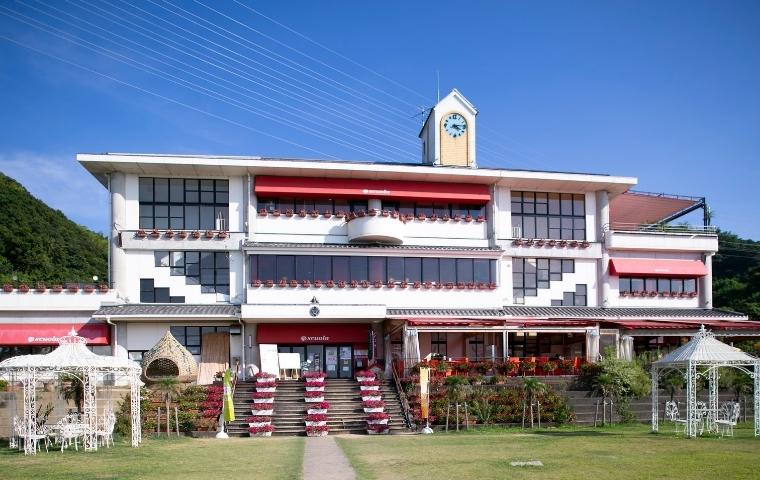 The zoo is famous for an alpaca that kisses you and for the friendly goats you can pet. The fluffy, fuzzy guinea pigs are adorable to. There are also rabbits, sheep, ponies, and miniature pigs. An admission fee with feed for the animals is payable.
The dog run has an expanse of natural grass, but is exclusively for small to medium-sized dogs. They can run freely off-leash, and there is agility equipment too. Since it is a free-to-use playground for pets, it is perfect for those who enjoy sightseeing with their pets during their summer excursions.
The restaurant is presided over by chef Masayuki Okuda, a master of the 'local production for local consumption' tenet, and celebrated as one of the world's top 1000 chefs. The Marché features over 250 different products, including vegetables freshly picked that the morning, local specialities, and sweets. The bakery sells freshly baked bread made on the premises, with no added coloring or preservatives. The animal-shaped bread is so popular.
The café serves lunch and desserts. It also has a great salad bar. There is indoor seating and terrace seating too. There is even a dog terrace so you can enjoy your lunch with the 'whole' family. All in all, Nojima Scuola is a place that can be enjoyed in a variety of ways, and is a great place to stop by if you're not really sure about what to do during your trip. You can always find something to do or see here.
For detailed information on business hours and the various facilities, please refer to the official website of Nojima Scuola.
Name
Nojima Scuola
Adress
843 Nojimahikinoura, Awaji City, Hyogo Pref. 656-1721
Website
https://www.nojima-scuola.com/
Reservations
2F Ristorante Scuola
https://www.tablecheck.com/en/shops/nojima-scuola/reserve
Tel
0799-82-1820
Operation Hours
1F Marché /Bakery: Weekdays 10:30~19:00
Sat., Sun., & Public Holidays 10:00~19:00

1F Café Scuola: Weekdays Lunch 11:00~14:00/ café 14:00~18:00
Sat., Sun., & Public Holidays breakfast 10:00~11:00
Lunch 11:00~15:00
Café 15:00~18:00

2F Ristorante Scuola: 11:30~15:30 (in by 14:00) / 18:00~21:30 (in by 19:30)

Outdoor Zoo: Weekdays 11:00~16:00
Sat., Sun. & Public Holidays 10:00~16:00 (13:00~14:00 animals in recess)

Closed: Wednesdays (Open on Public Holidays)
Click here for details of Nojima Scuola
SEIKAIHA
SEIKAIHA is a theater restaurant complex, built on the joint themes of performance and feast. It offers an authentic experience with a theater that presents Japanese performance culture such as Japanese music and drama, and restaurants that serves Japanese and Western cuisine, and a shop/bar that serves a wonderful selection of fine vintage sake.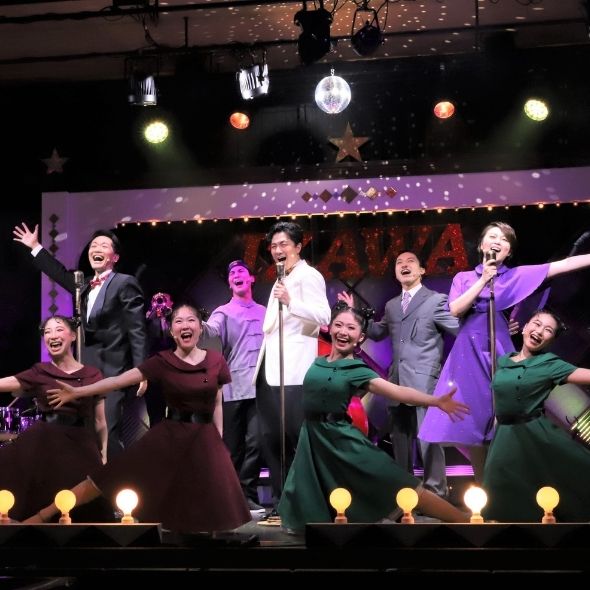 The theater, Naminoritei, offers a variety of performances such as musical theater, ballet, classical music, pop music, Japanese music, and anime. It is a great place for people to immerse themselves in the small theater experience, and the captivating performances of famous theater troupes and traditional Japanese culture.
Koshunoya is a shop and bar for aged old sake that sells their own original brand "Koshunoya no Bishu" (beautiful old sake). Visitors can experience pairing aged vintage sake (sake, shochu, plum wine) with seasonal dishes selected by a sommelier. The shop is also a hidden gem for those who want to create their own unique sake by blending vintage sake.
Uminoya is a restaurant that serves Western cuisine interpreted in a Japanese way from its Meiji Era. Surrounded by antique furnishings, it is reminiscent of a guest house from the early Meiji period. You can enjoy live music performed by musicians every day, where you will be able to enjoy your time in an elegant way.
Aonoya is a restaurant where sushi, tempura, and other Japanese dishes are served. You can taste seasonal ingredients unique to Awaji Island. All seats face the sea, so you can enjoy dishes made from carefully selected ingredients while gazing at the spectacular view of the Harimanada Sea.
Click here for details of SEIKAIHA
ZENBO SEINEI
Zenbo Seinei is a ZEN Wellness facility offering a mindfulness experience that heals the body and mind. It is a place where you can experience Zen and other activities to regulate your spirit and eat healthy Zen-style vegetarian food that is healthy. During the summer vacation, you can spend your time surrounded by the great nature of Awaji Island and feel the sounds of cicadas and the chirping of birds.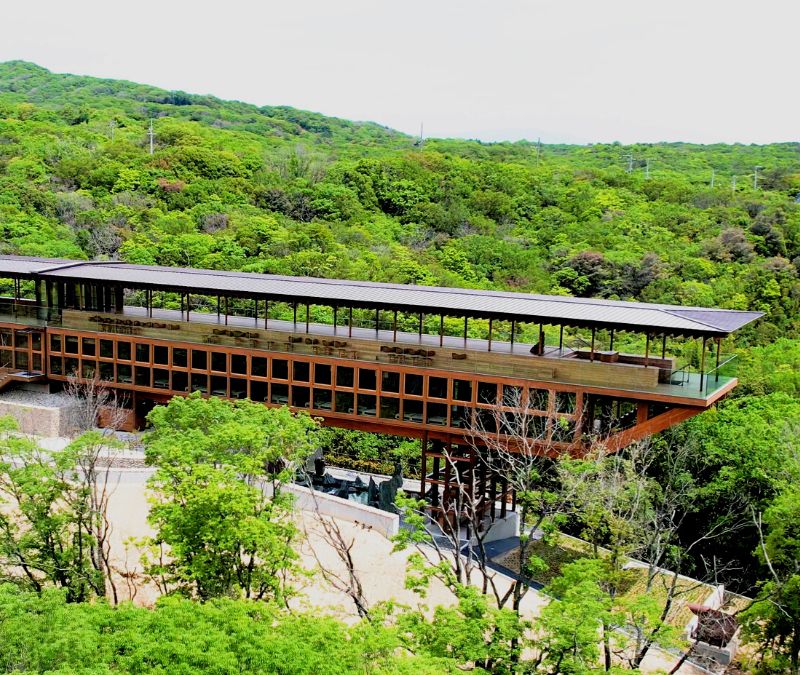 The activity will be "floating ZEN" on a 100-meter-long wooden deck, designed by architect Shigeru Ban, which combines Japanese cedar and offers a 360-degree view of nature in all four seasons, as well as Zen and yoga.
Other programs include "Tea Ceremony" to learn "Omotenashi" (hospitality) in traditional Japanese culture, "Calligraphy" to write letters one by one with a single stroke of the brush, following the calligraphy of calligrapher Shishu, and "Kodo" to experience the world of fragrance on the island where the oldest fragrant wood in Japan was first introduced.
Vegetarian cuisine offers healthy dishes originally developed using porridge, tofu, and seasonal ingredients harvested on Awaji Island. No oil, dairy products, flour, or animal products are used. It helps to restore balance within the core of the body.
There are both one-day and overnight experiences. 18 rooms are available for overnight stay, with single and double occupancy rooms available. The concept of the room is "Okite hanjō, nete ichi-jō", translated as "Half a tatami for waking, one tatami for sleeping". It means only taking up as much space as you really need – or in a broader meaning, only using what you really need in your life. Each person faces himself/herself in a room the size of one and a half tatami mats.
Please refer to the official website of Zenbo Seinei for detailed information on day trip plans, overnight stay plans, etc. If you are tired of your daily routine and would like to reexamine yourself through mindfulness during your summer vacation, please enjoy the Zen experience at Zenbo Seinei.
Click here for details of ZEN Wellness SEINEI
Closing
How was it? We have carefully selected and introduced places that we recommend for your summer vacation on Awaji Island. On the west coast of Awaji Island, there are a wide variety of attractions for children, activities for grownups, and even for pets. Depending on the occasion, you can enjoy the trip as a family, as a couple, with friends, or with your pet. Please take this opportunity to fully enjoy the resort area of Awaji Island!