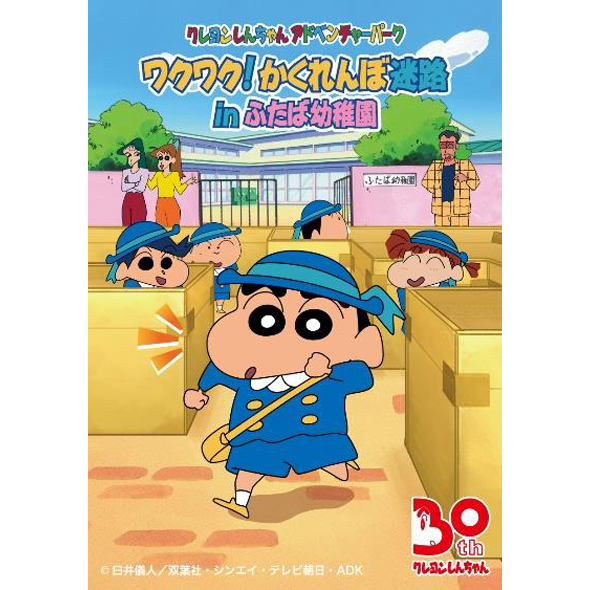 Recreating Futaba Kindergarten
On September 10th, a new attraction opened in the popular Anime Park "Nijigen no Mori": Futaba Kindergarten! Fans of the Crayon Shin-chan series will know that's where Shinnosuke Nohara (aka Shin-chan) went to school.
The new area is fashioned in the image of Futaba Kindergarten, and includes a brand new attraction: "Crayon Shin-chan Adventure Park Hide-and-Seek Maze", along with unique photo spots!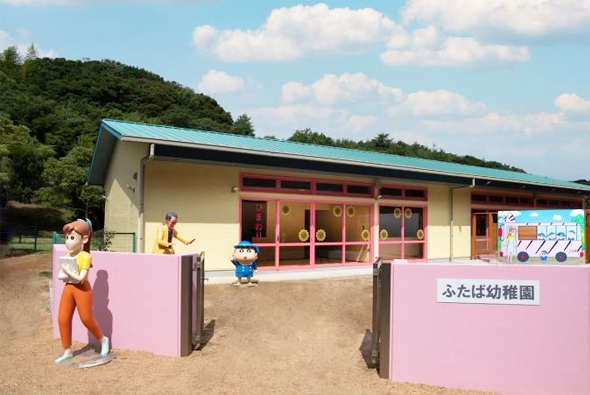 Enroll and Play Hide-and-Seek with Shin-chan and his Friends!
This new attraction is open to children 12 and under, who will be taking on the daunting task of finding Shin-chan and co. in an elaborate cardboard maze. It'll feel as though they are navigating Futaba Kindergarten! The maze is filled with fun along the way, such as a mirror room and doodles from characters of the series. Upon reaching the finish line, visitors will receive a commemorative photo with the very character they found during the mission!
Can't-Miss Characters and Photo Spots!
Inside, you'll be able to meet classic Futaba Kindergarten characters such as Mr. Yoshinaga and the Principal. Get fully immersed into the world of Crayon Shin-chan at our special photo-op spots, replicas of both the school building and kindergarten bus!
Nijigen no Mori is jam-packed with attractions and anime galore. Dogs are very welcome, and we definitely recommend the park for picnics. What better way to have fun while getting some exercise than checking out what we have in store?
Click here for details of NIJIGEN NO MORI
ⓒ臼井儀人/双葉社・シンエイ・テレビ朝日・ADK ⓒ臼井儀人/双葉社・シンエイ・テレビ朝日・ADK 1993-2022