The sun shines brightly on Awaji Island, signaling the arrival of summer. If you crave thrilling fun and boundless energy, Awaji Island's Nijigen no Mori is the place to be. With new attractions constantly being added, this anime park is becoming more enchanting and fun than ever before. Experience the world of anime and the joy of summer at Nijigen no Mori on Awaji Island.
Anime Park Nijigen no Mori on Awaji Island
Nijigen no Mori is a popular entertainment complex on Awaji Island that showcases the rich world of Japanese anime. The theme park features various immersive anime experiences and serves as a hub for anime enthusiasts and fans of Japanese pop culture. Nijigen no Mori provides attractions from popular franchises such as Naruto & Boruto, Dragon Quest, Godzilla, and many more which attract a diverse range of visitors, including domestic and international tourists.
Click here for details of NIJIGEN NO MORI
NARUTO & BORUTO Shinobi Village Special Mission Starring Uchiha Itachi and Uchiha Shisui: "NARUTO: The Hope of UCHIHA"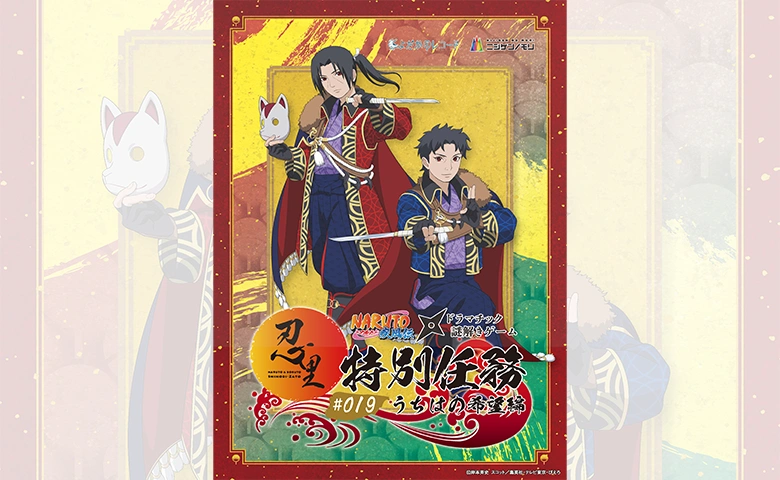 Embark on an extraordinary adventure at Nijigen no Mori's popular attraction, NARUTO & BORUTO Ninja Village as it presents a captivating riddle-solving game titled "NARUTO: The Hope of UCHIHA". Join the famous characters Uchiha Itachi and Uchiha Shisui, two revered members of the Uchiha Clan, in an original story set in the dark shadows of "Konoha" village.
Until September 24 (Sun), participants will become part of the secretive world of the Uchiha Clan, tasked with deciphering a hidden code within the Ninja Village. The key to unraveling this mystery lies in the symbol of the Uchiha Clan. Complete the mission, and you will receive an exclusive reward with an original design only available at Nijigen no Mori.
NARUTO & BORUTO Ninja Village Special Omikuji Event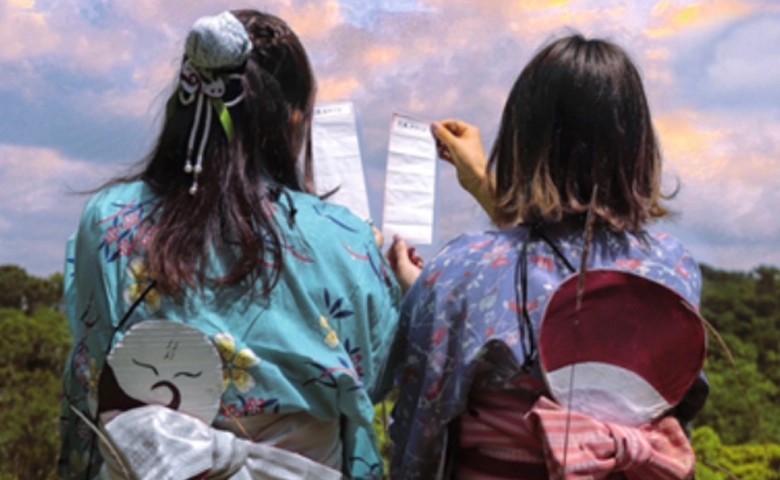 For a limited time only, Nijigen no Mori NARUTO & BORUTO Ninja Village attraction is hosting a special event that promises to bring luck and excitement to your summer vacation. Until Sunday, September 3, don't miss the Omikuji (fortune slip) event where adventure awaits!
Step into the shinobi world and embark on a thrilling puzzle-solving journey. Your mission is to uncover five hidden shrines scattered throughout the venue and obtain a secret password to unlock a special omikuji. When dampened with ice, the omikuji reveals not only your fortune but also beloved characters such as Naruto Uzumaki and Sasuke Uchiha. Come experience the magic of Awaji Island at Nijigen no Mori!
©岸本斉史 スコット/集英社・テレビ東京・ぴえろ
Jet Jaguar and Megalon Special Exhibition at Nijigen no Mori's Godzilla Museum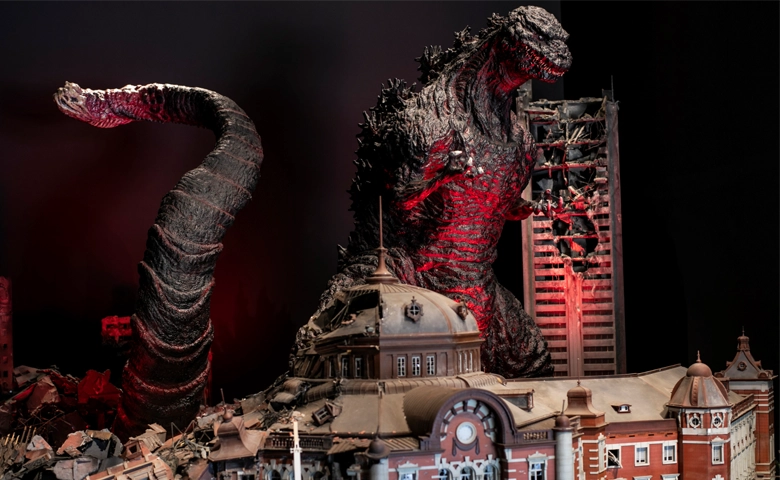 Join the exhilarating commemoration of the iconic movie "Godzilla vs. Megalon" as Nijigen No Mori presents a captivating "Jet Jaguar and Megalon Special Exhibition", hosted within the beloved "Godzilla Intercept Operation" Godzilla Museum" until Monday, January 8, 2024.
Behold the charm of the legendary Jet Jaguar and Megalon as you encounter original exhibitions and dioramas that bring famous scenes from the film to life. Attention to all Godzilla fans and those who adore the king of monsters – this extraordinary exhibition is an absolute must-visit! Come together with like-minded enthusiasts and fully immerse yourselves in the rich history of "Godzilla vs. Megalon" at the exhilarating Godzilla Museum within Nijigen No Mori. Seize this rare chance to relive the monumental clash and commemorate 50 years of Godzilla in all its glory.
TM & © TOHO CO., LTD.
Demon Slayer Swordsmith Village Collaboration Event on Awaji Island
Nijigen no Mori is holding a new collaboration event with Demon Slayer Nijigen no Mori x Demon Slayer Night Walk: Swordsmith Village (night), and Nijigen no Mori x Demon Slayer Mystery Solving Game: The Falling Flower Village and Scene of Illusions (day).
Nijigen no Mori is hosting a captivating night walk inspired by the "Swordsmith Village" in Demon Slayer. Participants will embark on a 1.2 km journey through the enchanting forest, beautifully adorned with immersive projection mapping elements. In this captivating experience, participants will assume the roles of "apprentice swordsmiths," allowing them to witness firsthand the intense battle between the demon slayers and the formidable demons.
During the daytime event, participants will have the opportunity to engage in two exciting riddle-solving games with character panels newly illustrated by ufotable, the animation studio behind Demon Slayer, and other various items. As participants explore the park, they will be immersed in the world of Demon Slayer and accompany Kamado Tanjiro and his companions on an intriguing mission to unravel the secrets concealed.
During the collaboration event at Nijigen no Mori, visitors can not only get their hands on limited-edition original goods but also indulge in new and delicious food inspired by Demon Slayer characters such as Kamado Tanjiro, Kanroji Mitsuri, and Tokito Muichiro.
©吾峠呼世晴/集英社・アニプレックス・ufotable
CITY HUNTER THE MISSION: "City Hunter the Movie: Angel Dust" Collaboration Event on Awaji Island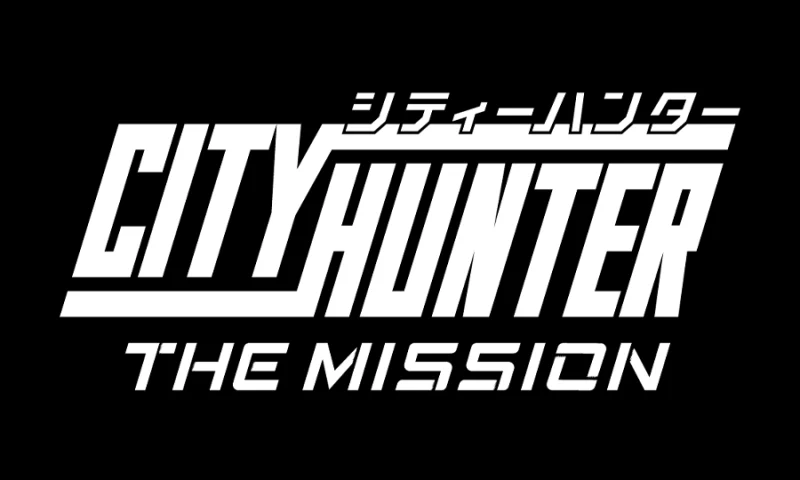 CITY HUNTER THE MISSION is an immersive stealth infiltration game organized to celebrate the highly anticipated release of "City Hunter the Movie: Angel Dust," a captivating movie from the beloved manga "City Hunter" featured in Weekly Shonen Jump. During the event, Awaji Island's Nijigen no Mori will also offer a range of exclusive merchandise and food inspired by iconic characters from the manga, including Saeba Ryo, Makimura Kaori, and Umibozu.
Prepare for an exhilarating escapade as you enter a meticulously designed maze, where you must exercise caution to avoid encounters with vigilant guards. Equipped with a cutting-edge scanning device, employ your strategic skills to uncover vital clues strategically placed throughout the maze and successfully accomplish the mission that awaits.
(C)北条司/コアミックス・「2023 劇場版シティーハンター」 制作委員会
Enter the RPG World of Dragon Quest on Awaji Island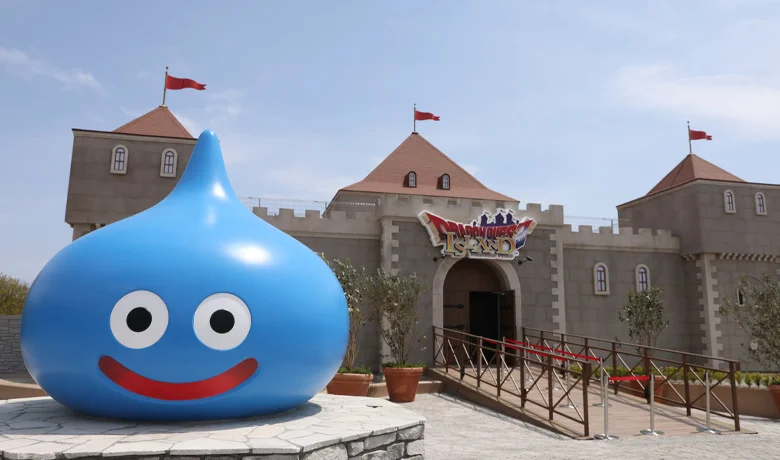 Combining captivating entertainment with the renowned allure of "Cool Japan", Nijigen no Mori beckons visitors from around the globe. Among its extraordinary offerings is the awe-inspiring Dragon Quest Park, a realm that attracts visitors from around the globe to immerse themselves in an enthralling journey.
What sets this adventure apart is its adherence to a classic RPG structure, rendering it enjoyable for both seasoned aficionados and newcomers to the Dragon Quest series. Even those unacquainted with the franchise can delight in the immersive world it presents. As the narrative unfolds, the expedition takes us through vast fields, adding an element of physical activity to the quest. The experience not only captivates the mind but also provides an exceptional opportunity for physical exercise, ensuring a truly unforgettable adventure in every aspect.
Check here for an experience report of Dragon Quest. Step into the realm of RPG and embark on an exhilarating journey as an adventurer, venturing through a myriad of thrilling challenges!
A Splash Version of Crayon Shin-chan Adventure Park's Zipline is Now Available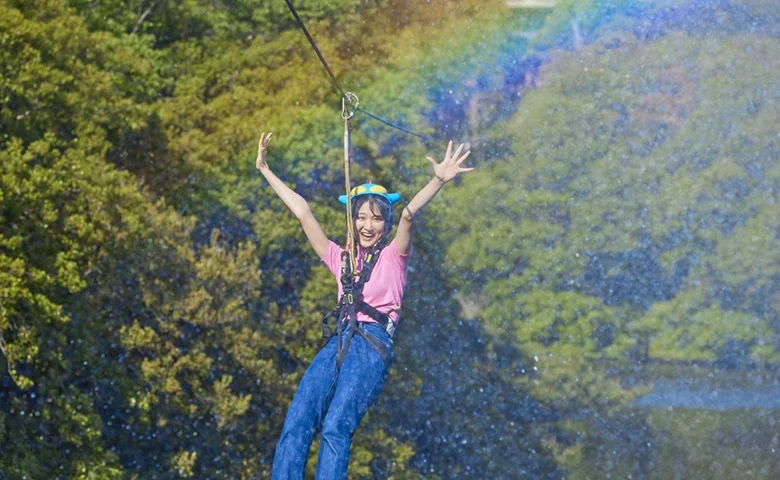 Prepare for an exhilarating limited-time event that will ignite your summer excitement! At the "Crayon Shin-chan Adventure Park", you can try the daring "Challenge! Action Masked Squadron" zipline attraction, sending you soaring over the lake for an adrenaline-packed adventure.
Take the plunge on a 225-meter-long round-trip zipline ride, gliding above the water's surface for an unforgettable one-minute journey. But that's not all – brace yourself for an epic surprise! As you reach the goal point, four powerful "water cannons" will shoot an exhilarating rush of water, creating a massive splash that will leave you drenched in delight. The zipline is ideal for children on summer vacation seeking thrills and fun.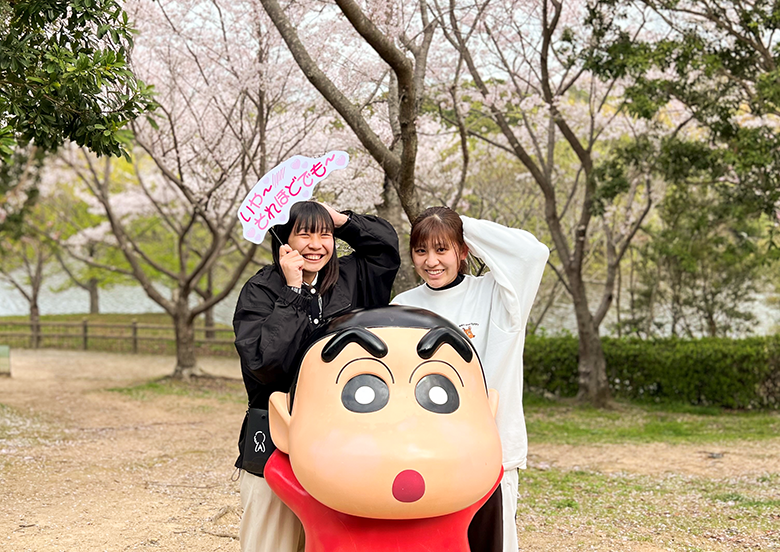 A total of 53 endearing characters from Crayon Shin-chan have been thoughtfully placed as popular photo spots throughout the park, immersing visitors in a whimsical wonderland of memories. Do not miss out on the chance to take as many adorable snapshots with Shin-chan and his friends as your heart desires.
©臼井儀人/双葉社・シンエイ・ADK
For the most up-to-date information and to purchase tickets, kindly visit the official Nijigen-no Mori website. Make the most of your summer vacation by immersing yourself in Nijigen no Mori's captivating sensory attractions.
Discover a realm filled with anime, offering an enchanting experience for all visitors. Whether you wish to enjoy the park with your furry companions or indulge in a delightful picnic, Nijigen no Mori welcomes you with open arms. Visit Nijigen no Mori and embark on an unforgettable summer experience on Awaji Island!