There are many ways to go from Tokyo to Awaji Island, but most travelers choose either to fly or take the train. Here is a closer look at these 2 options to help make the most of your journey and choose the path best for you.
Easy & Convenient: Shinkansen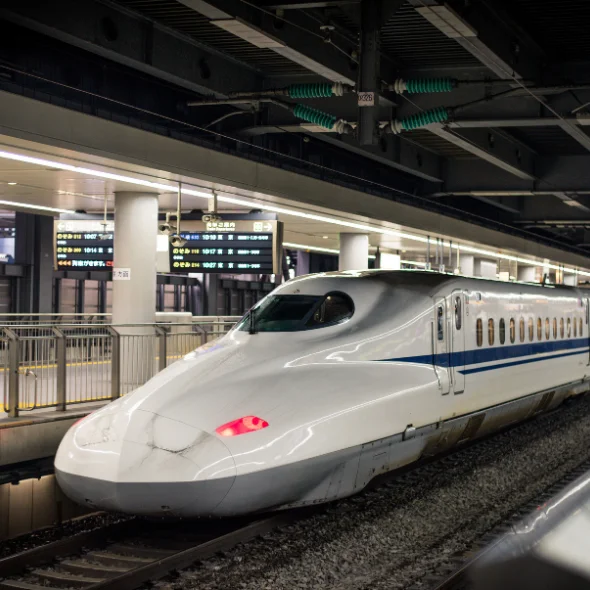 Taking the shinkansen
Getting from Tokyo to Awaji Island by bullet train (Shinkansen) is as simple as a single transfer. With Tokaido Shinkansen trains leaving Tokyo or Shinagawa stations roughly every 15 minutes from around 6:20 AM till 11:30 PM daily, "the bullet" still reigns as the king of convenience among Japan's vast transportation network.
Seats can be booked online from the JR-East Train Reservation website, then issued any time before departure at either the JR ticket counters or ticket vending machines. Specific seats can be selected from the train seat map on the site so remember: all seats are not created equal. Seats A and E are equipped with windows, electric outlets and a coat hook, while seat E also provides an Instagram-worthy view of Mt. Fuji on a clear day.
A generous buffer time is recommended on the day of travel. Many travelers have lost their way among the platforms and corridors of Shinagawa and Tokyo stations. This is especially true for Tokyo station, where 2 different Shinkansen lines depart: the Tohoku / Joetsu line and the Tokaido / Sanyo line, with separate entrances for each line. Sounds confusing, but just remember that only the Tokaido / Sanyo line can be accessed from outside the ticket gates. So, if transferring from the Yamanote line, exit the Yamanote line ticket gates first, then find the nearby Shinkansen gate and it will be the one you want; the Tokaido line. Shinagawa station is considerably easier. Although there are many platforms, they are arranged in a straight row with brightly colored arrows painted on the floor. Just follow the arrows and head to the far end of the platforms.
Even those with sharp navigation skills may want extra time at these stations, though, since both overflow with souvenirs, sweets, sake and other countless pleasures. Picking up an "eki-ben" or "station lunchbox" to enjoy on your ride is a long-enjoyed tradition. Just take care not to miss your train while browsing the endless selection of delicacies. After picking up your tickets, find the number of your train car on the platform and get in line. Travel time to Shin-Kobe station depends on the type of train: Nozomi (2h 41m), Hikari (3h 8m), and Kodama (over 4hrs).
At Shin Kobe
At Shin Kobe, exit the main ticket gates, take the escalator down to the ground floor, turn left outside the front doors and find the bus stop bound for Higashiura Bus Terminal (farthest platform). Buses run approximately every 30 minutes. If you arrive early and have some time to kill, think about heading into the nearby plaza for some kobe beef teppanyaki, or board the cable car behind the station to the mountain peak Kobe Nunobiki Herb Gardens for a cup of tea and stunning view.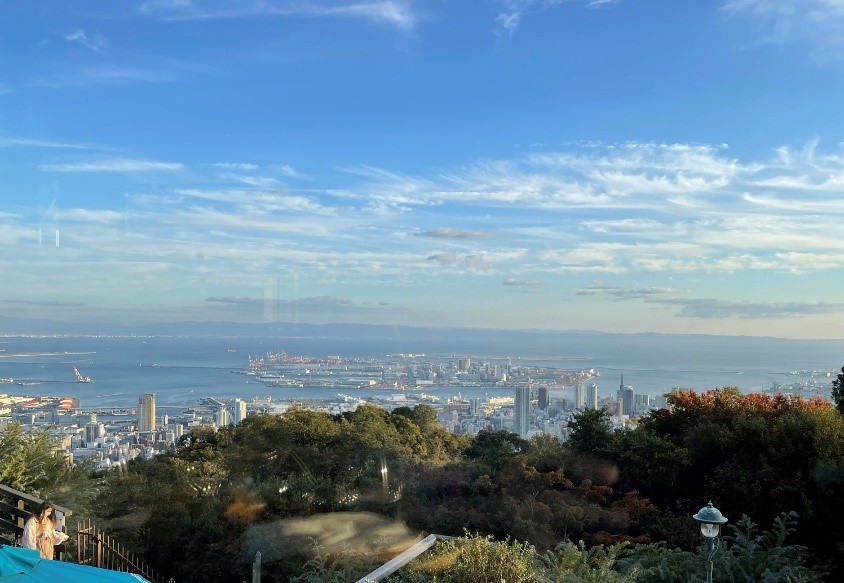 Getting to Awaji
A word of advice: load up your Suica card. Those who do so can board the bus just by tapping the IC card to the reader onboard. If your card balance is low, charge it at the JR ticket machines at Shin Kobe station. For those with no Suica card, head to the ticket counter on the ground floor, open 8am to 8pm. Tickets can also be purchased in cash on board but try to have exact change or it may cause delays. Bus fare from Shin Kobe to Awaji Island is ¥1050.
Hop on board, find a window seat, and take care not to sleep through the journey across the world-famous Akashi Kaikyo Bridge straddling the sparkling Seto Sea. The bus stops at a few points on the island's east coast, but for many travelers it may be best to get off either at Yumebutai, or the final stop of Higashiura Bus Terminal, where taxis are usually waiting. Some of the island's best accomodations like Grand Chariot are just a 15 minute taxi ride from Yumebutai.
Fast & Cheap: Flying to Awaji
From Haneda to Kobe
Two airlines fly to Kobe Airport from Haneda Airport near central Tokyo: Skymark and ANA. If you can travel on a weekday and are able to book in advance, tickets can be purchased online through the Skymark site, sometimes for less than¥8000, roughly half the price of the bullet train (around ¥15,000). Airfare fluctuates in price, with the highest Skymark fares roughly the same as the bullet train.
ANA tends to be a little more expensive but presents an ideal chance for frequent flyers to utilize points. Both airlines have excellent records of service and punctuality. Skymark flights depart from Haneda Terminal 1, while ANA flights leave from Terminal 2. Though not often considered as a tourist destination, Haneda airport itself is a great place to pick up souvenirs and sample some of Japan's famous fine foods. If you're early for your flight, head up to the rooftop viewing deck for a glass of wine with a view of the runway. Finally, when choosing a seat, keep in mind that seat A may give you a bird's eye view of Mt. Fuji on clear days when flying to Kobe.
From Kobe Airport to Awaji
The flight takes roughly an hour, and the Portliner monorail from Kobe airport adds another 25-30 minutes to Sannomiya Bus Terminal, so total travel time is about 1 hour less than the bullet train. But that's not all. A wider selection of bus lines depart from Sannomiya station than the bullet train stop of Shin Kobe Station. This includes the Awaji West Coast Bus that stops at many of the major attractions on Awaji's western seaboard including Nijigen no mori, Chef Garden and Hello Kitty Showbox. To catch this bus, Shinkansen users need to come to Sannomiya first.
The choice is yours. The bullet train offers unparalleled ease and convenience with nice views. Though a little pricey, fares never change. For anyone staying at the Grand Nikko, wishing to visit Yumebutai or any other locations on Awaji's east coast, the direct bus from Shin Kobe station is ideal. On the other hand, flying offers the chance to cut costs, cut time, and connects with the transport hub of Sannomiya station and the west coast bus line. As many wise minds have noted, our journey is just as important as our destination. This is especially true when in Japan, where the transportation network is itself a marvel of the world.