Prepare to be spooked and entertained at the popular restaurant on Awaji Island, Aman no Shokutaku during an exclusive one-day Halloween party!
Join the Halloween Party with your family and friends for a fun evening. Our international team has prepared a wide variety of English games to keep you engaged and entertained during the Halloween party.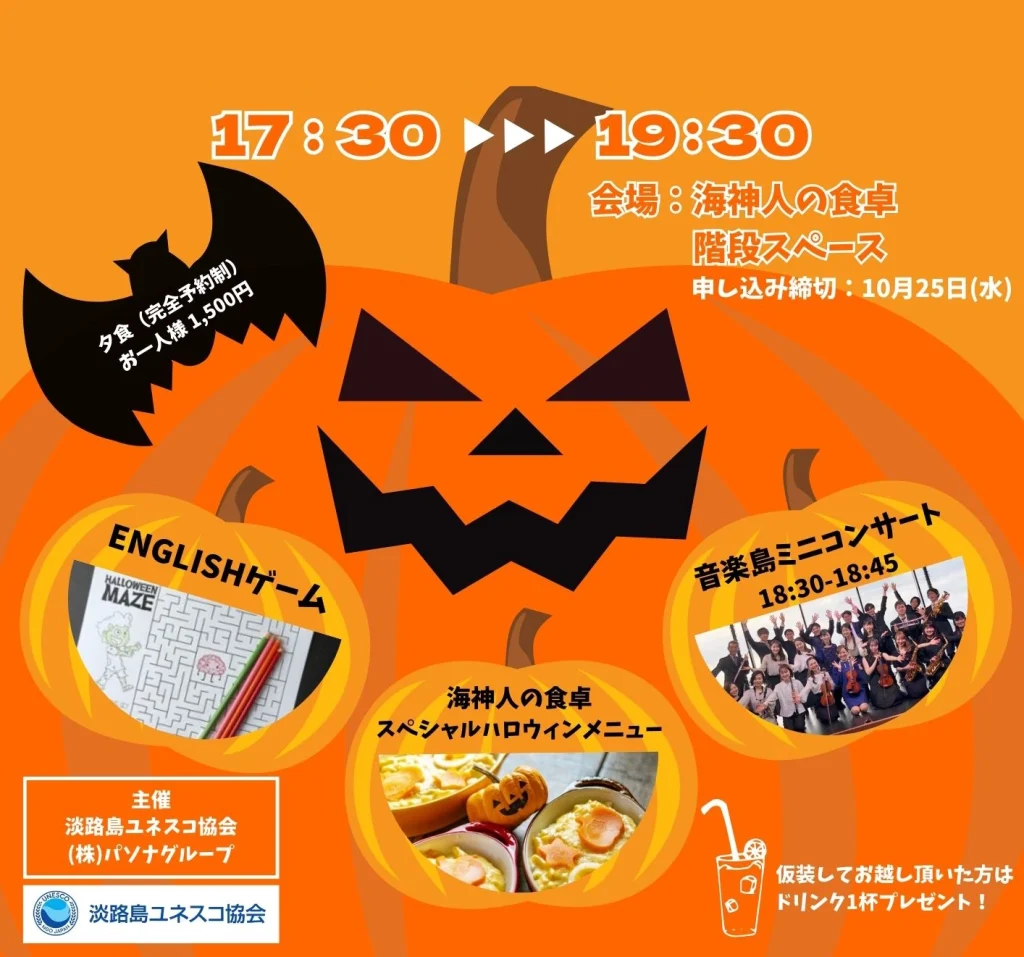 Date: October 30 (Monday), 5:30 PM -7:30 PM (Feel free to drop by at any point during this timeframe)
Costume: Please come in Halloween attire. Costumed guests will be treated to a complimentary drink! 🎁
Capacity: Limited to 35 guests
🎃 Activities:
English stamp rally and games for children (with sweet treats for successful participants!) – Free of charge
Mini-concert by talented musicians – Free of charge
Engaging English workshops for the grown-ups – Free of charge
Special Halloween Bar featuring non-alcoholic cocktails and soft drinks:
Food: Pre-order your Halloween meal (Halloween set for 1,500 yen and drink for 500 yen). Make sure to place your order in advance. On the day of the event, we will also have an exclusive Halloween party menu available for takeout. The Halloween set includes items like pumpkin croquettes, pumpkin gratin, Halloween mini parfaits, and more. For drinks, choose from a selection of alcoholic beverages, soft drinks, and a variety of non-alcoholic cocktails.
*Special Halloween cocktails, both alcoholic and non-alcoholic, are also on the menu for 700 yen per drink.🍹
*Please note that due to the special menu, we will not be able to accommodate allergies. We appreciate your understanding.
Registration Deadline: October 27 (Friday) Please register from here. * We reached the maximum number of reservations at this time. Please look forward to our event next year!
Venue: Staircase area (outdoors) of Aman no Shokutaku
104 Nojima-Tokiwa, Awaji City, Hyogo Prefecture
Get ready to enjoy a thrilling Halloween party at this renowned restaurant tucked away on the mountainside leading to the sea. Aman no Shokutaku is a luxurious restaurant serving pirate-style cuisine at Utage (1F) and teppanyaki /sukiyaki at Sajiki (2F) that fully brings out the charm of Awaji Island's gourmet. Pirate cuisine refers to a traditional style of cooking that has been passed down for millennia on Awaji Island, and focuses on the use of locally sourced ingredients. As Awaji Island holds the distinction of being Japan's first island, the restaurant reflects the essence of authentic Japanese cuisine.