Awaji Island is famous for its brand meat such as Awaji beef and Awaji chicken.
In this article, we will introduce some restaurants on Awaji Island that serve delicious meat dishes.
If you have never heard of it before, we hope you will take this opportunity to learn more about the appeal of Awaji Island's brand meat and the restaurants that serve it.
What is Awaji Beef?
"Awaji Beef" is a brand name that can only be given to cattle whose pedigree and genetics are clearly defined, and only those cattle that meet even stricter certification standards can be named "Awaji Beef". Awaji Beef is also called "phantom beef" because of its high scarcity value.
Grill Restaurant with Ocean View, famous for Its Awaji Beef Steaks
Ocean Terrace
Ocean Terrace is the best grill restaurant on Awaji Island.
Located on the west coast of Awaji Island, you can enjoy Awaji beef while enjoying a spectacular view of the beautiful ocean.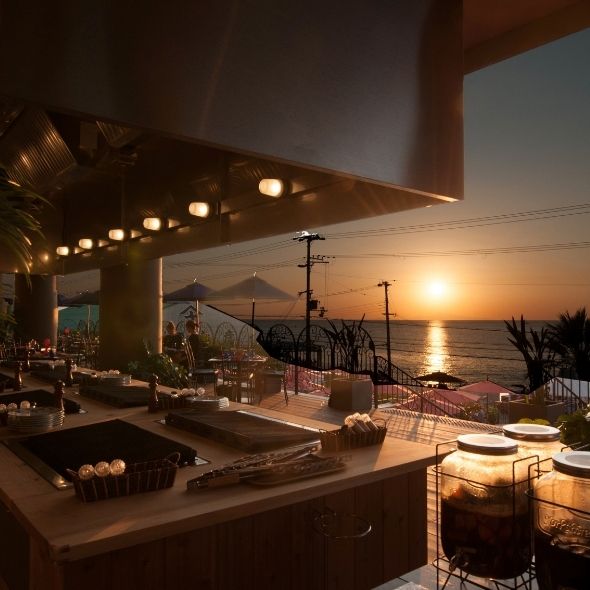 Ocean Terrace offers steaks grilled on a lava stone grill in a self-roasting style. One of the attractions of this restaurant is that you can enjoy the meat grilled to your liking.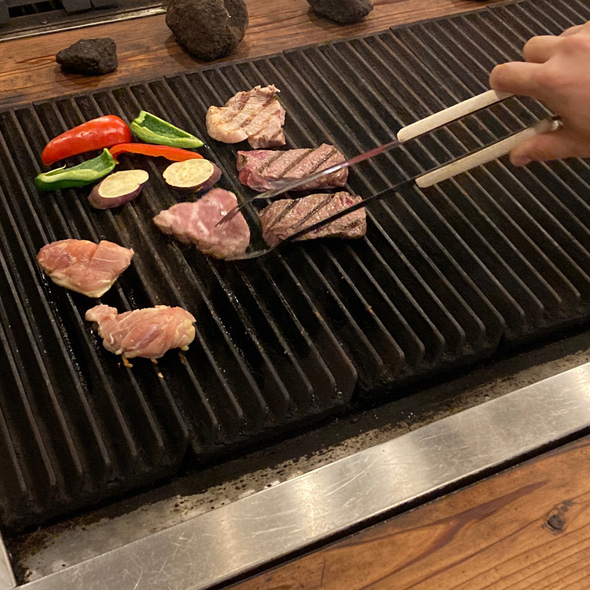 Of course, you can have the chef grill the meat for you, so even if you are not confident about grilling steaks, you can still enjoy the delicious meat at this restaurant.
Recommended Lunch Menu: Jyo-niku-ju Gozen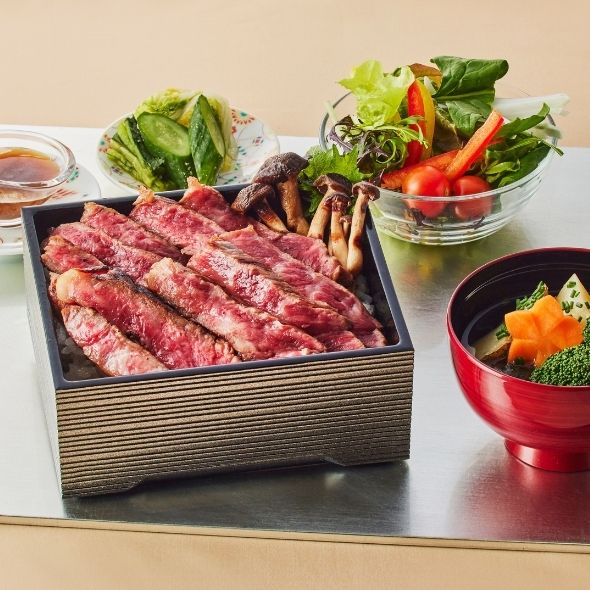 This is a meal using a generous 180g of Awaji beef rib roast.
This menu item allows you to enjoy the flavor of the robust Awaji beef. It is a hearty dish and is recommended for those days when you want to eat a lot of meat for lunch.
Recommended Dinner: Ocean Premium Full-Course Meal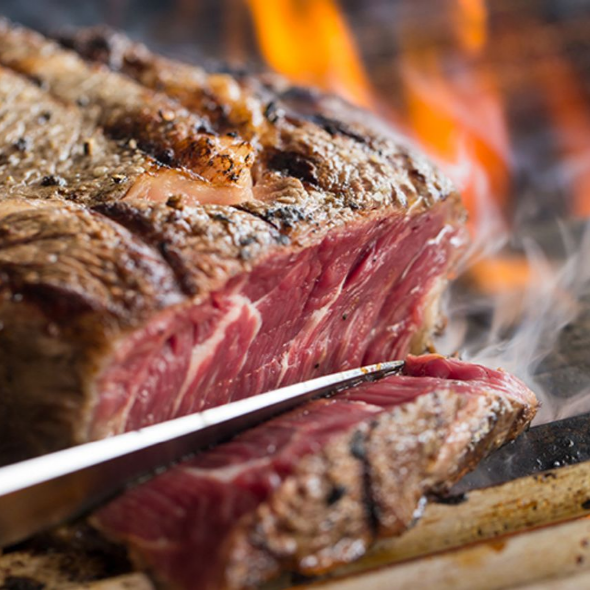 The Ocean Premium Full-Course Meal is a premium meal with a choice of main meat. There is a great variety of meats to choose from, and you can select the type of meat and the part of the meat you would like to eat. Of course, you can also taste Awaji beef.
Click here for details of Ocean Terrace
A Restaurant Where You Can Enjoy Awaji Island Ingredients in A Teppanyaki Style
When it comes to teppanyaki Awaji beef, we recommend "Aman no Shokutaku (Sajiki) ". The key point is that you can enjoy not only teppanyaki but also sukiyaki.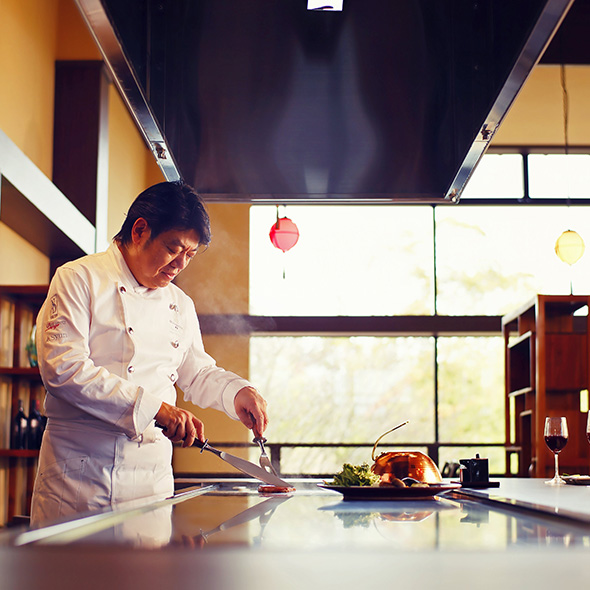 Aman no Shokutaku, Sajiki
Located in a rich natural setting, this restaurant offers a beautiful view of greenery outside the window. The gentle light from the lanterns inside the restaurant makes it a great place for those who want to relax and forget about time.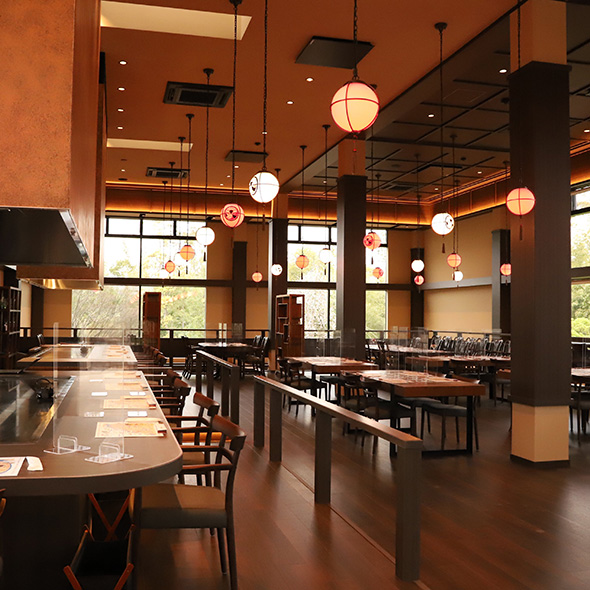 Recommended Lunch Full- Course Meal: Teppanyaki Lunch "Awaji"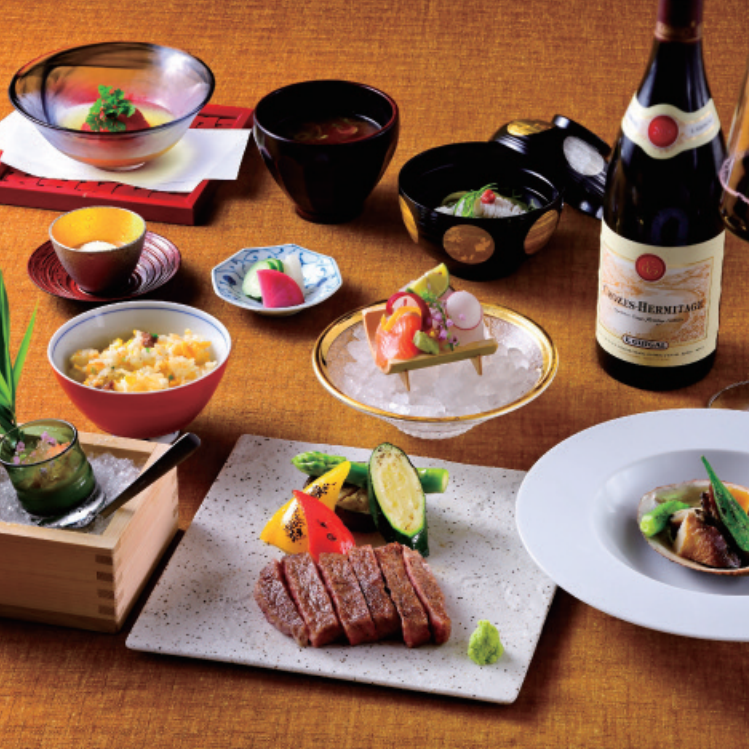 This is a full-course lunc featuring "Awaji Beef Sirloin Steak". Why not try it on a special occasion or as a lunch to reward yourself?
Recommended Dinner Full-Course: Teppanyaki Dinner "Sajiki"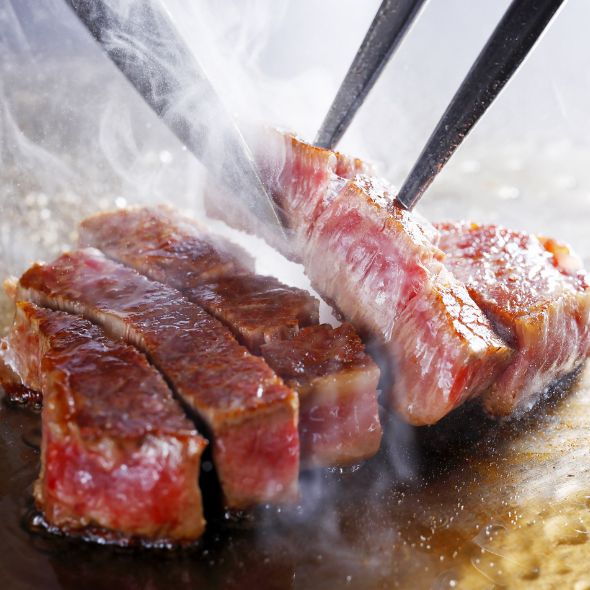 This dinner is truly recommended for meat lovers to "Awaji Beef Sirloin Steak" as the main dish. It also includes live prawns and abalone steak. As the restaurant's standard dinner selection, it is highly satisfying.
Awaji Chicken Is Boldly Grilled
"Aman no Shokutaku, Utage" offers a bold menu of Awaji chicken with a perfect balance of firm meat and fat. "Utage" is located on the first floor of the same building as "Sajiki" introduced earlier. At this restaurant, you can enjoy your meal while gazing out the window at the beautiful Japanese garden.
Aman no Shokutaku, Utage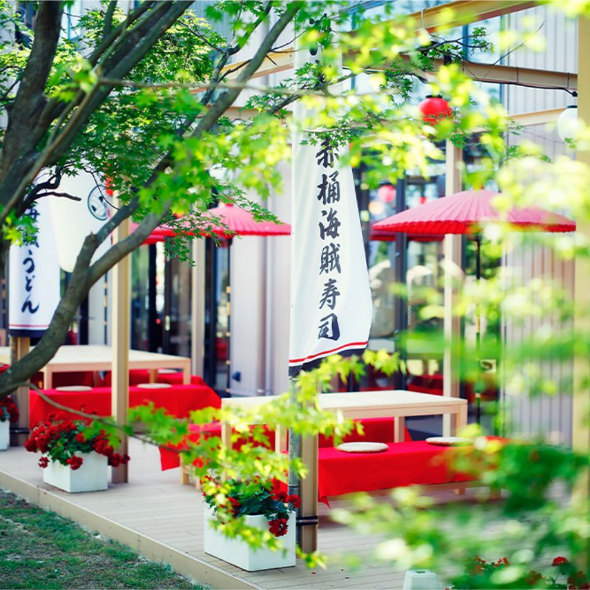 Recommended Menu: Awaji Chicken "Sanzokuyaki"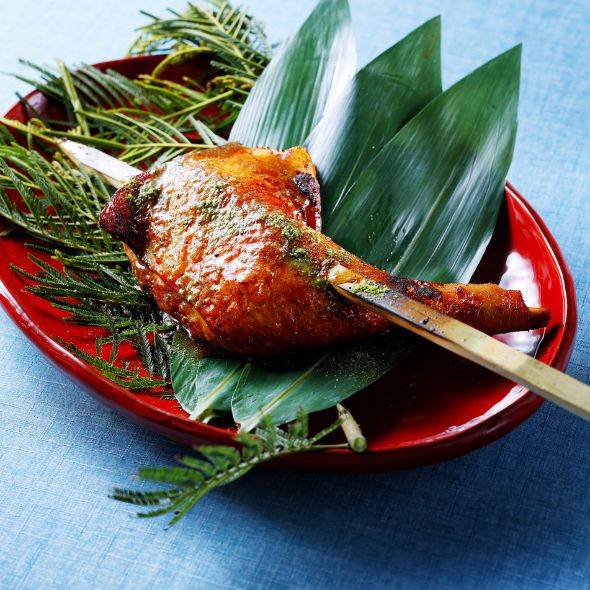 This is a standard "Sanzokuyaki (bandit)" menu, which is the theme of this restaurant. The price is reasonable and the menu is very nice, fulfilling your wish to bite into the meat. If you are interested in this dish, please give it a try.
Click here for reservations Utage Click here for reservations Sajiki
Click here for details of Aman no Shokutaku
A Restaurant Where You Can Enjoy The Impact of The Cuisine and The Stunning Ocean View
"Awaji Island Craft Kitchen", a restaurant in the "Craft Circus" complex consisting of a restaurant, a marché, and a store, is gaining popularity for the spectacular view of the ocean from its terrace seats and the visual impact of its cuisine.
Awaji Island Craft Kitchen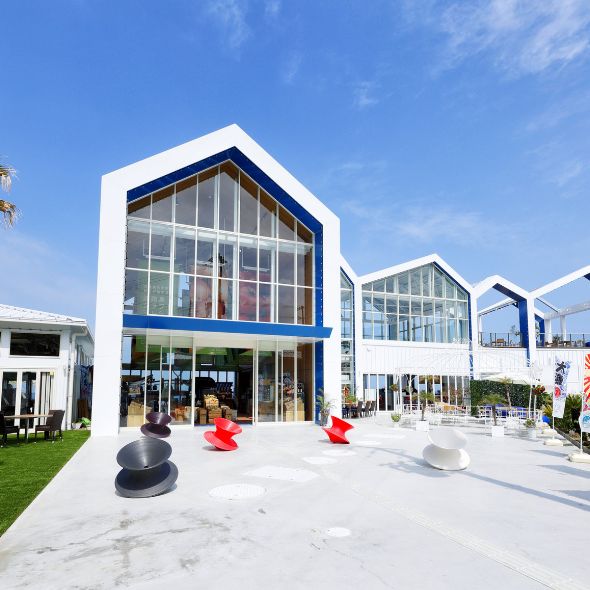 Recommended Menu: Grilled Awaji Beef Mega Craft Burger (with Fries and Drink)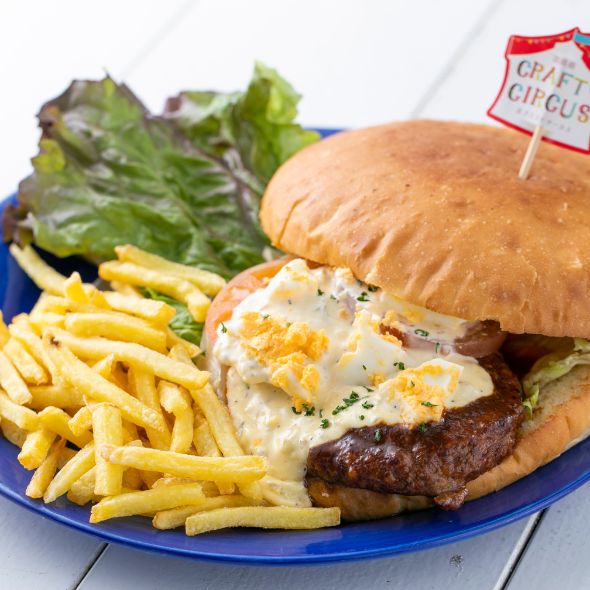 This hamburger is 20 cm in diameter, roughly two times larger than a typical hamburger.
Compare it to a human face to get an idea of its size. This menu is recommended for those with a big appetite.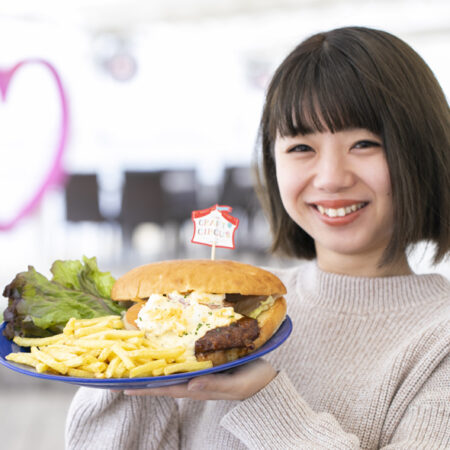 Location
CRAFT CIRCUS
Address
2-2 Nojima-Hirabayashi, Awaji City, Hyogo Pref. 656-1724
Access
15 minutes by car from Awaji IC on Awaji-Kobe-Naruto Expressway. 10 minutes by car from Iwaya Port (Jenova Line Ferry).
Parking
80 spaces
Business Hours
Weekdays: 10:30-20:30 (last order 19:30)
Weekends/Holidays: 9:30-20:30 (last order 19:30)
Closed
Thursdays (excluding national holidays)
Tel
0799-82-1855
Website
https://awajicraftcircus.com/
Reservations
https://www.tablecheck.com/en/shops/craftcircus/reserve