Demon Slayer is an immensely popular anime series that has captured the hearts of millions worldwide. With its captivating storyline, breathtaking animation, and compelling characters, the show has garnered a massive fan base and achieved tremendous success. Building upon this popularity, we are thrilled to announce the upcoming collaborative event between Awaji Island's Nijigen no Mori, and Demon Slayer Swordsmith Village Arc, set to take place from July 28th for a limited time. The tickets are currently available for purchase on Awaji Island's Nijigen no Mori website.
Explore the Immersive World of Demon Slayer at Nijigen no Mori on Awaji Island
Since April last year, Nijigen no Mori has successfully hosted two events, captivating visitors with immersive experiences set in the fascinating world of Demon Slayer. These limited-time events, held both during the day and evening, have drawn enthusiastic attendees from all corners of the globe. This time, Nijigen no Mori x Demon Slayer Night Walk: Swordsmith Village (night), and Nijigen no Mori x Demon Slayer Mystery Solving Game: The Falling Flower Village and Scene of Illusions (day) will be held as the second phase due to the popularity of the previous events.
Nijigen no Mori will host a captivating night walk inspired by the "Swordsmith Village" in Demon Slayer. Participants will embark on a 1.2 km journey through the enchanting forest, beautifully adorned with immersive projection mapping elements. In this captivating experience, participants will assume the roles of "apprentice swordsmiths," allowing them to witness firsthand the intense battle between the demon slayers and the formidable demons.
During the daytime event, participants will have the opportunity to engage in two exciting riddle-solving games with character panels newly illustrated by ufotable, the animation studio behind Demon Slayer, and other various items. As participants explore the park, they will be immersed in the world of Demon Slayer and accompany Kamado Tanjiro and his companions on an intriguing mission to unravel the secrets concealed.
With different difficulty levels available, participants of all ages can enjoy these captivating riddles while taking in the enchanting surroundings and feeling a sense of adventure with their favorite Demon Slayer characters.
During the collaboration event at Nijigen no Mori, visitors can not only get their hands on limited-edition original goods but also indulge in new and delicious food inspired by Demon Slayer characters such as Kamado Tanjiro, Kanroji Mitsuri and Tokito Muichiro.
About Demon Slayer
Based on the bestselling manga by Koyoharu Gotouge, with over 150 million copies sold in the first 23 volumes of Shueisha's JUMP Comics, Demon Slayer has captivated audiences worldwide. The animated series, produced by ufotable, follows the journey of Kamado Tanjiro, a young boy seeking to avenge his family's death at the hands of demons, and his sister Nezuko, who has transformed into a demon. The franchise includes the first season of Demon Slayer (April 2019), the movie "Demon Slayer: Infinity Train" (October 2020), "Demon Slayer: Entertainment District" (2021-2022), and "Demon Slayer: Swordsmith Village" (2023).
Official website: https://kimetsu.com/
Nijigen no Mori × Demon Slayer Collaboration Event Overview
Period
July 28, 2023 (Friday) – January 27, 2024 (Saturday)
Tickets are now available to purchase.
Content
Experience the captivating universe of Demon Slayer through two distinct events, one held during the day and the other at night. Prepare for an extraordinary adventure where you can engage with the thrilling world of Demon Slayer in a unique and enchanting setting at Nijigen no Mori.
(1) Nijigen no Mori x Demon Slayer Night Walk: Swordsmith Village [Night Event]
Step into the world of Demon Slayer as you embark on a mesmerizing nighttime journey through a 1.2-kilometer forest at Nijigen no Mori. Experience the thrill of projection mapping and other immersive techniques that recreate the epic battles between Kamado Tanjiro, Hashira, and the demons in The Village of the Swordsmith. As an apprentice swordsmith, you will be tasked with challenging missions to collect items crucial for forging the ultimate sword.
(2) Nijigen no Mori x Demon Slayer Mystery Solving Game: The Falling Flower Village and Scene of Illusions [Daytime Event]
Enjoy two riddle-solving games of different difficulty levels at Nijigen no Mori. Explore the area with character panels featuring original ufotable illustrations. Solve the puzzles and win an exclusive original wooden strap as a prize.
Goods and Food
Exclusive merchandise and original food featuring Kamado Tanjiro, Kanroji Mitsuri, and Tokito Muichiro characters will be available at Nijigen no Mori.
*Event goods from last year's event will also be on sale again.
More information will be released on the official Nijigen no Mori website as it becomes available.
Location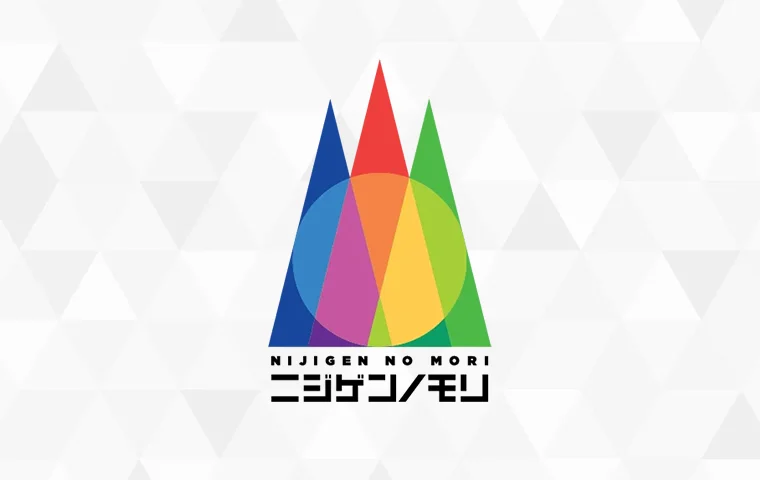 Nijigen no Mori is a theme park located on the scenic Awaji Island, nestled within the Seto Inland Sea of Japan. This captivating destination offers visitors a gateway into the world of anime, manga, and pop culture. With its mesmeric attractions and enchanting experiences, Nijigen no Mori allows guests to indulge in their favorite franchises.
Click here for details of NIJIGEN NO MORI
Hours of operation
1) 10:00 AM – 4:30 PM (daytime event)
2) 5:30 PM – 8:45 PM (nighttime event)
*For more details, please check the official Nijigen no Mori website.
About the First Nijigen no Mori x Demon Slayer Collaboration Event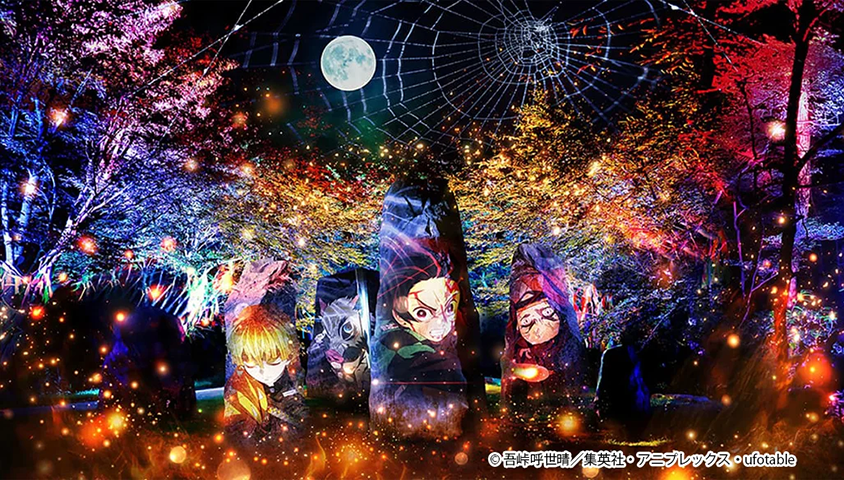 In the first phase, Nijigen no Mori hosted two events from April 2022 to January 2023, offering visitors both daytime and night experiences where they could immerse themselves in the world of the anime Demon Slayer amidst the beautiful nature of Awaji Island. Building upon the success of these events, the second phase is set to begin on July 28, 2023, promising new and exciting experiences for visitors.
Do not miss your chance to experience the captivating world of Demon Slayer at Nijigen no Mori on Awaji Island. Step into the realm of Demon Slayer and immerse yourself in the thrilling events that await you. Plan your visit to Nijigen no Mori on Awaji Island and let the adventure begin!
©吾峠呼世晴/集英社・アニプレックス・ufotable
©2023 Nijigennomori Inc. All Rights Reserved.