Glamping, short for "glamorous camping", is a style of outdoor accommodation that combines the rustic charm of traditional camping with the luxury and comfort of a high-end resort or hotel. It offers an opportunity for individuals or groups to immerse themselves in nature without sacrificing the comforts and amenities of a luxury getaway. Glamping emphasizes a unique and stylish outdoor experience. In this article, we will explain the concept of glamping in detail and its example on Awaji Island.
Why Glamping?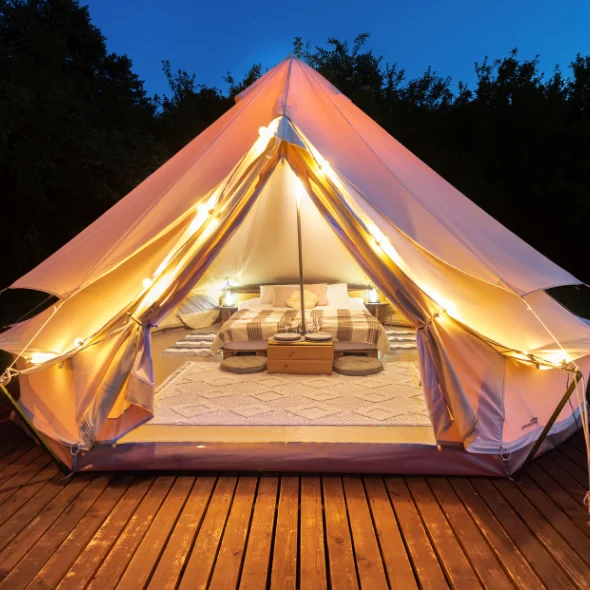 Glamping offers comfortable accommodations, including spacious tents, yurts, cabins, or treehouses with plush beds, high-quality bedding, and often en-suite bathrooms. These accommodations come with luxurious amenities such as hot tubs, gourmet dining, spa services, and sometimes even air conditioning and heating.
Glamping sites are typically nestled in beautiful natural settings like forests, mountains, or near bodies of water, providing a serene backdrop for a unique outdoor experience. What makes glamping truly special are the personalized touches, including private decks, stargazing opportunities, and guided outdoor activities. Despite the rustic ambiance, guests can still disconnect from their daily routines while enjoying modern conveniences like Wi-Fi and electricity.
The Increasing Popularity of Glamping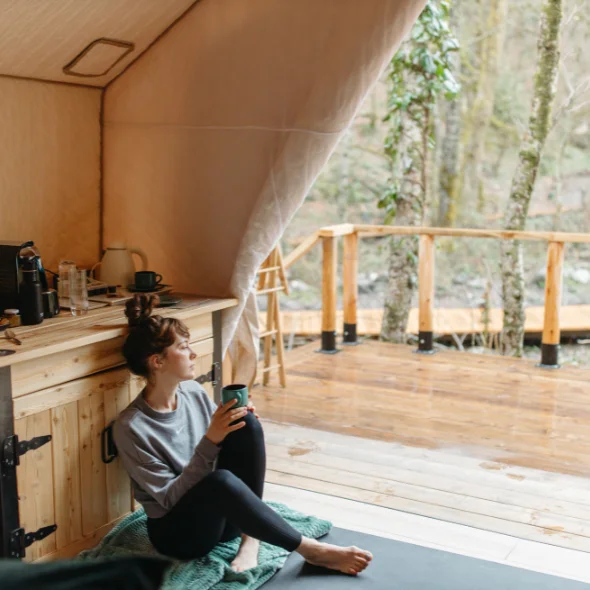 Glamping has gained popularity in recent years due to its blend of outdoor adventure and comfort, offering luxurious accommodations and convenience compared to traditional camping. With a wide variety of options to cater to different tastes and budgets, it appeals to busy individuals seeking quick getaways. The aesthetic appeal of glamping accommodations, its family-friendly nature, and the opportunity to connect with nature while maintaining a strong online presence on social media have also contributed to its rising popularity.
Additionally, the emphasis on eco-friendly and sustainable practices aligns with the growing environmental awareness among travelers, making glamping an attractive option for those who want to enjoy the outdoors with minimal impact on the environment. Social media has also played a significant role in showcasing unique and picturesque glamping experiences, making it a trendy choice for travelers seeking memorable and Instagram-worthy vacations.
Awaji Island: The Perfect Destination for Glamping
Awaji Island, situated in the eastern part of the Seto Inland Sea, is the largest island in Japan's Inland Sea. Despite its relatively small size, Awaji Island is rich in natural beauty, historical significance, and cultural heritage. The island is renowned for its stunning landscapes, including captivating starry sky and breathtaking sunsets. This is the reason why Awaji Island is perfect for glamping. Its diverse and picturesque landscapes offer an ideal backdrop for those seeking a unique and immersive outdoor experience.
GRAND CHARIOT: Discover Serenity on Awaji Island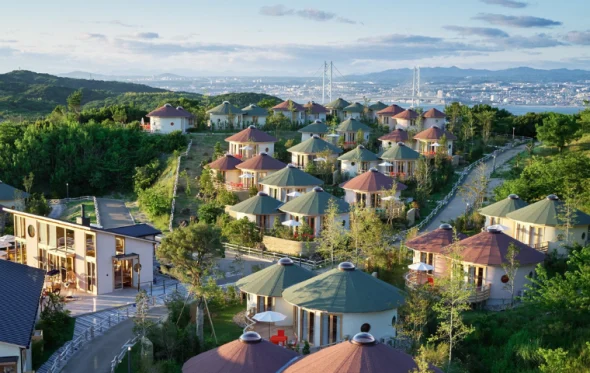 Situated on Awaji Island, GRAND CHARIOT Hokutoshichisei 135° stands out as one of the finest glamping hotels in the region, offering a luxurious sanctuary for those in search of luxury and serenity in glamping. This exceptional glamping retreat facility proudly earned the prestigious title of "PLATINUM HOTELS Top Quality Inn" from Rakuten Travel in February 2022, solidifying its position as one of the top accommodations and hotels on Awaji Island.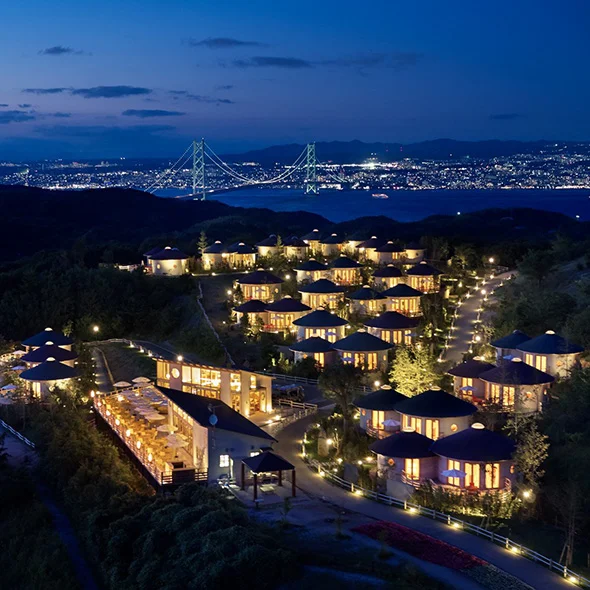 At GRAND CHARIOT, each glamping room in the form of a cocoon has been meticulously crafted to ensure a peaceful and rejuvenating glamping experience. Skylights in the ceilings allow the gentle morning sunrays to awaken glamping guests in the most soothing manner, creating a harmonious glamping connection with nature. The interiors exude a cozy and welcoming glamping ambiance, adorned with captivating wooden accents that bring warmth and sophistication to the glamping space. Every glamping room is equipped with a cypress bath, offering a delightful blend of glamping comfort and the therapeutic scent of cypress wood.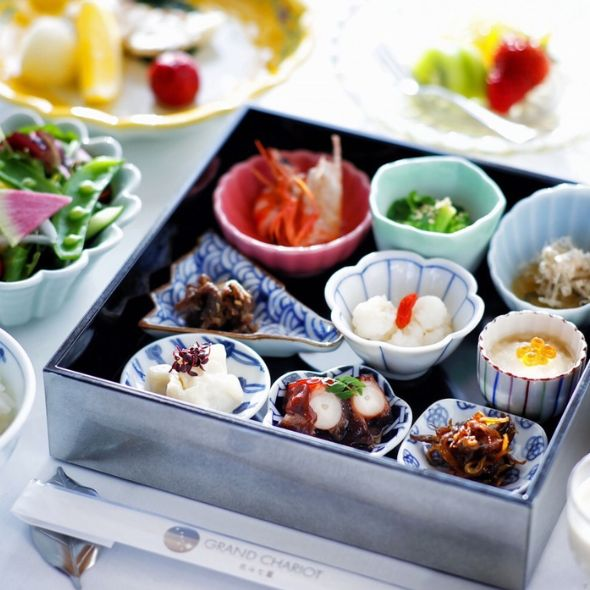 In the morning, guests can visit the restaurant, which specializes in Japanese cuisine prepared using premium ingredients sourced from Awaji. One of their signature offerings is the "Asa no Ohajime Gozen," commonly referred to as the "Morning Banquet" in English. This breakfast set includes Awaji grilled fish, rolled eggs infused with fish and kelp stock, and freshly cooked Awaji Island rice. The use of high-quality ingredients ensures that this meal is not only satisfying but also pleases the palate, leaving diners feeling content.
GRAND CHARIOT has the goal of providing a deeply relaxing glamping environment, aligning perfectly with the increasing emphasis on health and well-being in society. GRAND CHARIOT provides a tranquil glamping atmosphere that nurtures relaxation and inner peace. The glamping facility has been meticulously designed to establish an environment conducive to tranquility, allowing guests to unwind and escape the hustle and bustle of their daily lives.
Click here if you are interested to know what amenities GRAND CHARIOT provides.
Click here for details of GRAND CHARIOT
Closing
Glamping combines the best of both worlds, allowing travelers to connect with nature while enjoying the comforts of a luxury getaway. Awaji Island's GRAND CHARIOT exemplifies this concept, offering a perfect setting for a unique and memorable glamping experience in a perfect environment. Why wait any longer? Head to GRAND CHARIOT on Awaji Island and indulge in a lavish and distinctive glamping adventure.