Awaji, cradled in the eastern Seto Sea, is the largest island in this beautiful body of water. Lush nature, historical significance, and rich heritage make Awaji's cultural footprint much larger than it's geographic size. Recently, a wave of new attractions has sprung up along the west coast, drawing visitors from around the world. Here, we look at an ideal autumn day-trip to discover the best of this legendary locale.
Awaji Island is a picturesque wonderland ideal for nature enthusiasts and photographers year round. In autumn, however, the mild, sunny weather adds pleasure to all outdoor activities, while the harvest season brings a bounty of vegetables, fresh seafood, and unique seasonal dishes.
Autumn Day Trip #1: 11:00 AM – Fall Flowers at Akashi Kaikyo Park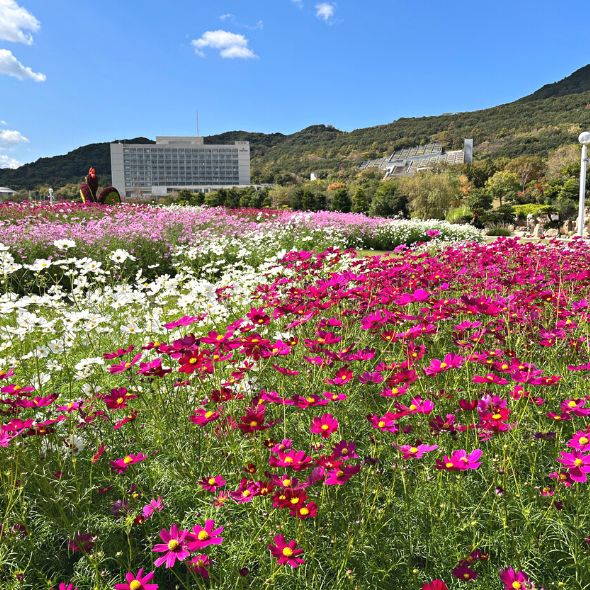 At National Akashi Kaikyo Park, roughly 9 times larger than Tokyo Dome, the breathtaking fields of flowers makes it an ideal destination for both families and couples. Lovers enjoy leisurely rides on the swan boats and even on rainy days can find shelter in the botanical garden greenhouse nearby, one of the largest in Japan.
Autumn in Japan brings splendid displays of cosmos blossoms, Japanese snowbells, and marigolds. Families are sure to enjoy the large lawn and spacious athletic field near the Awaji Gate, against the panorama of sea and sky views. An invigorating start to your trip.
Autumn Day Trip #2: 12:30 PM – Lunch at Nojima Scuola (Cafe Scuola)
Nojima Scuola is a unique project where a former elementary school has become a beloved destination for locals that evokes nostalgic feelings of childhood. The converted complex houses a variety of establishments, including a farmer's market, a bakery, a café, an authentic Italian restaurant, a BBQ terrace with a view of the sea, and a small zoo. The 1st-floor Cafe Scuola has a delightful salad bar and casual main courses crafted from seasonal Awaji Island vegetables perfect for the season. Families can enjoy a complete set menu tailored for children.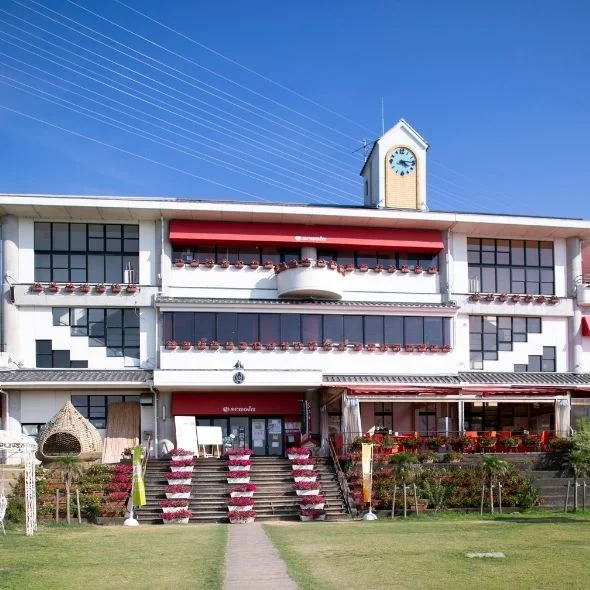 Autumn Day Trip #3: 14:30 PM – Catch a Show at HELLO KITTY SHOW BOX
The HELLO KITTY SHOW BOX is more than a restaurant. This theater is a doorway into the world of Hello Kitty. Enjoy an enchanting show and a meet-and-greet session exclusively during café hours, all while indulging in adorable Hello Kitty-inspired sweets and delicious vegan cuisine. The style of vegan cuisine by the award-winning chef Hal Yamashita brings out the best of the finest ingredients and tradition handed down through generations.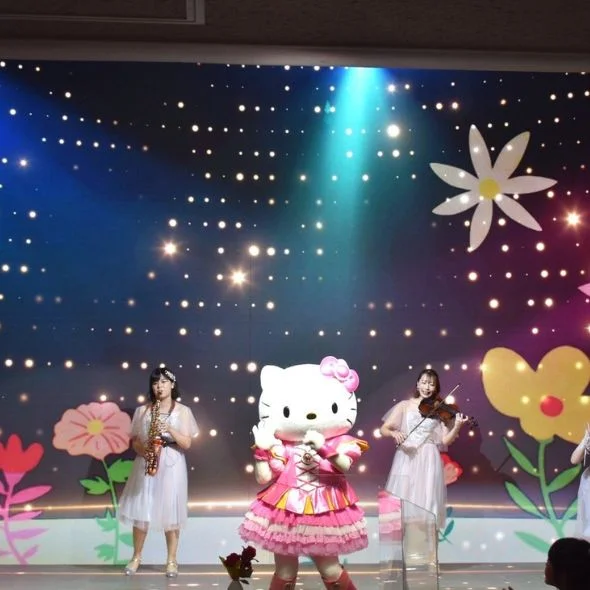 After the captivating performance, head next door to the "HELLO KITTY APPLE HOUSE". Here, you can experience a one-of-a-kind Hello Kitty indoor dome theater. The apple-shaped observation deck is an irresistibly cute photo spot with a stunning view of Awaji Island's west coast. Inside the bright red apple-building, Hello Kitty projection mapping creates endless chances to snap some super special selfies.
Check this article to find out more about other Hello Kitty resorts on Awaji Island.
Autumn Day Trip #4: 17:00 PM – Sunset Dinner at CRAFT CIRCUS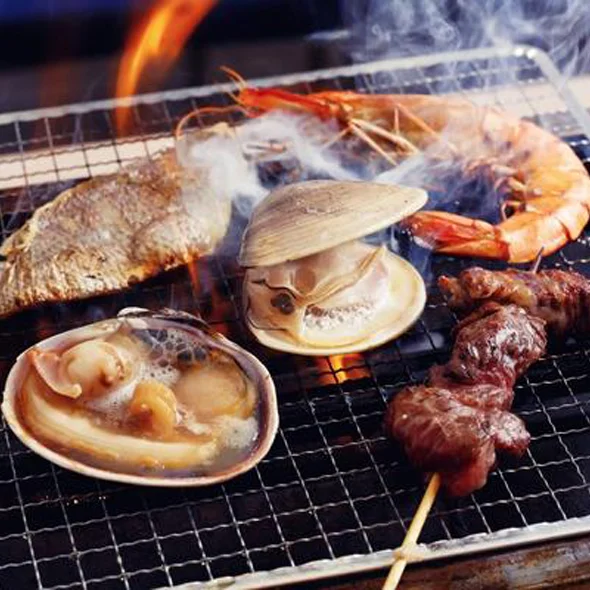 Awaji Island's CRAFT CIRCUS has 2 restaurants, "Kaiou Ichiba" and "CRAFT KITCHEN", both with gorgeous ocean views. At "Kaiou Ichiba", onigiri (hand-rolled sushi), donburi (rice bowls), and hamayaki (grilled seafood) are extremely popular.
Meanwhile, at CRAFT KITCHEN, try the renowned "Island Pizza", a colossal 40-centimeter pizza brimming with Awaji's finest ingredients, perfect for sharing with friends. Close your autumn day with an elegant dinner, gazing at one of "Japan's top 100 sunsets. Some menu items are available for takeaway too.
Shop for Souvenirs to End the Day
After dinner, drop by 2 distinct souvenir shops to browse a diverse range of keepsakes. CRAFT MARCHÉ, carries freshly harvested Awaji Island onions, local sweets, seasonings, drinking water, and other unique goods available only here. Don't forget to try the autumn-limited purple sweet potato and chestnut sweets, perfect for takeout. Close by, the Global Market fun for the fashionistas as well as traditional handicrafts sourced from across the globe. Pick up a special something for that special someone.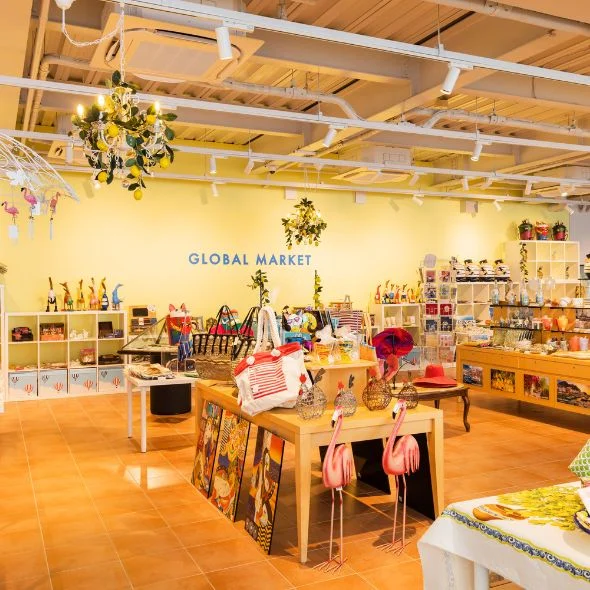 Closing
People of all ages are sure to love a fall day on Awaji Island. As autumn holidays approach, take advantage of the national travel support program to visit these enchanting destinations at great value. Come and experience Awaji Island, where nature, cuisine, and entertainment come together to create an unforgettable autumn day-trip.
© 2022 SANRIO CO., LTD. APPROVAL NO. L630788