what we eat determines what will become of the world

~writer & farmer Wendell Berry
A common sight these days: Hokkaido butter melting over American pancakes with Mexican bananas, topped with Canadian maple syrup, washed down with Brazilian coffee. All the world on my plate for breakfast. Emperors of past ages could never imagine such extravagance!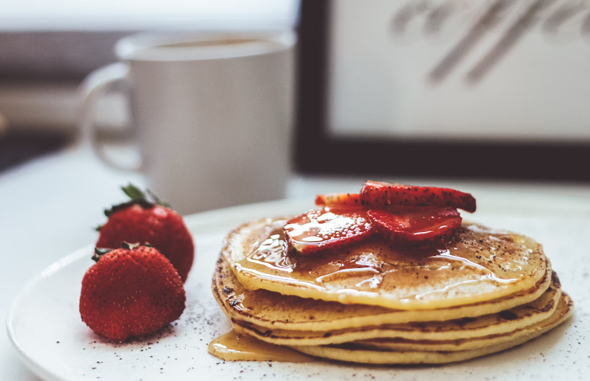 But hold on, what is the real cost of all that – not only in dollars or yen today, but the price future generations may pay? The food industry emits a third of all global greenhouse gas (GHG) emissions, of which 20% is from the transportation of food. GHG emissions from moving fruits and vegetables around the globe are more than twice as high as emissions from their cultivation. "When we eat from the industrial-food system," writes food journalist Michael Pollan, "we are eating oil and spewing greenhouse gases." The sweetness of my pancakes may be the taste of melting glaciers, wildfires and planetary doom.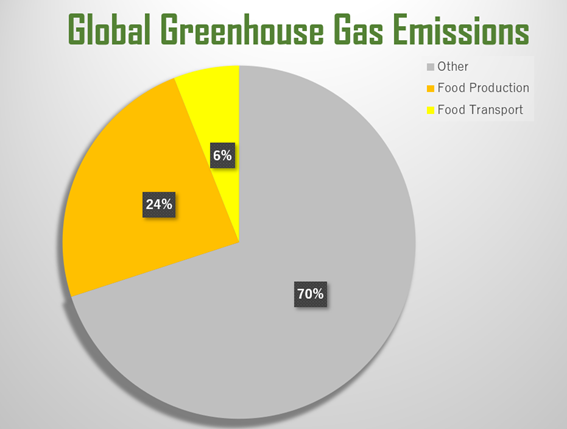 So, we don't want to destroy the earth, but we all love food. What is a good global citizen to do? For an increasing number of people, the answer is to "think globally, eat locally". In other words, be a "locavore". Joining herbivores (plant-eaters) carnivores (meat-eaters), and omnivores (everything-eaters), locavores are people who choose to eat only local foods to support community and protect the planet.
It's easy to say, but often hard to do, especially while on vacation. Many of the world's most scenic travel destinations produce little or no food domestically. To name a few, Hawaii, Dubai, Monaco, Singapore, the Caribbean and the Maldives all import more than 90% of their food. In such places, even drinking a glass of water may harm the environment.
Where on earth can travelers find a seaside paradise with beautiful beaches and world-class cuisine, but also protect the earth like a locavore? Japan, that's where. In particular…
Awaji Island: Agriculture for Aristocrats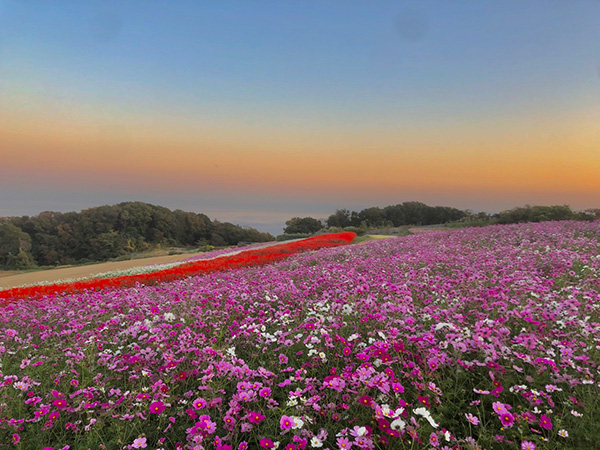 Awaji, the little known but largest island in the calm cradle of the Seto Inland Sea easily rises to the top of the list. This resort area has sandy beaches with crystal clear waters, stunning sunsets, amusement parks, theaters and top-class dining. However, it is also arguably humanity's longest surviving farming area dedicated to gourmet foods. Records of the region's farm production dates back more than 1500 years, with milk, cheese and butter produced here since at least 738 AD.
Successive Japanese emperors designated Awaji as "miketsu-no-kuni" (Land of Food), one of only 3 regions chosen to provide foods to the Imperial courts, first at Nara (710-794), then at Kyoto (794-1185). For these centuries, every day, the emperor's drinking water was brought from springs on Awaji Island, which had evolved into "the pantry of the elite". Through the millennia, farming and fishing know-how have developed here to satisfy the strictest palates. A bite of an Awaji mikan is the taste of agriculture for aristocrats. Even today, the Imperial family in Tokyo is known to regularly start the day with sea bream sashimi from Awaji's coastal waters.
With island food production also exceeding local demand by over 120%, "locavore living" is no new trend in these parts, but rather a key to the region's unparalleled pedigree as a hub of fine-food farming. Let's take an easy one-day Awaji Locavore Tour in 3 simple steps, each bringing us closer to the island and to the earth: 1) fine dining, 2) farmer's markets, and 3) a farm experience.
Fine Dining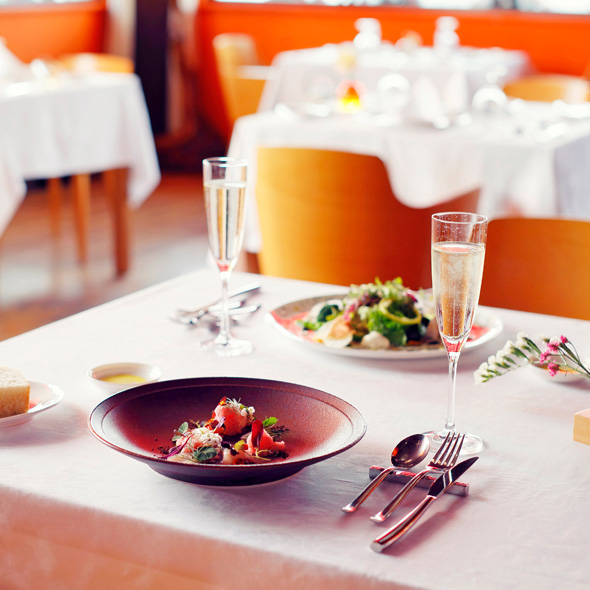 Nojima Scuola Ristorante
Decades before "locavore" entered the English language, the concept "chi-san, chi-sho," meaning "local production, local consumption", had become common practice and even law in Japan.* The innovative dishes served at the Italian bistro Ristorante overlooking Awaji's west coast are the work of Chef Okuda, selected as one of the world's top 1,000 chefs**, and considered the "Masterof chi-san, chi-sho". Course meals here are made "exclusively" with Awaji's finest ingredients, including Awaji Island beef, famous brand onions, freshly picked vegetables and seafood brought in fresh from fishing grounds and fisheries just a few minutes away. Let this Master share his selections of the season while dining with an ocean view to the tune of live musical performances.
Farmer's Market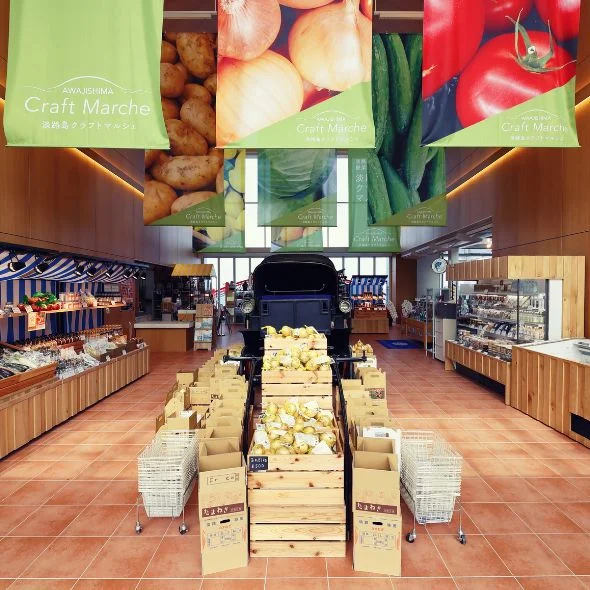 Craft Marché
The superstars of the island, Awaji onions, are center stage at this seaside market, but also joined by some of the world's finest seaweed from the Seto Sea, as well as superb citrus fruits and a constantly changing lineup of other fruits and vegetables selected from nearby farms, some harvested just hours ago. The range of goods from the mineral-rich soil surrounding the regional bays also include soy sauce, salt, miso and myriad other seasonings. While choosing your souvenir, enjoy one of the 10 flavors of original gelato made with Awaji Island honey and seaweed salt, then head up to the rooftop deck to watch the sunset with a barbecue of fresh seafood from the surrounding bays, and an ice cold Awaji brewed beer.
Farm Experience
Haru San San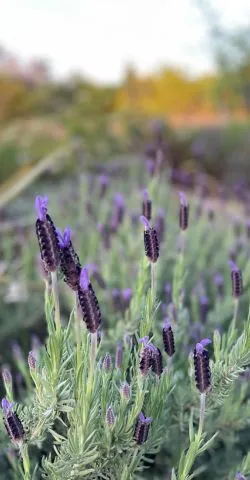 Few places on earth embody the locavore "farm-to-table" ethos as fully as Haru San San, the "Farm Lab" restaurant in the middle of a cultivated field. Dine on vegetables being grown with innovative, advanced techniques just one step away. Soil here is fertilized with extracts from soybeans, rice bran, molasses and other exclusively natural elements, including compost from business operations for a constantly recycled "closed loop" system.
At Haru San San, everyone is, or can be, a farmer. Many people visit the grounds to get dirt on their hands by joining one of the many farm workshops, to learn about planting, pruning, harvesting, and much more, while the wait staff in the thatched roof farmhouse also tend the fields.
The relationship between humans and the natural origins of food grows weaker every day. In a recent poll, 70% of American high school students did not know milk came from cows. More than half of junior high school students did not realize that onions and lettuce were plants. A locavore lifestyle not only helps to prevent climate change, reduce pollution and support our communities, but also brings us closer to the earth.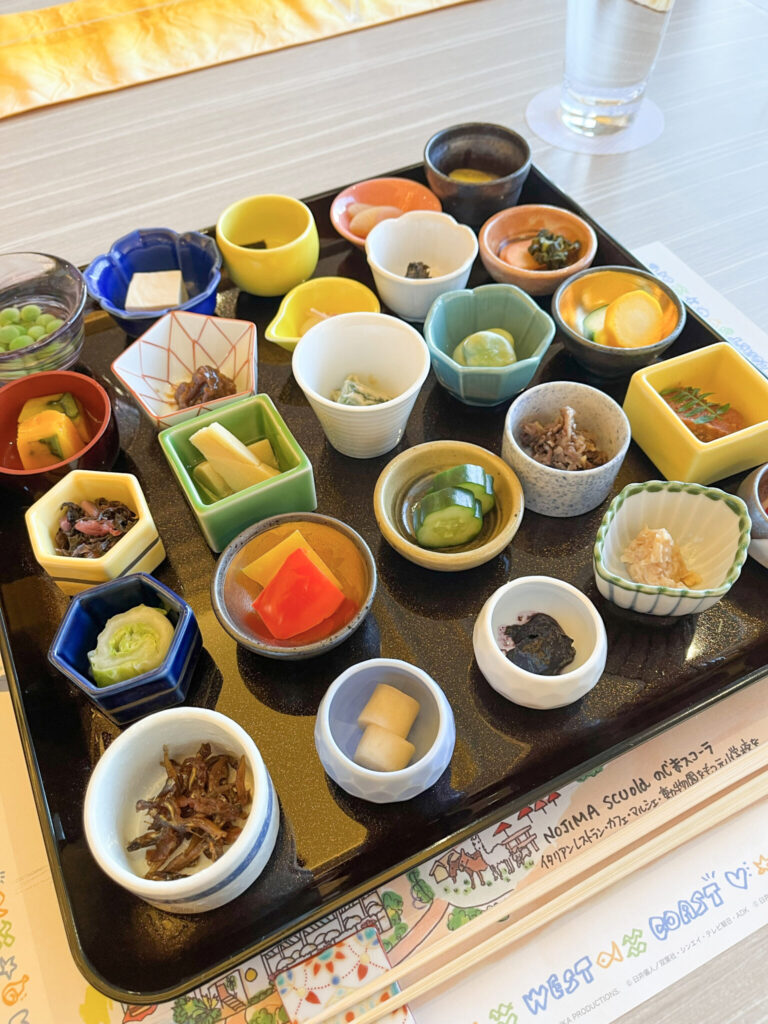 Eating locally, however, may be impossible in regions with no farming tradition to produce local food. Places like Hawaii are blessed with a rich natural environment, but this is not enough. Local farming needs the support of local networks and generations of know-how which much of the world lacks today.
A "destination dining" trip to Awaji Island is a priceless chance to experience an ideal model of "chi-san, chi-sho" locavore lifestyle. Here, a stunning diversity of top-class food is created by farming and fishing traditions that may be more deeply rooted at every level of society than any other place on earth.