Prepare to be swept away by live jazz performances of enchanting tunes from your favorite anime songs. Enjoy timeless classics like the Doraemon theme song "Make My Dreams Come True Doraemon", "Zen Zen Zense" from "Your Name", and "Lum's Love Song". This event is sure to captivate people of all ages. As a special treat, the original melody "N.E.W." from the movie masterpiece "BLUE GIANT" will also be played.
Dates & Time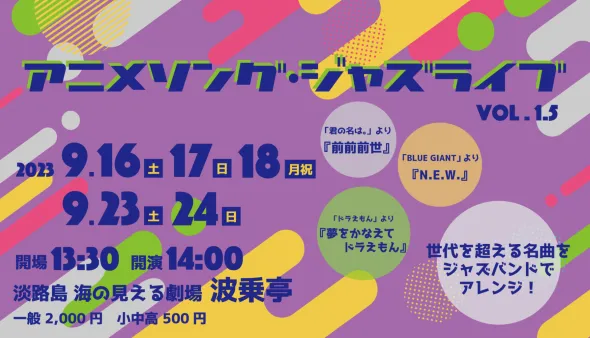 September 16 (Saturday), 17 (Sunday), 18 (Monday), 23 (Saturday), 24 (Sunday)
Performances begin at 14:00 (doors open at 13:30)
Venue: SEIKAIHA Naminoritei (70 Nojima-okawa, Awaji City, Hyogo Pref. 656-1723)
Admission
General: 2,000 yen
Elementary, junior high, and high school students: 500 yen
Preschool children: Free admission
Music
Zen Zen Zense (from the movie "Your Name")
N.E.W. (from the movie "BLUE GIANT")
Make My Dreams Come True Doraemon (from the movie "Doraemon")
Odoru Pompokolin (from "Chibi Maruko-chan")
Detective Conan Main Theme
Lupin III Theme
and more (*Please note that the program may be subject to change)
Performers
Vocals: Natsumi Kanamori, Nozomi Saito
Saxophone: Hiroko Tsujikawa
Trumpet: Tetsushi Higo
Piano: Keijin Shu (9/16, 18, 24), Mamiko Koshiyama (9/17, 23)
Bass: Saito Kana
Drums: Hisayoshi Matsuda
Percussion: Reo Takebe
Dancers Mika Hagiwara, Kasumi Kuroda
The Naminoritei Theater is renowned for its intimate, "at-home" experience where every seat is close to the stage to make you feel as though you're really part of the performance.