Awaji Island is easily accessible from Kobe and Osaka, making it a perfect destination for a relaxing weekend trip. You can try delicious meals, unwind with a refreshing drink, and even opt for an overnight stay. This tranquil getaway allows you to immerse yourself in the island's beautiful natural surroundings, all while ensuring a smooth return home the following day.
Recommended Accommodations on Awaji Island
Meals Available
Auberge French Forest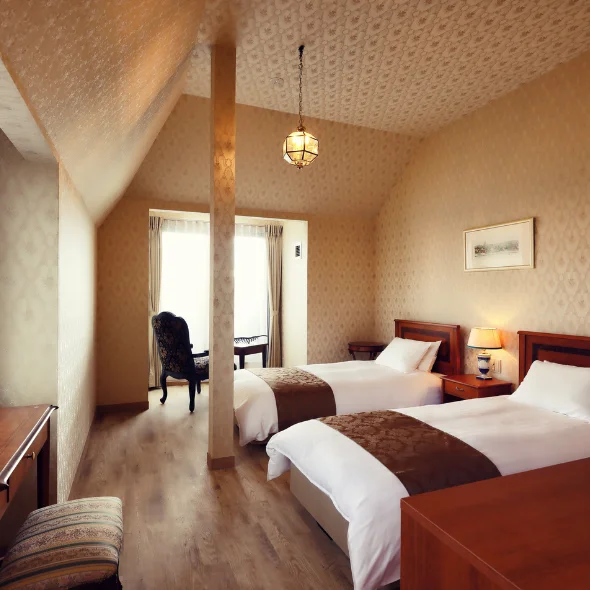 For accommodation that prioritizes an exceptional dining experience, Auberge comes highly recommended. This establishment offers a package that includes two meals per night. Auberge consists of three small buildings, each housing only a few rooms, ensuring the utmost privacy and a cozy ambiance. For dinner, guests can delight in a delectable French course skillfully prepared by the chef in the restaurant. After enjoying a glass of wine, you can go upstairs to your room, which exudes the charm of Auberge. Moreover, the room features a soothing cypress bath, allowing you to indulge in a truly relaxing experience.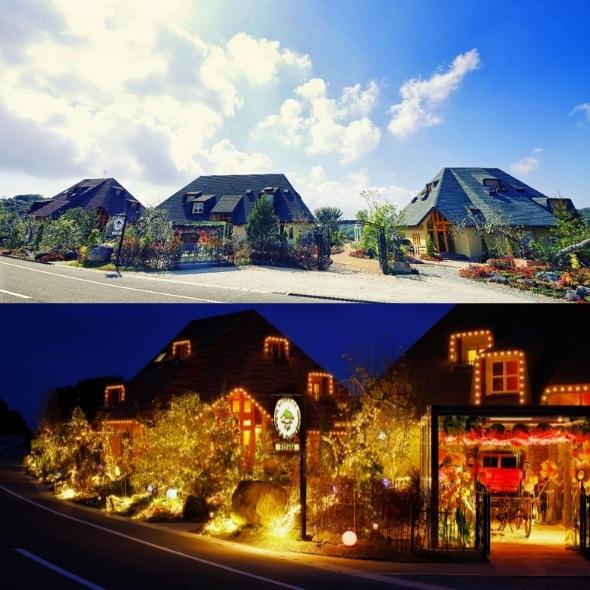 The appeal of French cuisine served at Auberge lies in its uniqueness, crafted exclusively with fresh ingredients sourced in Awaji Island. Adding to its charm, each of the three buildings houses a distinct chef, offering diverse culinary concepts and course menus. As a result, guests can indulge in a private dining experience, ensuring complete exclusivity and personalization.
Click here for details of Auberge "French Forest"
GRAND CHARIOT Hokutoshichisei 135°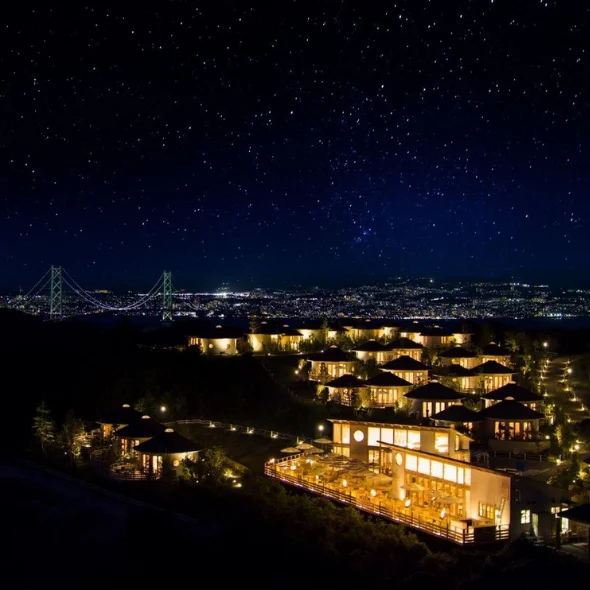 GRAND CHARIOT Hokutoshichisei 135°, once voted the top inn in Japan by Rakuten Travel, promises to make your trip truly exceptional. The charming cottages, called "cocoons", offer a unique and cozy experience. Each room exudes warmth with its wooden interiors and boasts skylights that provide an opportunity to relish nature, stargazing, and basking in the morning sun. Moreover, the meals are of excellent quality. Nestled on a hill, this idyllic location allows you to relax and escape the hustle and bustle of daily life, all while immersing yourself in the natural surroundings.
Renowned as a luxurious glamping retreat, this high-class facility has earned the prestigious distinction of being selected by Rakuten Travel as one of the finest lodges to experience more than once. The exquisitely designed "cocoons" exude a remote and secluded ambiance, providing guests with unparalleled privacy. To secure your preferred accommodations, it is recommended to make early reservations, especially for the uniquely themed anime collaboration rooms and the pet-friendly rooms.
Click here for details of GRAND CHARIOT
No Meals
For those seeking accommodation in the northern region of Awaji Island, the Grand Nikko Awaji is highly recommended. Previously known as the Westin, this establishment offers extremely comfortable rooms. Additionally, it is conveniently located close to Awaji Yumebutai, a site perfect for leisurely strolls and other delightful experiences.
Fairfield by Marriott Hyogo Awajishima Higashiura, a Marriott affiliate, is also highly recommended. Located right in front of the beach, the hotel offers easy access to the sandy shores, providing guests with a relaxing and enjoyable beachfront experience. Furthermore, it is conveniently situated just a few minutes walk away from Higashiura Bus Terminal, ensuring convenient transportation options for travelers.
Explore Awaji Island's Gourmet Food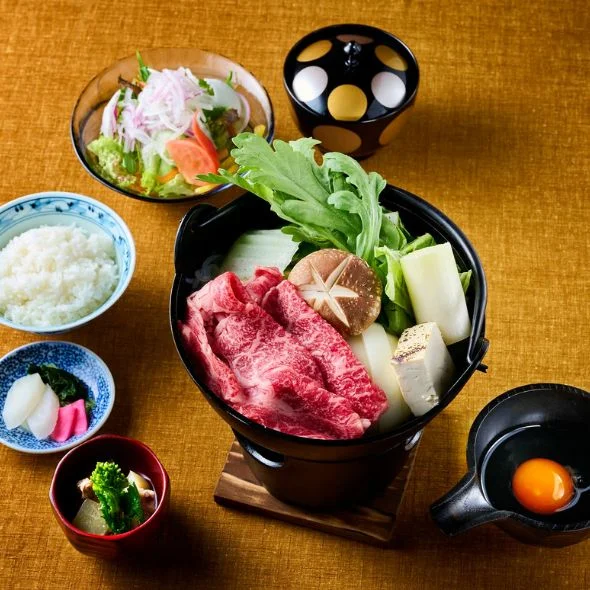 Awaji Island once referred to as "Misetsukuni" or the "Land of Food", boasts a rich history as a provider of culinary treasures presented to the Imperial Court. With a self-sufficiency rate surpassing 100% in food production, the island takes pride in its food production. The thriving fishing industry ensures a plentiful supply of fresh seafood. As a result, numerous visitors flock to Awaji Island in search of delightful dining experiences.
Try Awaji Island's Famous Onions for Lunch
Among the vast array of food from Awaji Island, there is one particular delicacy that has garnered widespread fame not only on the island but throughout Japan: onions. This ingredient has become a symbol of culinary excellence on Awaji Island, attracting food enthusiasts from far and wide to indulge in their unique flavors and exceptional quality.
Awaji Island's onions are renowned for their exceptional taste, which can be attributed to the island's healthy soil and optimal climate conditions. As a result, they have developed a reputation for their natural sweetness and unmatched tenderness, setting them apart from ordinary onions found elsewhere.
On Awaji Island, you will have the delightful opportunity to savor a diverse range of dishes enriched with high-quality onions. From mouthwatering burgers to delectable pizzas and beyond, the island's culinary scene embraces the versatility of onions, enhancing the flavors of numerous delightful delicacies.
Awaji Beef: One of the Finest Beef Brands in Japan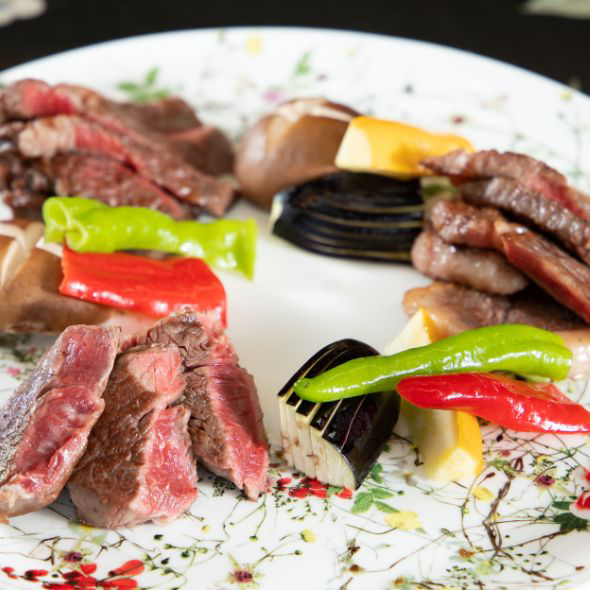 Another famous Awaji Island gourmet food is wagyu beef. It is exclusively bestowed upon cattle with precisely defined pedigrees and genetics. Even more stringent certification standards must be met for cattle to earn the prestigious title of "Awaji Beef". Such exacting criteria contribute to its reputation as "phantom beef" due to its exceptionally high scarcity value.
Awaji beef stands out for its remarkable quality flavor and exquisite marbling. When indulging in this delicacy, one can savor the harmonious interplay of flavors, where each element complements the other to create an incredible taste. The superior marbling ensures a tender and juicy texture that further enhances the overall dining experience.
Enjoy Fresh Seafood Delicacies from Awaji Island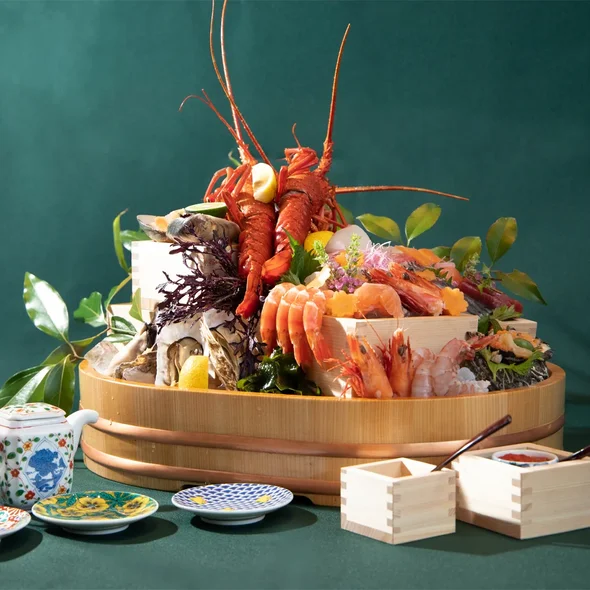 As a renowned fishing location, Awaji Island takes pride in its culinary treasures, including the delectable sea bream nurtured in the Akashi Straits, the rich sea urchin from Yura Port, the exquisite three-year torafugu (blowfish), the succulent golden pike conger, and other regional specialties. Guests are able to embark on a culinary journey like no other and enjoy the freshness and uniqueness of Awaji Island's seafood.
Cafes with Terrace Seating for Admiring Awaji Island's Serene Nature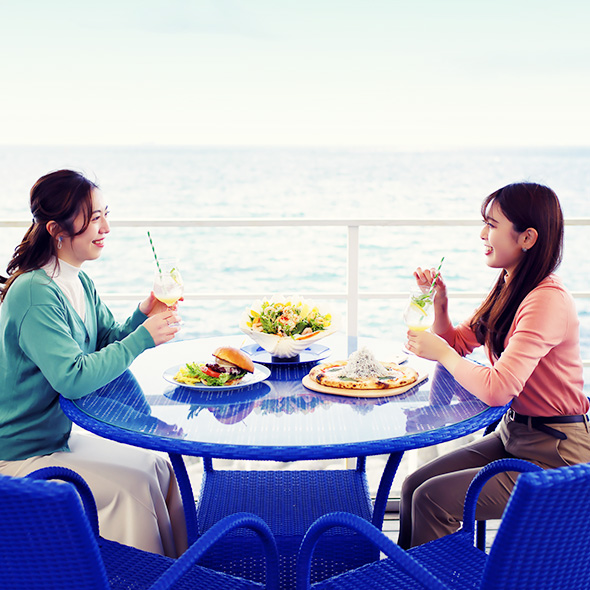 When you visit Awaji Island, you will undoubtedly be compelled to take a deep breath and immerse yourself in the beauty of nature. For an unforgettable experience, cafes with terrace seating are highly recommended. You will be able to find many of these cafes on Awaji Island where you can bask in the serenity of nature. From those with delightful ocean views to others that offer a soothing forest-like atmosphere, these cafes provide the perfect setting to enjoy the island's tranquil surroundings and make your visit truly memorable.
Awaji Island Sightseeing Spot Recommendations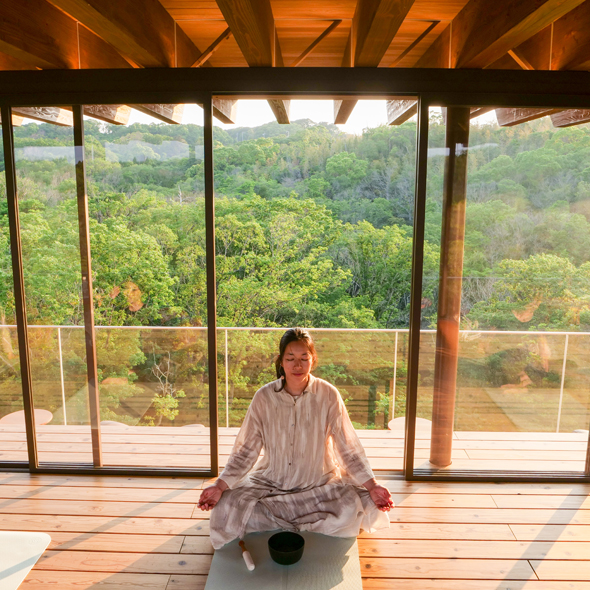 From the iconic Akashi Kaikyo Bridge and mythical sites from Kojiki (Records of Ancient Matters) to architectural marvels crafted by world-renowned designers and an oasis to find inner peace, Awaji Island offers a diverse array of incredible experiences. Do not miss the picturesque parks and vibrant flower gardens showcasing seasonal blooms. Awaji Island caters to all interests and ages, ensuring a memorable experience for everyone. Whether you seek culinary delights, breathtaking nature, exciting activities, or peaceful places, Awaji Island has it all.
Even if you plan a weekend trip and it happens to rain, there's no need to be discouraged. You can use the opportunity to explore Awaji Island's captivating indoor attractions, perfect for rainy days. From the lush indoor botanical garden to the charming Hello Kitty facilities, to the fascinating earthquake museum, there are plenty of exciting sights to discover and enjoy, making your trip just as memorable, despite the weather.
Experience the Fun and Enchanting Awaji Island Sea
Awaji Island has long been associated with its stunning coastal landscapes and the allure of the sea. The crystal-clear waters of the island have earned it high acclaim, with some of its beaches receiving an impressive AA rating in bathing beach water quality surveys. The sea's mesmerizing cobalt blue hue and exceptional transparency add to its irresistible charm, making it an idyllic destination for family trips.
Among the island's many coastal treasures, Ohama Beach in Sumoto City stands out as a true gem. This beach offers a thrilling experience with an array of approximately 27 water athletic attractions from Wibit Peakz, including trampolines, slides, jumps, and swings. It is a highly recommended spot for families and individuals of all ages, promising an abundance of fun-filled moments.
Keinomatsubara Beach is also a must-visit spot for families exploring Awaji Island. As the largest sea on Awaji Island, it has garnered numerous accolades, being designated as one of Japan's "100 best beaches", "100 best bathing beaches", and "100 best sunsets". The beach offers a campground with rental options for beach tents, rear cars, and barbecue equipment, making it perfect for families.
Closing
Consider visiting Awaji Island for your next vacation, and you will not be disappointed. The island boasts a delightful blend of both traditional and modern tourist attractions, ensuring a diverse range of experiences. Whether you are seeking historical charm or contemporary marvels, Awaji Island has something to captivate every traveler, leaving you thoroughly satisfied with your holiday adventure.