Discover the captivating fusion of pop culture and urban infrastructure with Japanese sewer covers adorned with beloved Pokémon characters. These unique and delightful creations have become an alluring attraction that draws tourists and locals alike into a vibrant world of imagination and wonder.
How the Unique Manhole Covers Became a Thing in Japan?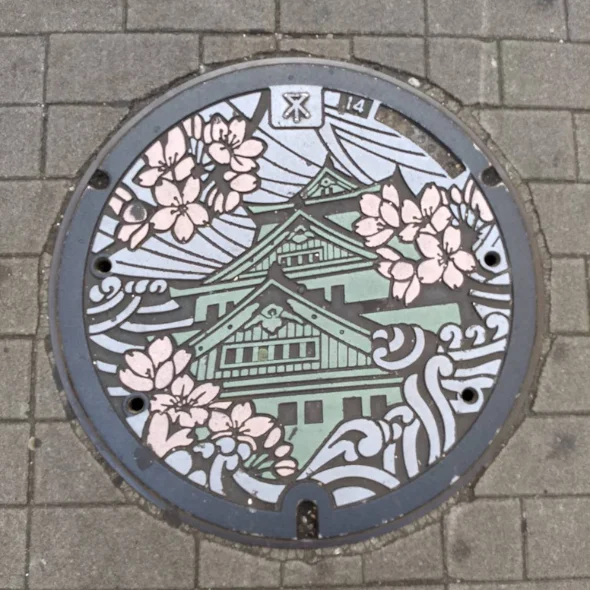 In Japan, the urban landscape has been transformed into an engaging canvas with the introduction of different style manhole covers. They often include a specific symbol of the area or city as part of their design. The unique manhole covers were originally designed by an employee of the Ministry of Construction to create awareness and acceptance for costly modernizations of the central sewage system in the 1980s. Now, more than 90 percent of Japanese communities have their unique manhole cover designs, and there are over 10,000 different patterns and images across the country.
What are Pokélids?
The Pokémon manhole covers, Poké Lids or PokéFuta ポケふた were introduced in 2018 as part of "Pokémon Local Acts", a collaboration with different municipalities in Japan. They were installed to encourage tourists to visit lesser-known areas. The first PokéFuta was installed in December 2018 with nine manhole covers of Eevee and its evolutions in Ibusuki City in Kagoshima Prefecture.
As their charm spread, other cities eagerly joined the trend, creating their unique designs to celebrate their regional identity and Pokémon heritage. Many of the cover designs also feature local tourist attractions at their locations. The covers are used as "Pokéstops" in the mobile game Pokémon Go. Official merchandise featuring the designs on the manhole covers have also been released.
How are They Made?
Crafting these mesmerizing PokéFuta is a labor of love and dedication. These lids are made by mechanically carving the design into aluminum before a sand mold is used to produce a cast metal version. Then, they are hand-painted with colored acrylic resin, which results in bright and sturdy covers.
How Many PokéFutas are There?
The popularity of Pokémon manhole covers has surged rapidly, leading to a proliferation of these enchanting artworks across Japan. As countless cities embraced the concept, the number of unique designs grew exponentially, turning the country into a sprawling treasure trove for enthusiastic "poké-hunters."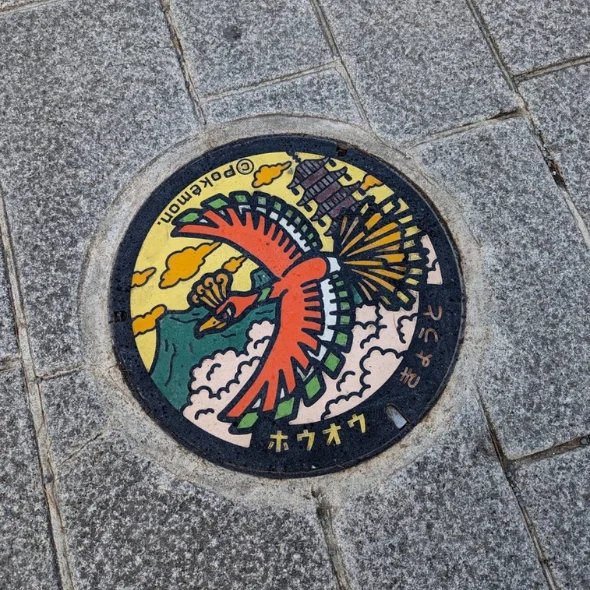 Japan continuously adds more and more Poké Lids around the country each year. Currently, there are over 240 Poké Lids from Kyushu to Hokkaido regions, and each design is unique. With the many Poké Lids around the country, you can take a look at this official guide by the Pokémon Company. Try your best to catch 'em all!
PokéFutas on Awaji Island
Awaji, known for its picturesque beauty and cultural heritage, has all of Hyogo prefectures current three Poké Lids. The PokéFutas on Awaji are mainly at the northern part of the island. The first one being at the very top of the island, second one at Hanshin Earthquake Memorial Park, and the third at Parche's House of Scents Museum.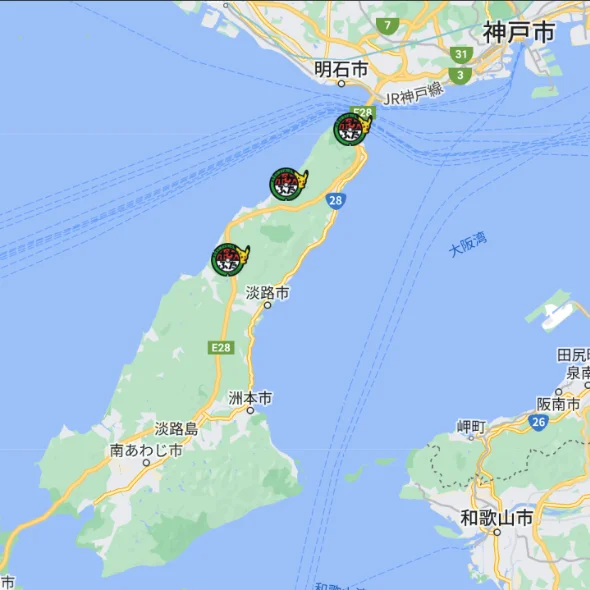 Lugia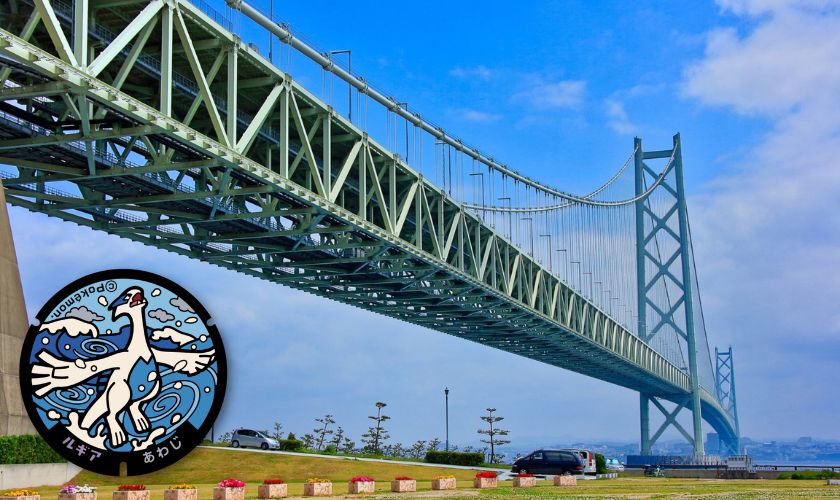 Located right next to the Akashi Kaikyo Bridge is a roadside rest stop that has a small park next to it. in the middle of the park you can find the legendary Pokémon Lugia's sinkhole cover, featuring the famous whirlpools that surround Awaji island.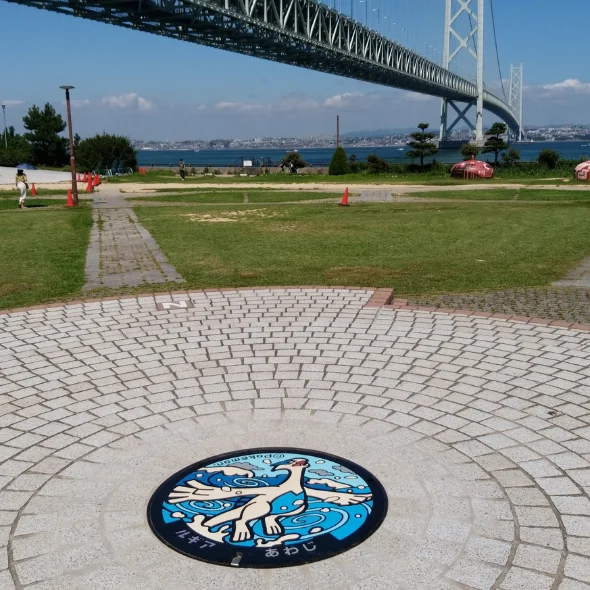 For the exact locations of Lugia sinkohole cover: https://local.pokemon.jp/manhole/desc/203/
Bayleef & Aromatisse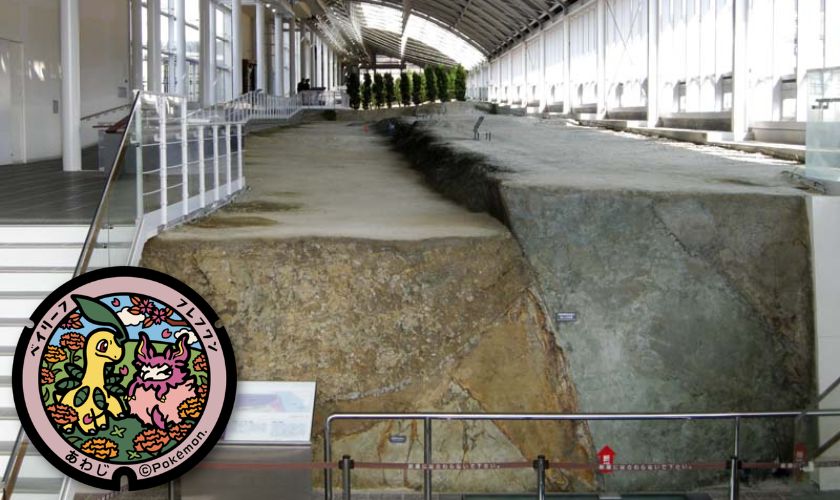 The second PokéFuta on Awaji is located at the Hanshin Earthquake Memorial park. The museum itself is a valuable facility designated as a national natural monument, preserving the fault caused by the Great Hanshin-Awaji Earthquake. You can learn about the terror of the earthquake at that time, and you can learn the importance of preparing for earthquakes and natural disasters. The museum has an entrance fee.
The PokéFuta is located near the pyramid-shaped object "Becchana Rock" in the plaza of relaxation in "Hokudan Earthquake Memorial Park". There is no entrance fee to the park, so anyone can visit the PokéFuta for free.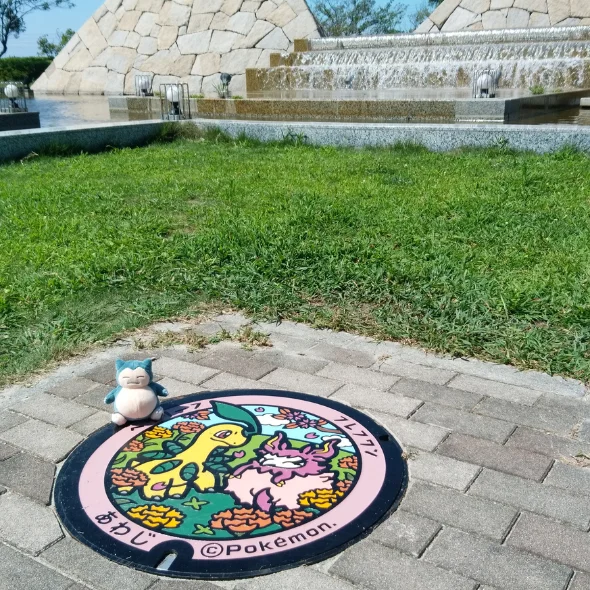 Bayleef & Aromatisse: https://local.pokemon.jp/manhole/desc/204/
Cloyster and Gastrodon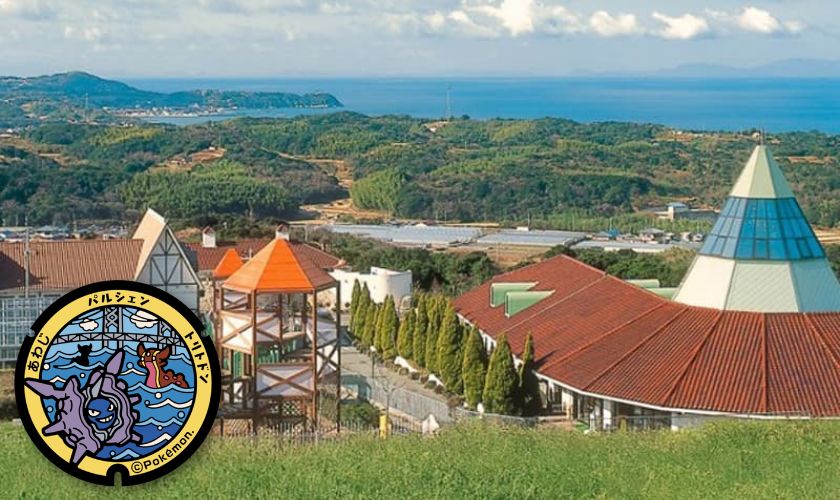 The last PokéFuta on Awaji is located near the Parche's House of Fragrances. The scent-themed facility "Parche's Kaorikan" has a lot of herbs cultivated in the facility, and you can experience picking them and make your own original souvenirs such as herbarium and perfume. You can also enjoy the public bath house right next t it while looking at the sunset.
This poke lid takes a little time to discover. It will appear when you climb the stairs in the "Fragrance Path" behind the "House of Fragrances". Happy discovering!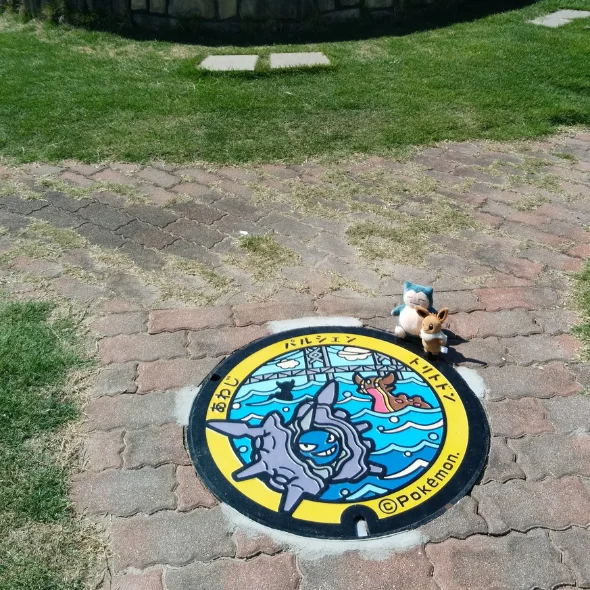 Cloyster and Gastrodon: https://local.pokemon.jp/manhole/desc/205/
Gotta Catch 'em All!
The Pokémon-themed sewer covers serve as a creative way to promote tourism and bring delight to people of all ages. As the covers became more popular, other cities across Japan started adopting the idea and introduced their own custom designs. Each city may have its exclusive designs that feature Pokémon native to their region or other themes related to the locality.
The popularity of these uniquely decorated sewer covers has also led to people going on "poké-hunting" adventures to spot and collect different designs in various cities. It has become somewhat of a cultural treasure hunt and a fun way to explore different areas while enjoying the presence of beloved Pokémon characters.
Overall, these Pokémon-themed sewer covers showcase the creativity and attention to detail that Japanese culture is known for. They have become an endearing and quirky addition to the urban landscape, making the mundane world of sewers surprisingly delightful for anyone with a love for Pokémon and Japanese pop culture.