One reason to visit Awaji Island is, of course, the decadent, delectable sweets. Shine Muscat grapes, mandarins and more are all ripe for the picking right now. It's the perfect moment to stop by this unique place on Awaji Island that offers little-known, but exquisite desserts made with the finest ingredients of the season.
Farm-to-Table Restaurant Haru San San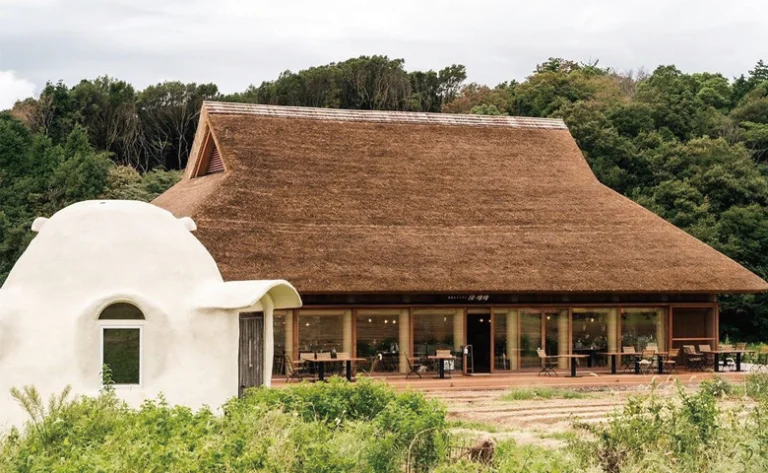 The stunning thatched roof of the farm-to-table restaurant, Haru San San, seems to blend into the magnificent nature of Awaji Island. The priority here is on sustainability with a focus on "circular agriculture", and also reflected in the building itself, constructed with eco-friendly materials like paper and cardboard. Meals featuring generous portions of locally sourced vegetables are wildly popular, with many days fully booked.
Take a deep breath and relax at this café off the beaten path. From classic dishes to limited, autumn-only sweets, choose from an exquisite selection of treats. Conveniently located near popular tourist spots like Awaji Hanasajiki, take a break from sightseeing at this one-of-a-kind farmhouse restaurant.
Splendid Japanese Autumn Sweets
Awaji Island Yogurt Cheesecake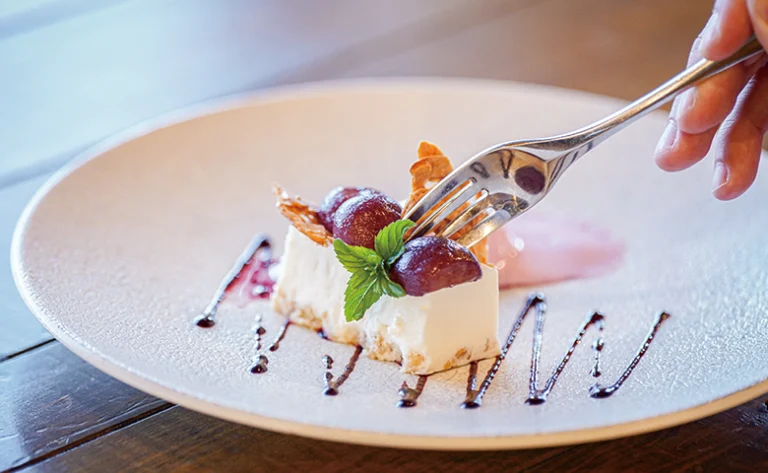 Awaji's yogurt combines with the island's milk in Haru San San's refreshingly tart, homemade rare cheesecake. Accompanied by a homemade grape sherbet, meticulously prepared by simmering seasonal grapes, peeling them, and using only the extracted liquid, a feat of craftsmanship. Enjoy the luxurious dual pleasure of refreshing grapes and the rich flavor of sherbet.
Price: ¥1,280 (Tax included)
Crepe Suzette with Mandarin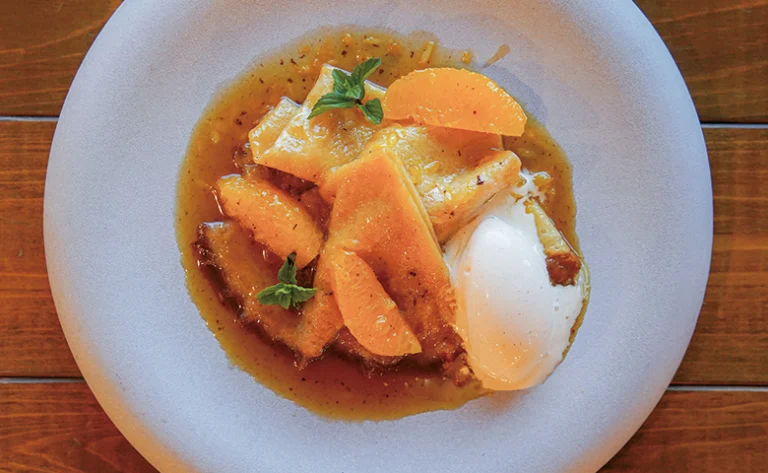 An exclusive treat at Haru San San, this Crepes Suzette is made with "Kokumaro Mikan" (mandarin) from Awaji Island's Noenkai Farm. Three layers of crepes are intertwined with braised butter and mandarin.
As the temperature drops and winter approaches, this hot dessert is the perfect delicacy to ward off the cold, topped with authentic rich vanilla ice cream made with real vanilla beans. As the ice cream melts into the mix, it all becomes even more scrumptious.
Price: ¥1,280 (Tax included)
Muscat Parfait with Fruits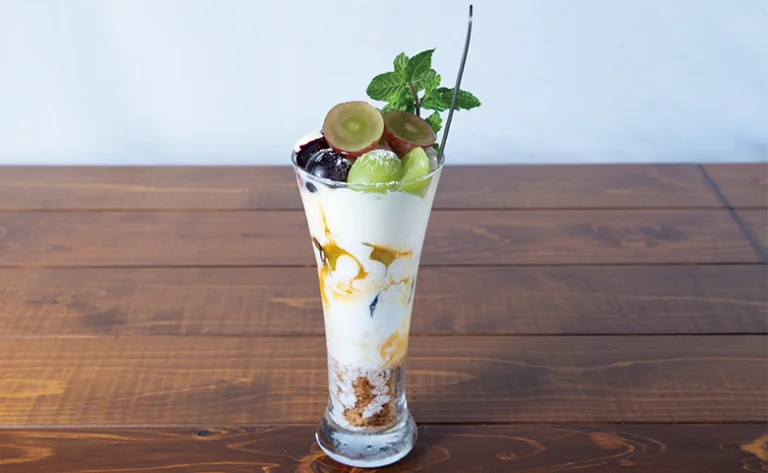 Back by popular demand for a limited time only– this parfait is packed with the refined sweetness of Shine Muscat, topped with fresh, fragrant grapes and other seasonal fruits from Awaji Island. The masterpiece is generously topped with autumnal goods and complemented by the smooth homemade ice cream from Haru San San.
Price: ¥1,480 (Tax included)
Haru San San's Best Seller: Tiramisu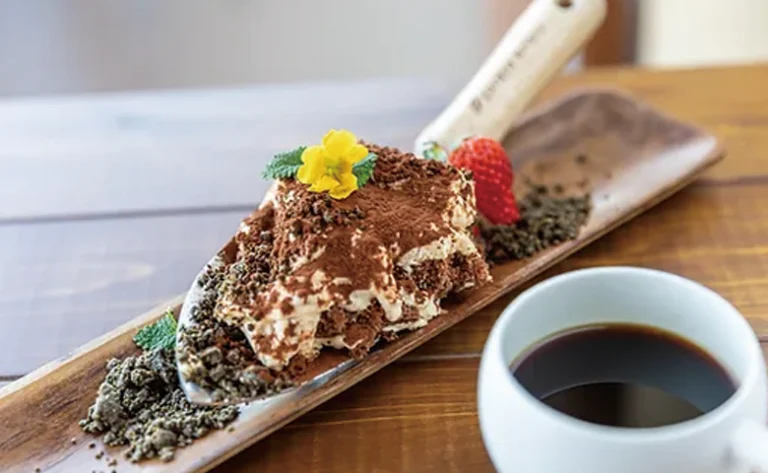 Haru San San's No.1 dessert, the Field Tiramisu, is a masterpiece that showcases the richness of Awaji Island milk. Made with plenty of local dairy, this dessert balances the crunchy texture of bamboo charcoal sablé cookies with the moist and luscious Tiramisu. Attention is given to every detail to produce this gorgeous, popular classic dessert perfect for Instagram-worthy moments.
Price: ¥880 (Tax included)
Click here for details of Haru San San
Awaji Hanasajiki – Flower garden near Haru San San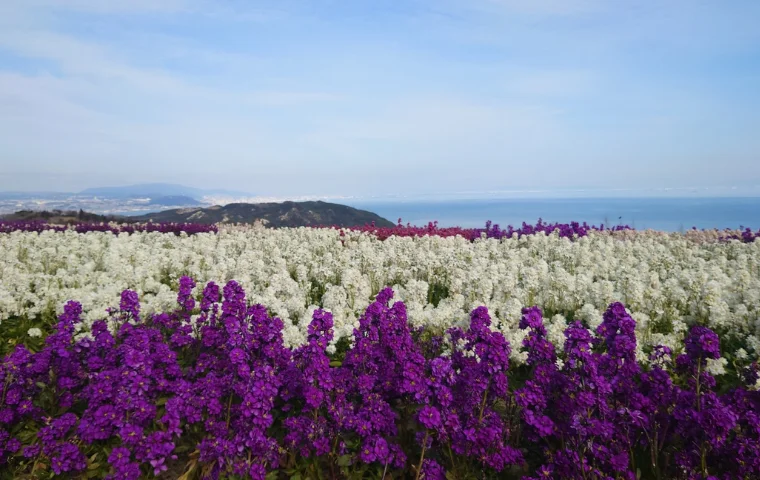 Haru San San is just 3 minutes drive from the popular Awaji Island sightseeing spot, "Awaji Hanasajiki." The vast flower garden offers breathtaking views of cosmos and salvia blossoms during the autumn season in a unique, picturesque floral landscape.