"miele" on Awaji Island is a culinary gem that offers a unique experience. Located in the heart of this breathtaking island, this restaurant combines exceptional food and service with stunning views to create an unforgettable dining experience.
From the moment you step into miele, you will feel welcomed by its warm atmosphere. The elegant decor and lighting create a soothing ambiance that will make you feel right at home. The comfortable seating arrangements invite you to relax and enjoy the stunning ocean vista and the gentle sea breeze. The staff are equally warm and friendly, offering a high level of hospitality.
Amazing Shirasu (Whitebait) Pizza and More
However, it was miele's food that amazed me most of all. Their passion for their craft is evident in the dishes they produce. One that has gained particular fame is the shirasu pizza (also known as whitebait pizza), which is a must-try for anyone visiting the restaurant. The staff will keep pouring shirasu onto your pizza until you signal to stop, allowing you to enjoy a generous serving of this delightful ingredient.
The crispy crust serves as the perfect base for the fresh, salty flavor of the whitebait, a type of small fish that is abundant in the waters surrounding Awaji Island. I think it is a unique take on pizza, and even if you are not typically a fan of seafood on your pizza, the shirasu pizza at miele is sure to win you over.
I was told that miele's burger has also gained a reputation for being one of the best in the region, and after trying it for myself, I could see why. The burger tastes very good, with every element carefully considered and cooked to create a flavor profile that is strong and delicious. The patty itself is made from high-quality, locally-sourced beef, which is ground in-house to ensure freshness and flavor. It is well seasoned with just the right amount of salt and pepper to enhance the natural flavors of the meat.
Delectable Desserts
The desserts at miele are also beautiful. Miele means honey in Italian, and the restaurant has gained a reputation for its delicious honey-based dishes that the chefs take great pride in making. I was informed that miele uses 13 types of honey from all around the world to create their unique dishes. One of the standout desserts on the menu is the honey waffle, a delightful combination of sweetness and tanginess that is both refreshing and indulgent. They also have honey-flavored drinks such as homemade honey lemonade and honey-flavored beer, which are highly recommended for anyone with a sweet tooth.
Seasonal Dishes
Strawberry Pizza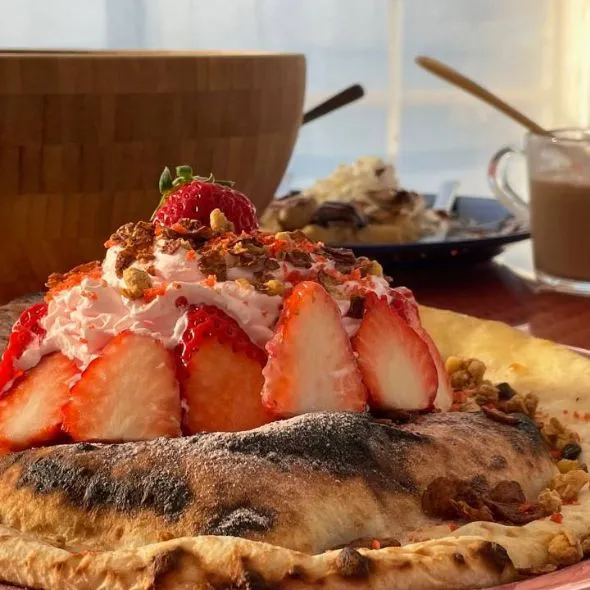 You also don't want to miss out on trying their seasonal dishes that offer rare flavors not to be found anywhere else. We visited the restaurant in February and encountered one of the most bizarre cuisines I have ever seen in my life: strawberry pizza. Yes, you read it right, strawberry pizza. At first, I was rather unsure about how this unconventional pizza would taste, but to my surprise, it was amazing.
As I took my first bite, I was pleasantly surprised by how well the flavors worked together. The crust was thin and crispy, with just the right amount of char around the edges, and the slightly savory taste paired perfectly with the sweet and tangy strawberry cream. It was an unexpected but lovely combination that somehow just worked.
Awaji Beef Honey Curry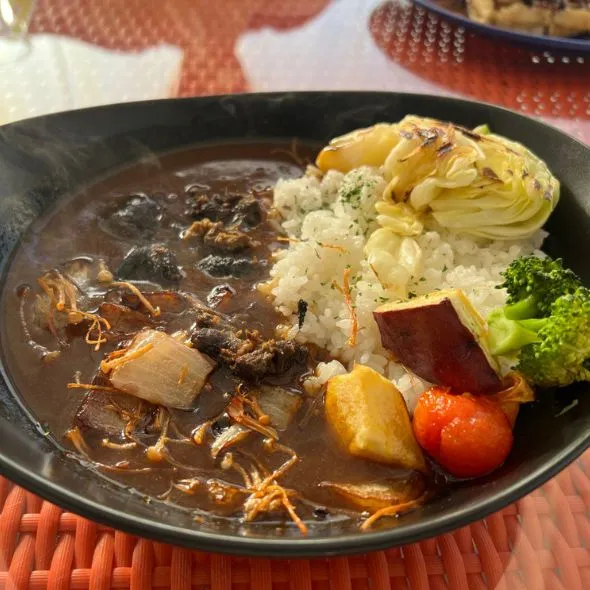 Another seasonal dish that we ordered was the Awaji beef honey curry. The honey mixed into the curry was the star of the show, giving the dish a sweetness that made it unlike any other curry I had tried before. The sweetness was not overpowering, but rather it complemented the curry to create a well-balanced flavor. The Awaji beef itself was incredibly tender and paired perfectly with the honey curry.
All the seasonal items I tried at miele were incredibly delicious and introduced me to a diverse range of flavors that I had yet to experience before. Savoring new and unique flavors is something that you may not come across on a regular basis, so I highly recommend exploring the seasonal menu when you visit this restaurant.
Closing
I think miele is a must-visit for any food lover. It's definitely a once-in-a-lifetime gourmet experience. It is a relaxing place where the beauty of the island meets the passion of the chefs, resulting in a truly unforgettable dining experience that you'll remember for years to come.
Name
miele
Adress
785-9 Nojimahikinoura, Awaji City, Hyogo Pref. 656-1721
Tel
0799-80-2600
Operation Hours
Weekdays 11:00~19:00 (L.O.18:30)
Sat., Sun, & Public Holidays 9:30~19:30 (L.O.19:00)
Closed: Tuesdays
In Aug. and Sept. it will not be closed on Tuesdays
Website
https://www.miele-da-scuola.com/