Awaji Island presents an idyllic setting for a memorable summer vacation. This island boasts appealing locations for swimming, dining, outdoor ventures, and enjoying vibrant summer festivities. In this article, we will guide you through optimal ways to relish a 2-day and 1-night vacation on the captivating Awaji Island.
Our heartfelt suggestion for a truly gratifying summer vacation on Awaji Island is a thoughtfully designed overnight trip itinerary. You will be able to discover captivating attractions that are guaranteed to create a truly unforgettable memory.
Access to Awaji Island
Access to Awaji Island is convenient, allowing for your preference of travel by car or public transportation options such as trains, buses, and ferries. Riding ferries to Awaji Island adds a distinctive touch to your journey, promising an alternative travel experience that's both novel and memorable.
Enjoy Outdoor Activities During Your Overnight Summer Vacation Trip on Awaji Island
Awaji Island's full of natural beauty and abundant open spaces make it the perfect destination for outdoor enthusiasts. Here are a few recommended outdoor destinations to enjoy during your summer vacation on Awaji Island.
Beautiful Beaches on Awaji Island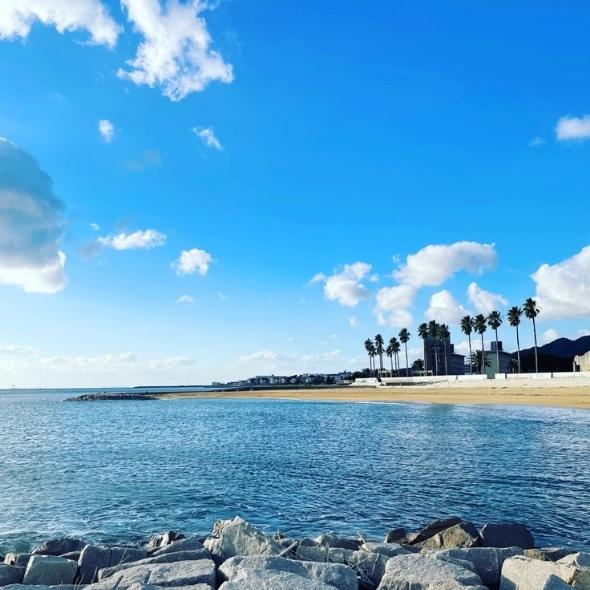 Graced with numerous exquisite beaches, many of the beaches on Awaji Island boast shallow waters perfect for families. Conveniently, these beaches offer parking facilities, ensuring easy access by car. It is worth noting that each year, numerous visitors from different prefectures make their way to Awaji Island to revel in its inviting seascape.
Refer to this article for the top beaches to visit on Awaji Island.
Nijigen no Mori Park is an Exciting Playground for Athletic Activities During Your Overnight Trip
Crayon Shin-chan Adventure Park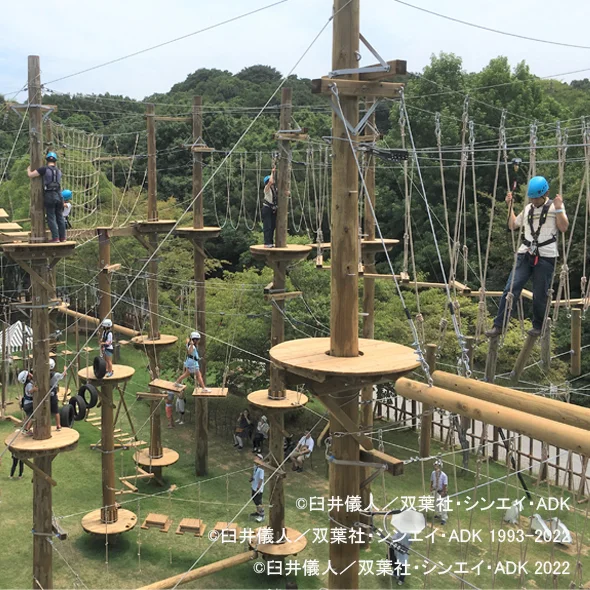 Crayon Shin-chan Adventure Park invites you to delve into the world of this beloved character. Based on the movie "Crayon Shin-chan: Fierceness That Invites Storm", this expansive facility takes the form of a fortress reminiscent of the Warring States era. Tailored for robust outdoor engagement, it features four distinct courses catering to various skill levels, ensuring a gratifying experience for individuals of all ages.
For those up for a challenge, "Samurai General Course" stands tall, requiring a minimum height of 120 cm. This elevated course, positioned 8 meters above ground, provides a thrilling escapade equipped with safety precautions such as harnesses and helmets. A rescue team is ready at hand, ensuring your safety throughout. Completing the course takes approximately 30 minutes to an hour. On the other hand, there is also a slow-paced easy course that is safe even for small children.
Naruto & Boruto Shinobi-Zato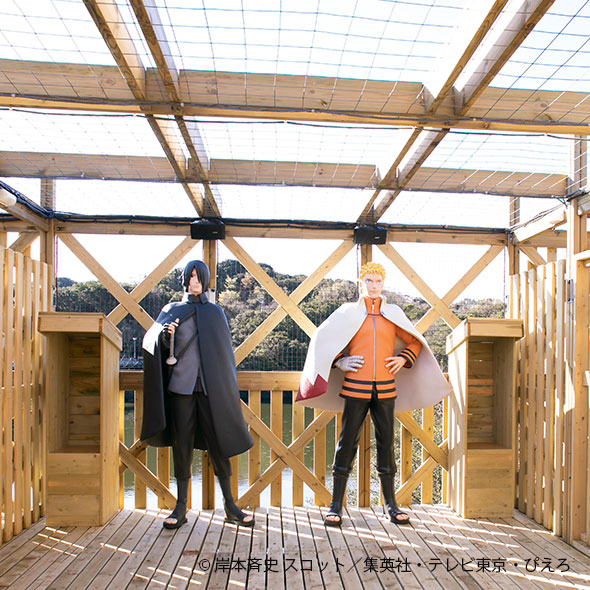 Another extremely popular outdoor activity is the "Naruto & Boruto Shinobi-Zato" experience. Engage in scroll-based training, mission rallies, and riddles together with the beloved characters from the famous franchise. You will be able to explore the maze, collect stamps, solve franchise-related riddles, experience immersive scroll training, and many more. Unleash your inner shinobi as you challenge ninja-inspired attractions and immerse yourself in the action-packed park.
Click here for details of NIJIGEN NO MORI
Barbecue Experience using Awaji Island's Famous Local Ingredients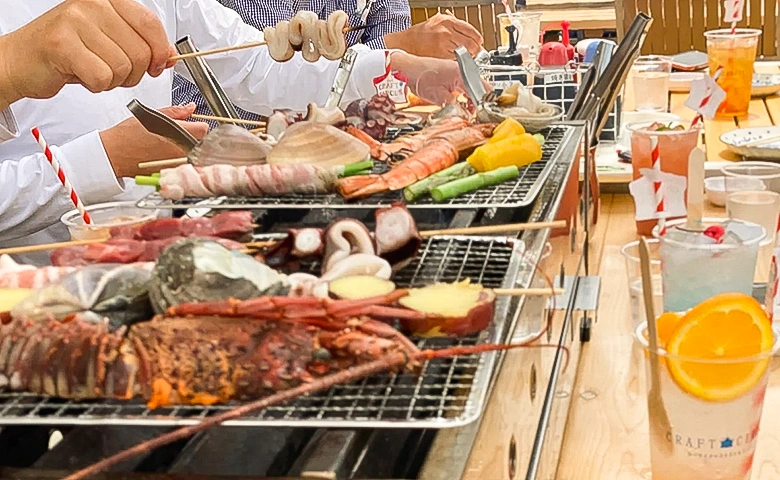 The concept of outdoor activity is often related to barbecue. Imagine partaking in a barbecue feast using ingredients sourced exclusively from Awaji Island, all while gazing upon the serene expanse of the surrounding blue seas. At specially designated barbecue facilities, revel in a no-hassle barbecue experience that allows you to focus solely on enjoyment, without the burden of preparation and cleanup.
Awaji Island CRAFT CIRCUS
Indulge in a splendid barbecue featuring an array of fresh seafood delights, all at an affordable cost. Treat yourself to lobsters, turban shells, and clams – each exquisitely fresh. For an extra treat, try sashimi prepared from fish sourced directly from the on-site aquarium. Unwind at terrace seats that offer a liberating ambiance, granting breathtaking views of the Sea of Harima-nada. Share joyful barbecue moments with your loved ones, basking in the sea breeze's embrace.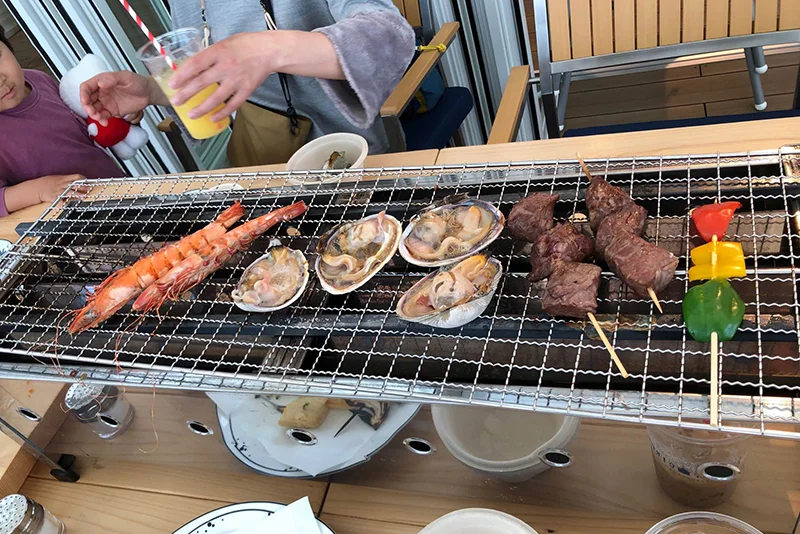 Location
CRAFT CIRCUS
Address
2-2 Nojima-Hirabayashi, Awaji City, Hyogo Pref. 656-1724
Access
15 minutes by car from Awaji IC on Awaji-Kobe-Naruto Expressway. 10 minutes by car from Iwaya Port (Jenova Line Ferry).
Parking
80 spaces
Business Hours
Weekdays: 10:30-20:30 (last order 19:30)
Weekends/Holidays: 9:30-20:30 (last order 19:30)
Closed
Thursdays (excluding national holidays)
Tel
0799-82-1855
Website
https://awajicraftcircus.com/
Reservations
https://www.tablecheck.com/en/shops/craftcircus/reserve
Click here for details of CRAFT CIRCUS
Ocean Terrace
Immerse yourself in the pleasures of a beachside grill barbecue, using the Awaji Island local delicacies, including the popular Awaji Beef. As its name suggests, the restaurant provides an inviting atmosphere, offering terrace seating that affords captivating views of the clear blue sky and the enchanting Seto Inland Sea, which shimmers with the sun's reflection. As the day transitions to evening, guests are treated to the mesmerizing sight of a picturesque sunset, accompanied by the gentle sea breeze that graces the location year-round. At Ocean Terrace, the heart of the dining experience lies in its diverse menu, skillfully curated to highlight the exquisite flavors of Awaji Beef. With each dish thoughtfully prepared using this prized ingredient, guests are assured of an unforgettable and indulgent culinary experience.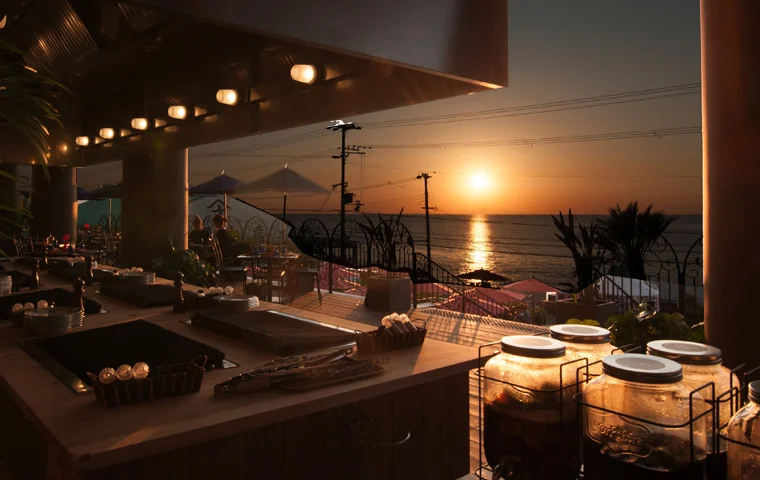 Click here for details of Ocean Terrace
Nojima BBQ Terrace
For barbecue enthusiasts, the Nojima BBQ Terrace is an absolute must-visit destination for families. This delightful spot not only offers a delectable BBQ experience but also treats guests to breathtaking panoramic views of the sea. At the BBQ Terrace in Nojima Scola, families are highly encouraged to try the "BBQ Set" which offers a wide variety of mouthwatering dishes, making it a delightful and abundant choice for a satisfying dining experience for your family.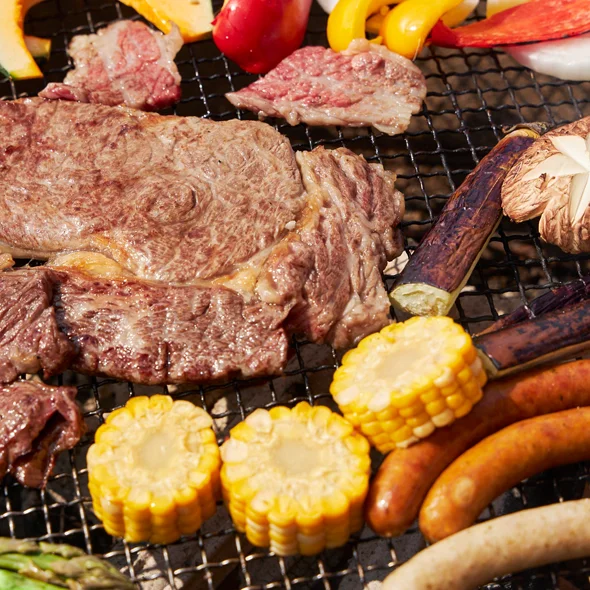 Name
Nojima Scuola
Adress
843 Nojimahikinoura, Awaji City, Hyogo Pref. 656-1721
Website
https://www.nojima-scuola.com/
Reservations
2F Ristorante Scuola
https://www.tablecheck.com/en/shops/nojima-scuola/reserve
Tel
0799-82-1820
Operation Hours
1F Marché /Bakery: Weekdays 10:30~19:00
Sat., Sun., & Public Holidays 10:00~19:00

1F Café Scuola: Weekdays Lunch 11:00~14:00/ café 14:00~18:00
Sat., Sun., & Public Holidays breakfast 10:00~11:00
Lunch 11:00~15:00
Café 15:00~18:00

2F Ristorante Scuola: 11:30~15:30 (in by 14:00) / 18:00~21:30 (in by 19:30)

Outdoor Zoo: Weekdays 11:00~16:00
Sat., Sun. & Public Holidays 10:00~16:00 (13:00~14:00 animals in recess)

Closed: Wednesdays (Open on Public Holidays)
Click here for details of Nojima Scuola
Try Awaji Island Summer Limited Menu
Awaji Island boasts a bountiful array of culinary treasures. Notably, the summer-exclusive menu brims with gourmet delights spotlighting the freshest seafood. This seasonal selection showcases the island's finest offerings, including elevated options like French cuisine accentuated by high-end ingredients. You can also enjoy the fresh sashimi and delectable conger eel, each capturing the essence of Awaji Island's seasonal essence.
Try "AWAJI Summer Full-Course Meal of 3 Selected Ingredients" at Auberge French Forest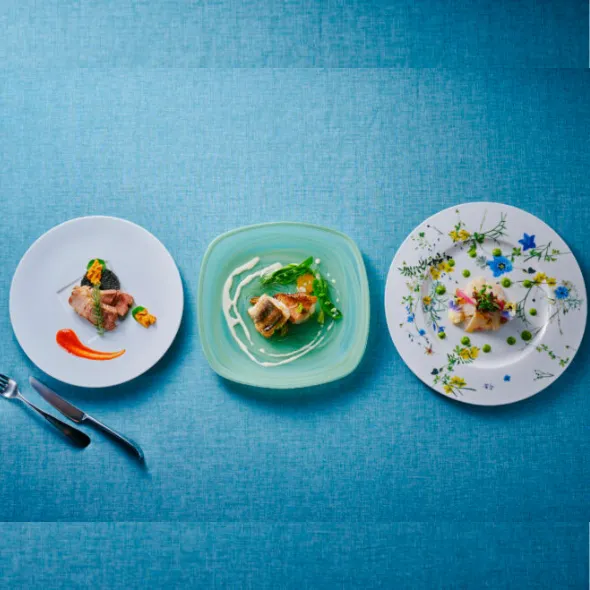 At Auberge, the thoughtfully composed full-course offering stands out, highlighting three superb summer treasures: abalone, sea urchins, and conger eel. The culinary experts take pride in their commitment to utilizing only the utmost quality ingredients, resulting in a harmonious blend of delightful plates complemented by meticulously chosen champagnes and wines.
Auberge consists of three distinct buildings, each offering a unique culinary concept. La Rose presents French cuisine infused with Japanese essence, Grand Baobab combines the elegance of French and Italian influences, and Prince Etoile highlights a captivating blend of French cuisine and Basque gastronomy.
Click here for details of Auberge "French Forest"
"Awaji Island Gozen" at Aman no Shokutaku Sajiki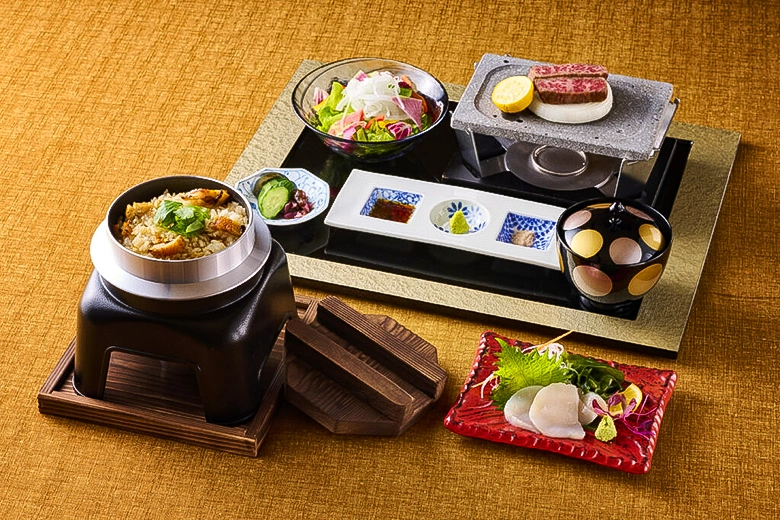 Aman no Shokutaku is a luxurious restaurant that fully brings out the charm of Awaji Island's gourmet. On the second floor, Sajiki awaits, offering refined dining with teppanyaki and sukiyaki. This summer, the restaurant proudly presents Awaji Island Gozen, a seasonal feast that beautifully showcases the island's finest ingredients. Starting with sashimi from the Seto Inland Sea, this menu spans a variety of delights such as Awaji beef tataki, steak, and a flavorful rice dish enriched with conger eel. This lunch menu requires a prior online reservation.
Click here for reservations Utage Click here for reservations Sajiki
Click here for details of Aman no Shokutaku
Ideal Hotels on Awaji Island for Summer Vacation Trip
GRAND CHARIOT: A Glamping Facility Nestled in Nature's Embrace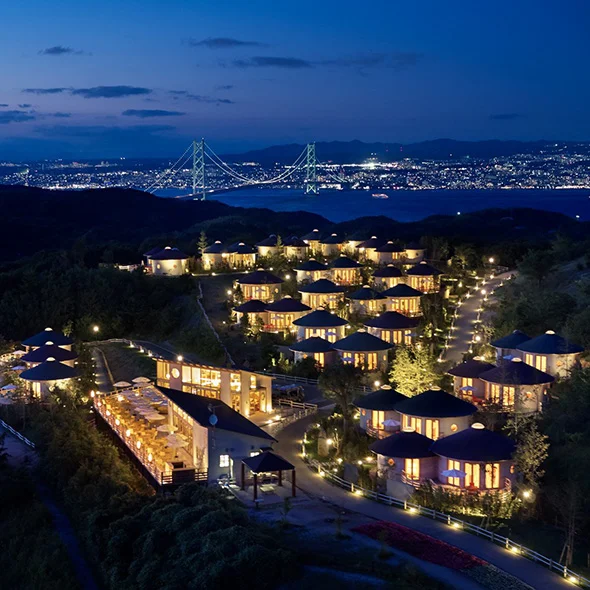 When seeking an ideal family retreat, look no further than the GRAND CHARIOT Hokutoshichisei 135°. GRAND CHARIOT, formerly received the prestigious Platinum Hotels Top Quality Inn certification from Rakuten Travel, guarantees an extraordinary journey for you. The captivating cottages, affectionately known as "cocoons," promise a unique experience. Within each room, the cozy wooden interiors emanate a comforting ambiance, coupled with skylights that present opportunities for nature appreciation, stargazing, and welcoming the morning sun. Adding to the allure, the culinary offerings maintain a high standard of excellence. Perched atop a hill, this serene setting is perfect for an overnight trip, affording the chance to unwind and detach from the hustle and bustle of daily life, all while becoming enveloped in the embrace of the natural surroundings.
Click here for details of GRAND CHARIOT
Auberge French Forest: Cozy Lodging Experience for Everyone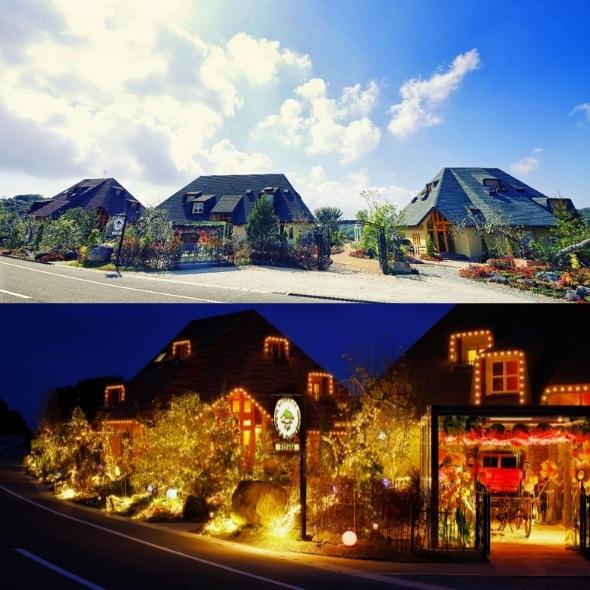 For a brief but enriching overnight trip tailored for couples and individuals, "Auberge French Forest" comes highly recommended. Auberge French Forest is widely renowned as one of the most luxurious hotels available on Awaji Island. This charming lodging accommodation comprises a restaurant on the ground level and a hotel on the upper floor. At the first-floor restaurant, three distinct buildings offer guests delectable French cuisine, each building with its own unique concept.
Closing
How was it? With its encompassing ocean views, picturesque mountains, and delicious gourmet offerings, Awaji Island beckons as an exceptional choice for an overnight trip. We extend a warm invitation for you to explore and revel in the charms of Awaji Island during your upcoming summer vacation.
©2023 Nijigennomori Inc. All Rights Reserved.
ⓒ臼井儀人/双葉社・シンエイ・テレビ朝日・ADK
ⓒ臼井儀人/双葉社・シンエイ・テレビ朝日・ADK 1993-2023
Frequently Asked Questions
When is the best time to visit Awaji Island?
Awaji Island is bustling during popular times like Golden Week and summer vacation. With its pleasant year-round climate and easy access from Kansai, it's a great spot for a day trip or overnight trip from September to December when it's less crowded.
How can I go sightseeing on Awaji Island on foot?
In recent years, the western coast of Awaji Island has gained significant popularity, drawing many to enjoy its striking ocean views and captivating sunsets. Yet, it's important to note that the footpaths can be narrow and certain areas pose safety concerns for pedestrians. To address this problem, free shuttle buses are available, conveniently linking Nijigen no Mori and other key attractions along the western coast of Awaji Island. Make sure to utilize these shuttle services for a safer and more enjoyable sightseeing experience.
How to get around on Awaji Island?
Trains are not available on Awaji Island, making automobiles the most practical mode of transportation. Alongside utilizing the island's local buses, community buses, and free shuttle buses.