Zen and wellness retreats have gained popularity in recent years as many seek to disconnect from their busy daily lives and prioritize their mental and physical health. In the northern part of Awaji Island lies the building ZEN Wellness SEINEI, designed by Pritzker prize-winning architect Shigeru Ban. It opened for the public in March 2022 to promote health and wellness. Here in Japan's serene and picturesque landscapes one can find a perfect setting for a zen retreat, to connect not only with oneself but with nature and reach a state of mental and spiritual "wholeness" also known as "全・ぜん" – zen.
ZEN Wellness experience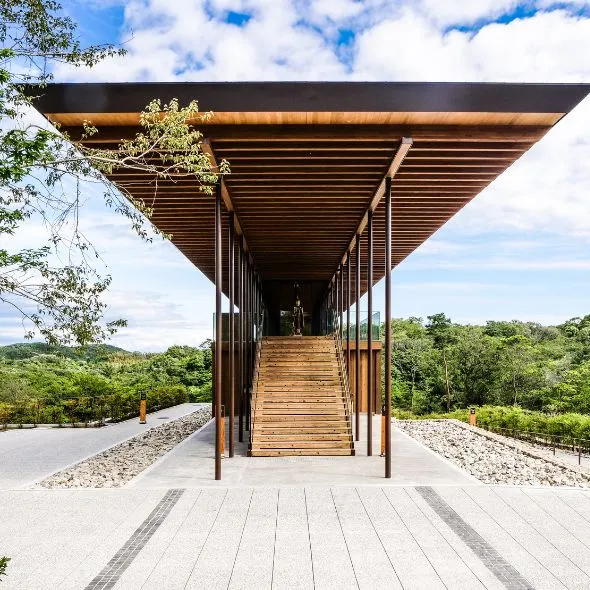 I took part in the ZEN Wellness Day trip plan that included lunch at arrival, then some yoga and meditation, followed by tea and leisure time before the final meditation exercise.
I do not actively practice yoga or know much about zen meditation and such, so getting a full, authentic experience was exciting for me and I indulged in it during the 4 hour course. After general greeting words and explanations on the building itself we were shown to our rooms for the course's period, all named after Japanese words or phrases that have a deep meaning.
Lunch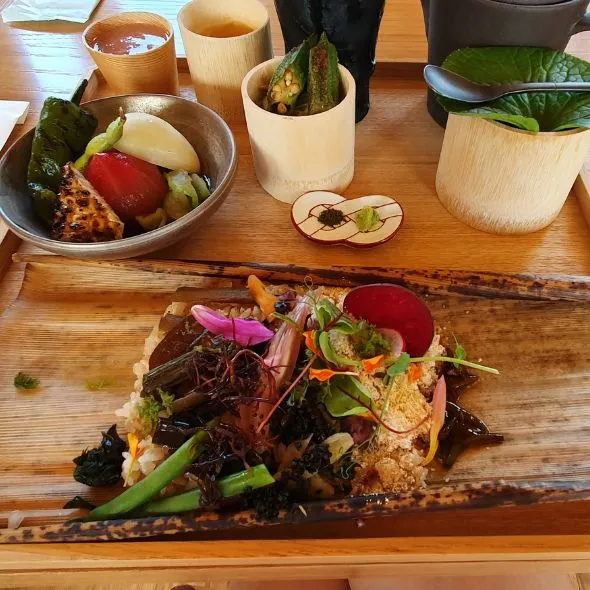 During lunch, Chef Nobuaki Fushiki, who is famous for his fermented foods in Japan, gave a detailed explanation on each of the foods and ingredients. I could not understand half of it but could only admire the intricate layout of the dishes displayed on a bamboo leaf. The foods are all vegan made without any sugar, oil, dairy, or flour products. When he finished informing us of the cuisine we were given the option to go and eat where we wanted, since it was warm outside and we could sit along the 100-meter-long wooden deck. The entire building is made of wood and radiates this calming earthly energy, making it easy to descend to that Zen feeling one always wants to have in life. The surroundings certainly aid in the cause. ZEN Wellness SEINEI stands along the mountain surrounded by lush nature. I finished photographing the too-beautiful meal set-up and enjoyed all the different flavors while watching the forest sway in a gentle breeze.
Yoga and Meditation Session
After lunch our group had the first yoga and meditation session of the day trip plan. I'm not well practiced in either and since all instructions were in Japanese I often had to peek between my eyelids what to do next. Nevertheless I loved it. Even if we were outside, there was a roof protecting us from the sun and I could constantly feel the wind blowing through the deck's open space, hear the nearby birds and some traffic from afar. It was peaceful and calming and I enjoyed every minute of it. The yoga exercises were easy enough to follow along and did not need high flexibility or muscle work.
Japanese Maccha Tea and Sweets
I did not wish for the meditation that had us lying on the deck and simply being in the present to end, but the excitement of dessert and Japanese green tea, got me up. Once again you got to choose whether to eat your dish in the dining area or somewhere else. I also got to make the green tea myself. The materials were ready on the trays and I mixed the boiled water with the matcha powder and blended my own Japanese green tea. Later I spend some time in my room alone just to sit on the plain bed and look outside admiring. You can also use this time doing the calligraphy that is opted to you in the rooms, but without an instructor.
The Second Meditation Session
The day trip plan is designed to stimulate all your senses. Food for the taste, view for the eyes, yoga for the body and touch, scented pouches for smell and the relaxing chimes of the gong for hearing. The second meditation practice focused more on breathing and sensing your surroundings, inner thoughts and body's feelings. It all ended too soon for me. I could have stayed there breathing the warm air and scenic views for hours and if given the chance I do wish to go back for a Zen stay or other events.
Closing
But even after the four hours, I felt relaxed and more connected with my senses and surroundings. Even though the daytime zen course seemed to end too soon, there was plenty of time to either relax on your own or take all the pictures you want in the unique wooden environment.