Grand Chariot is a tranquil glamping retreat located in the north of Awaji Island. At this unique retreat, guests are accommodated inside luxurious yet cosy and understated cocoons. Cocoons are available to suit solo travellers, couples, and families, and even include pet-friendly options.
Themed Character Rooms
By far the most popular are the themed character rooms. Grand Chariot has collaborated with Naruto, Dragon Quest, Crayon Shin-chan and Hello Kitty to create six fun-filled rooms that are sure to delight fans of these super-popular franchises. Surprises hide in every corner, and guests can even take home a range of exclusive, original merchandise from their room of choice.
Panoramic Views and Spa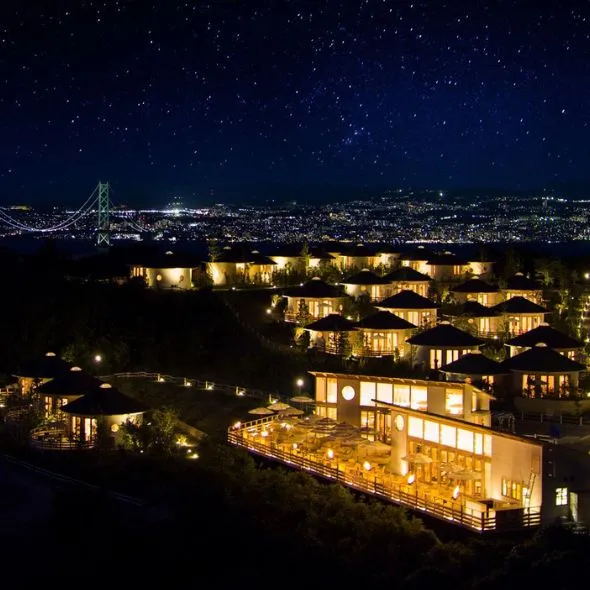 Having to visit a lot of hotels in my past trips, I can confidently say that Grand Chariot really stood up to me in terms of facilities, hospitality, and beautiful scenery. After my visit to Grand Chariot, I think Grand Chariot's secluded location makes it an ideal escape from hectic city life. Sweeping panoramic views of Awaji Island and the Akashi-Kaikyo bridge can be enjoyed from the observation deck by day and night, and the spot also offers exceptional stargazing opportunities. With the clear view of the starry sky at night, I was blown away with the view and took some beautiful pictures of the starry sky. The modest spa facility offers a uniquely Japanese experience—a cypress enzyme bath that gently warms the body with natural fermentation. This treatment promises many benefits for both health and beauty.
The Interior of the Cocoon
The interiors make abundant use of natural materials such as cedar and fragrant cypress, creating a sense of warmth and rusticity. And the moment I entered the cocoon, I was welcomed with this unique aromatic scent that turned out to be cedar wood. Cedar wood offers this woody and citric smell that immediately gives you this relaxing effect on your body, and it is believed to help reducing stress as well. After looking at the facilities that the cocoon offers, I took my time in the bathroom, and to my surprise the bathroom also offers a cypress bath, which is also known as a deep Japanese bath. Being surrounded by the cedar wood from the interior wall and fragrant cypress bath all over the bathroom, my body was able to relax after a long day. Moreover, since the cocoon itself is comfortable and aromatherapeutic, I would not be surprised that everyone had a relaxing and good sleep at this place after their long day at Nijigen no Mori, a new sensation theme park in Hyogo Prefectural Awajishima Park with the themes of animation, technology, and nature that is just located near Grand Chariot.
Luxurious Japanese Cuisine for Dinner
After taking my time in the cypress bath, I went to get dinner in the restaurant. For their dinner menu, the restaurant offers exquisite Japanese cuisine made with Awaji's finest seasonal ingredients. Since I visited during the winter season, the menu that stood up to me was their Awajishima Sannen Torafugu Nabe that can be translated as Awaji Island's 3 years old Japanese pufferfish's milt. As the name says, these pufferfishes have been cultivated over the course of 3 years, and it was the best pufferfish I have ever tried in my whole life. (Note: pufferfish menu is offered only from December though February.)
Healthy Breakfast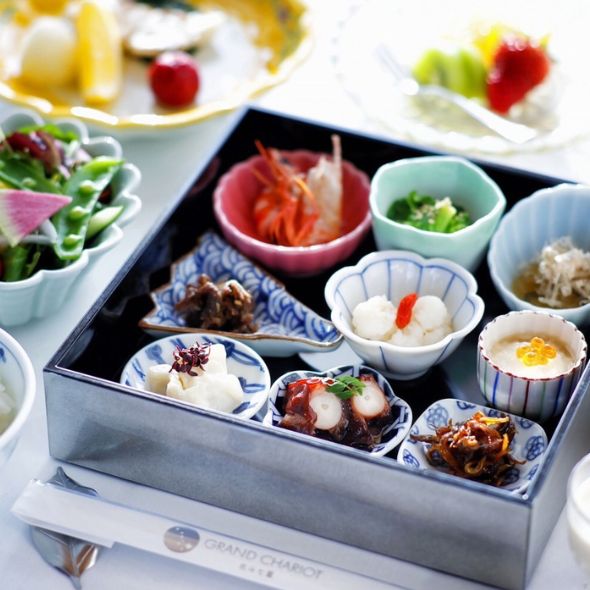 In the morning, I went to their restaurant that offers exquisite Japanese cuisine made with Awaji's finest ingredients. With their popular breakfast set also known as Asa no Ohajime Gozen that can be translated as Morning Banquet, consisting of Awaji grilled fish, rolled eggs with fish and kelp stock, and freshly cooked Awaji Island rice. With the high quality ingredients they offer, this meal is guaranteed to make your belly feel both full and happy.
Click here for details of GRAND CHARIOT