Awaji Island is one of the leading resort spots in Kansai, famous for its great nature and abundant food. Below is an original special plan that allows you to fully enjoy the spectacular scenery that can only be found on Awaji Island and the marine products of Awaji Island, which has been considered a treasure trove of food since ancient times when it was known as the "Land of Gastronomy (Miketsukuni)". We hope you will enjoy your Awaji Island terroir trip by referring to the model plan.
Hyogo Terroir Spot: Climb the Akashi Kaikyo Bridge, One of the World's Largest Bridges, For A Spectacular View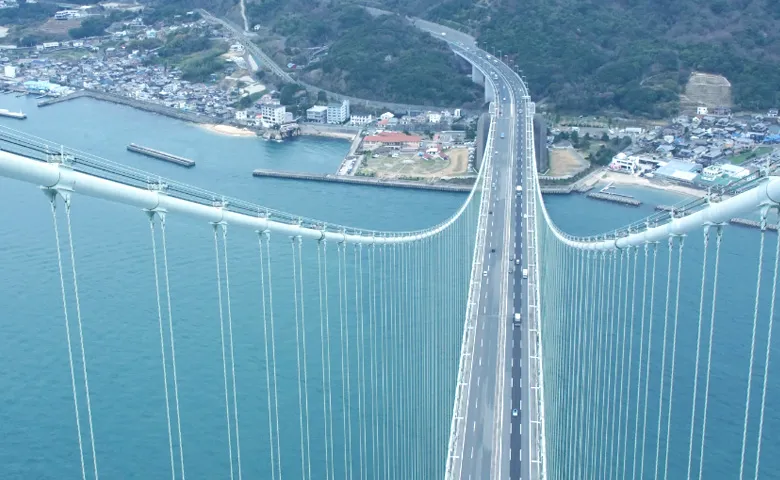 In the morning, we recommend a tour of the Akashi Kaikyo Bridge, the most scenic spot closest to the Awaji IC. Starting at "Rest Spot Awaji" on Awaji Island, visitors can experience climbing inside the Akashi Kaikyo Bridge, one of the world's largest suspension bridges, with the Akashi Kaikyo Bridge World Tour. A tour leader who was involved in the construction of the bridge explains the construction of the bridge, the hidden technology and history of the bridge in an easy-to-understand and enjoyable way, while guiding you through a maintenance passageway, which is normally inaccessible to the public, to the main tower, about 300 meters above sea level, where you can view a 360° panorama.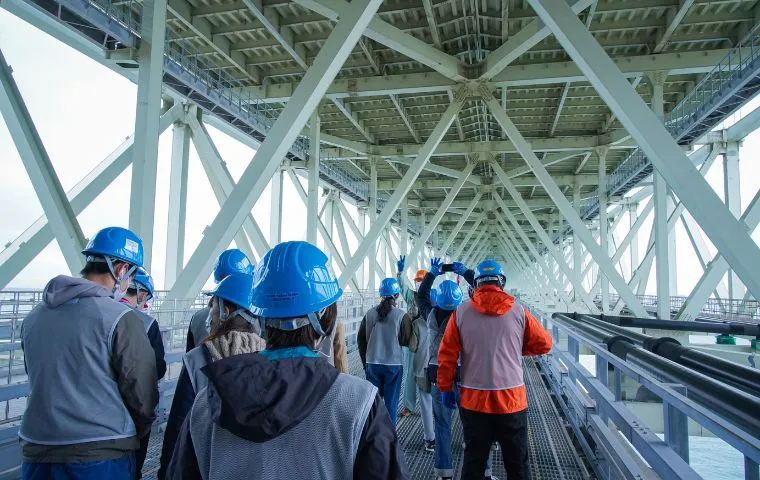 While walking along the 1-km long pathway, visitors can hear detailed stories about how the Akashi Kaikyo Bridge was built and its history, and enjoy a different perspective on the Akashi Kaikyo Bridge. The pathway is for maintenance use and you can see the sea through the mesh floor under your feet and experience the thrill of walking above the sea.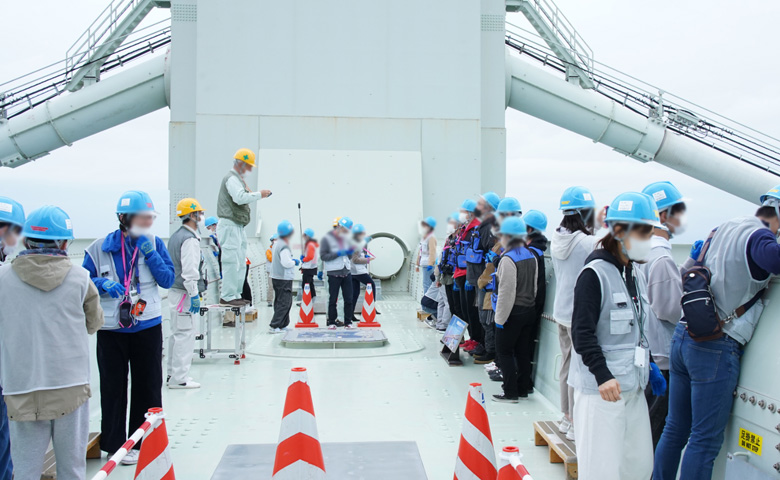 When you reach the top of the bridge, a commemorative photo will be taken, and at the end of the tour, you will receive a certificate to commemorate your ascent to the top of the bridge, which was added as a new feature from 2023. In addition, you can keep as a token a pair of the original blue gloves with the official character design that was given to you at the beginning of the tour. During the 15 minutes of free time per group, you can enjoy taking pictures and asking questions to the guide to learn more about the Akashi-Kaikyo Bridge.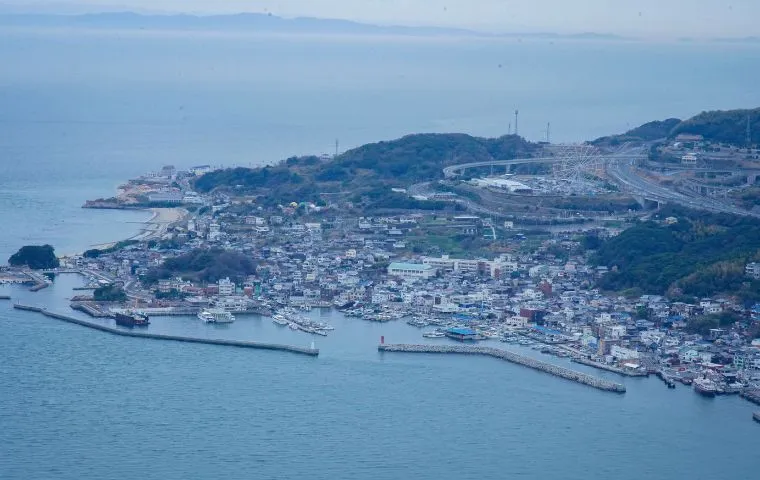 You can enjoy a 360° panoramic view of Awaji Island, Kobe, and Osaka from the height as tall as the 96th floor of a building, as shown in the photo. The car is about the size of a diorama, so why not capture it on video? If you bring a camera for filming, be sure to bring a neck strap. If you don't have one, you can borrow one during the tour .
Akashi Kaikyo Bridge World Tour Overview
The Akashi Kaikyo Bridge World Tour in 2023 will be held on the days designated by Honshi Kosoku out of Thursdays, Fridays, Saturdays, Sundays, and national holidays until November. Please check the official website.
Morning Registration: 9:30-9:45 Tour: 9:45-11:45
Afternoon Registration: 13:05-13:20 Tour: 13:20-15:20
Adult: Weekdays 5,000 yen/person and Weekends & Holidays 6,000 yen
Junior High School Students: Weekdays 2,500 yen/person and Weekends & Holidays 3,000 yen
*Please be sure to bring your student ID.
Participation is limited to junior high school students and older who can walk at least 2 km on their own.
Hyogo Terroir Gourmet: Fresh Sushi and Tempura with An Ocean View
SEIKAIHA, Aonoya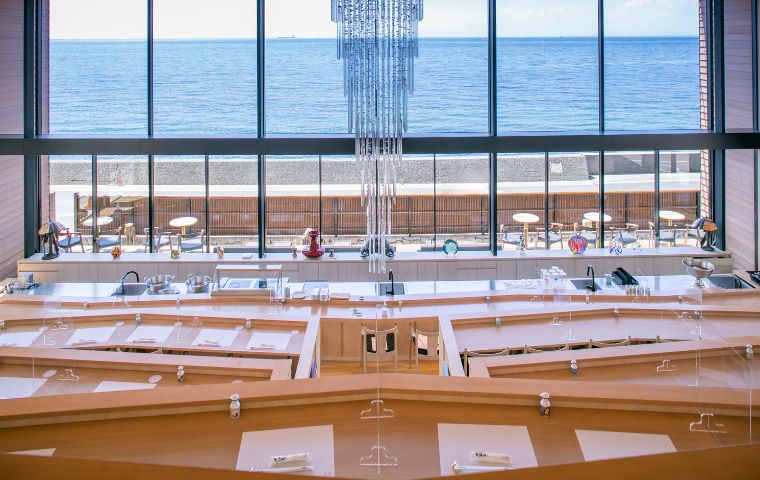 On the west coast of Awaji Island is SEIKAIHA Aonoya, a sushi and tempura restaurant where all seats overlook the Harimanada Sea. The restaurant offers a wide variety of dishes using fresh seafood purchased from fish markets on Awaji Island and mountain produce sent directly from the local farmers. One of the charms of this restaurant is that the ingredients change with the seasons, so you can enjoy the special pleasures of each. Also, if you want to try Yura's sea urchin, a specialty of Awaji Island famous for its high quality ingredients, why not visit Aonoya? At the very front of the restaurant, the chefs painstakingly prepare and deliver to customers one by one according to their timing and order. This is a recommended restaurant where you can enjoy a lunch filled with the special scenery, ingredients, and charm unique to Awaji Island.
Click here for details of SEIKAIHA - Aonoya
After lunch, enjoy the sights and drive around the area.
Hyogo Terroir Souvenirs: Purchase Awaji Island Specialties
Craft Circus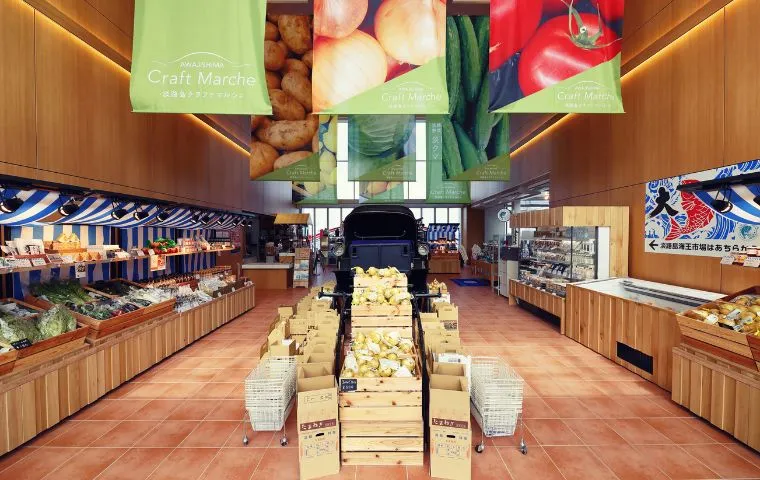 Craft Market sells all sorts of fresh vegetables from Awaji Island. Vegetables directly from Awaji Island farmers are lined up as soon as you enter the market. There is also a wide selection of other souvenirs that can only be purchased here, such as the products of the Seto Inland Sea, various Awaji Island specialties, and carefully selected soy sauce, salt, and miso from the Inland Sea area. If you are having trouble finding souvenirs from Awaji Island, then you should make this Craft Market your one stop shop, for a huge selection of souvenirs of your trip.
Location
CRAFT CIRCUS
Address
2-2 Nojima-Hirabayashi, Awaji City, Hyogo Pref. 656-1724
Access
15 minutes by car from Awaji IC on Awaji-Kobe-Naruto Expressway. 10 minutes by car from Iwaya Port (Jenova Line Ferry).
Parking
80 spaces
Business Hours
Weekdays: 10:30-20:30 (last order 19:30)
Weekends/Holidays: 9:30-20:30 (last order 19:30)
Closed
Thursdays (excluding national holidays)
Tel
0799-82-1855
Website
https://awajicraftcircus.com/
Reservations
https://www.tablecheck.com/en/shops/craftcircus/reserve
Click here for details of CRAFT CIRCUS
Hyogo Terroir Spot: A Hot Spring to End the Fatigue of a Trip to Awaji Island
Matsuho no Yu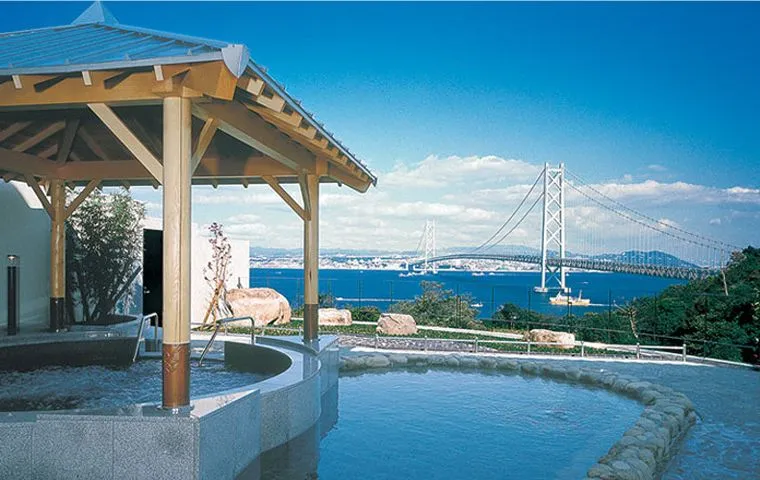 "Biyu Matsuho no Yu" is a hot spring famous for its amazing open-air baths. The type of water is a simple weak radon hot spring, and there is a bubble bath, a jet bath, a cascading bath, a lying bath, a sauna, and a water bath, among others. Radon hot spring is also called "hot water for all diseases" and has many beneficial effects for the body. It is recommended to stop by the hot spring to enjoy the panoramic view of the Akashi Kaikyo Bridge while relieving your fatigue on your way back from your trip to Awaji Island.