Awaji Island has many photogenic landscapes, but the magnificent Akashi Strait and the sea are the perfect subjects. Here are some recommended spots for photographing the Akashi-Kaikyo Bridge over the Akashi Strait.
The spots before crossing towards Awaji Island
Maiko Prefectural Maiko Park
The Maiko Park area, formerly known as Maiko Beach, is said to be one of the most beautiful places in the world with its white sand, green pine trees, and spectacular view of Awaji Island. The "Maiko Marine Promenade" is an approximately 317m long promenade that rises 47m above sea level, 150m from land, and juts out into the Akashi Strait.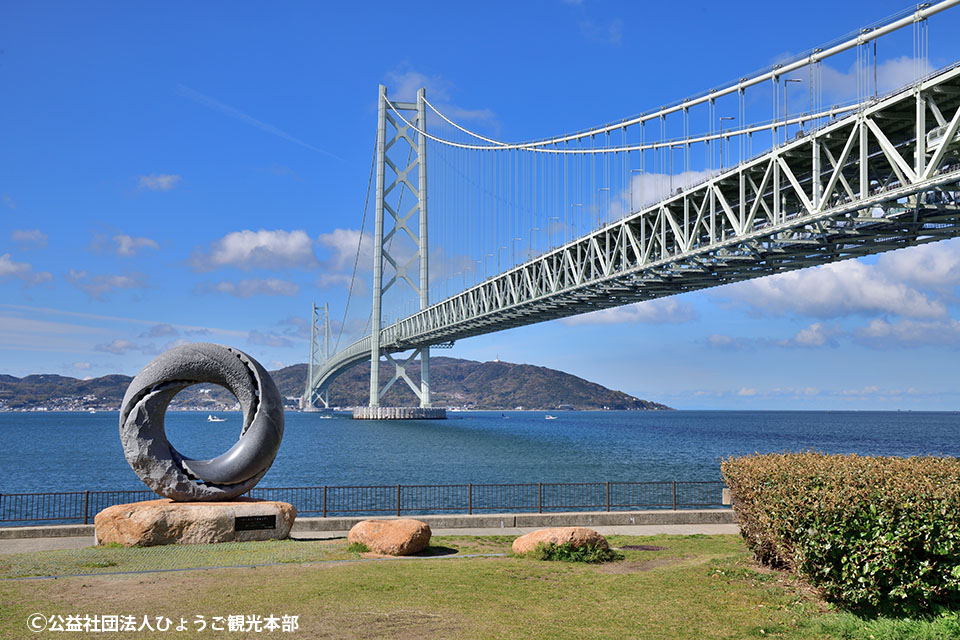 Address: 2051 Higashi Maiko-machi, Tarumi-ku, Kobe 655-0047
Fare: Free (entrance fee is required to use facilities)
Parking hours: 8:30-21:30 (fees charged)
Sumaura Ropeway / Sumaura Mountain Top Park
This is a photo spot where you can look down on the bridge from the mountain top area, which stretches from the 246-meter-high Mount Hachibushi to Mount Hataburi. It is also a popular hiking spot.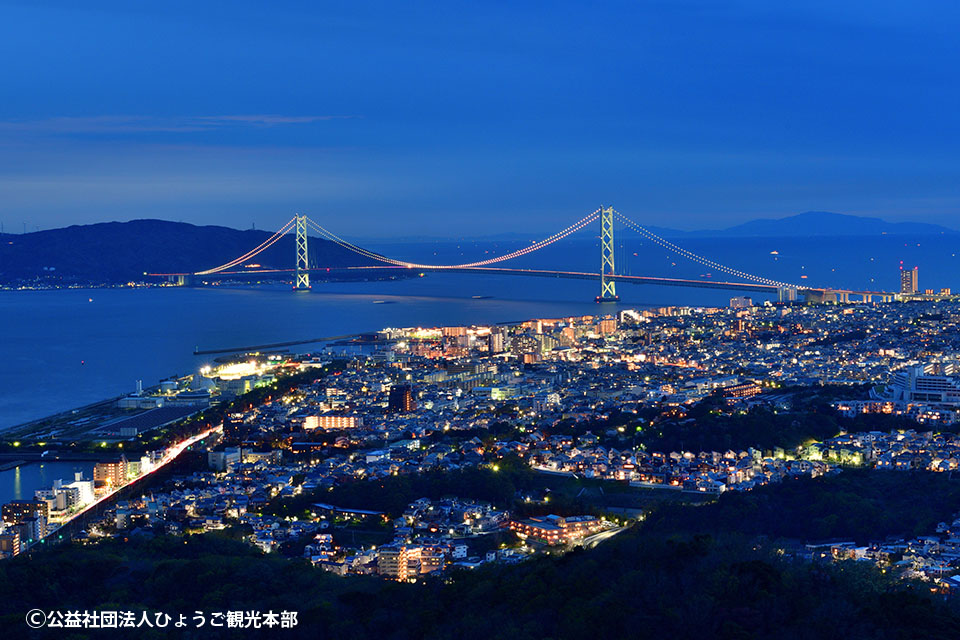 Address: 5-3-2 Ichinotani-cho, Suma-ku, Kobe 654-0076
Opening hours: April-October 10:00-18:00
March and November 10:00-17:30
December-February 10:00-17:00
Open every Tuesday (open on national holidays, January 1~3, spring vacation, GW and Bon holidays)
Fare (ropeway): Adults 900 yen round-trip, children 450 yen round-trip
Parking: 220 slots for standard cars (fees charged)
Crossing the Akashi Kaikyo Bridge and spots in Awaji Island
Awaji Service Area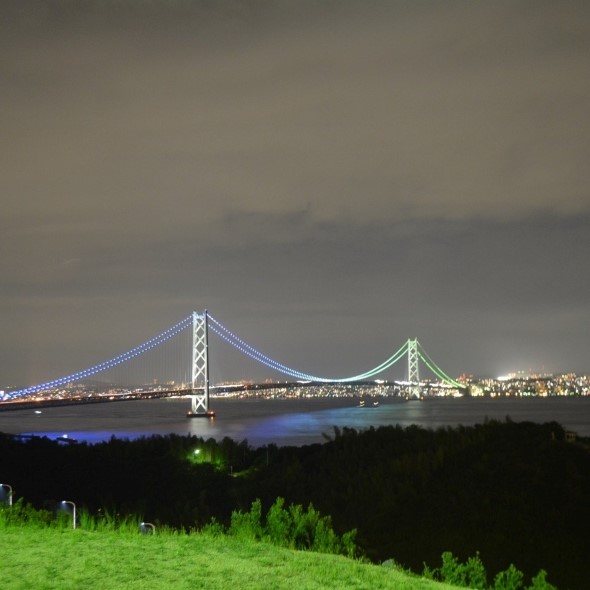 This service area is located immediately after crossing the Akashi Kaikyo Bridge. The Ferris wheel is the landmark on the road coming from Kobe. There is a photo point overlooking the Akashi-Kaikyo Bridge both on the way into and out from Awaji Island. The elevated terrain provides a great view.
"Akashi-Kaikyo Bridge World" Tour
There is a tour where you can climb one of the world's largest suspension bridges, and the 360-degree panoramic view is truly a perfect photo opportunity. It is a unique and precious experience. Tour details for 2023 will be notified by the tour company soon!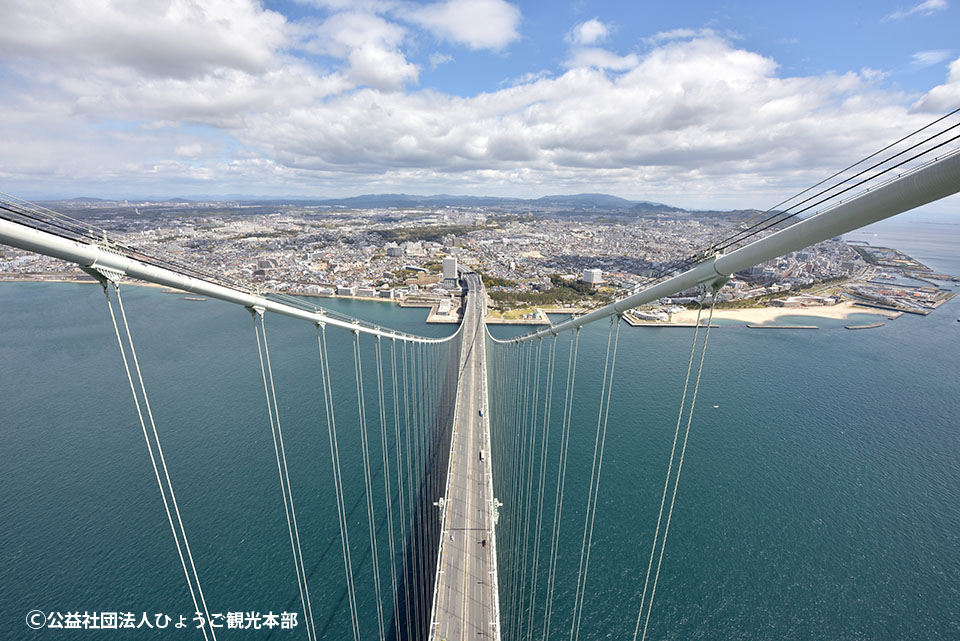 Michi no Eki Awaji
This is a shooting point where you can look up the bridge from below. The bridge is a very impressive size and the spot offers a unique camera angle. The roadside Michi no Eki Center is a fun tourist spot with restaurants and souvenir shops.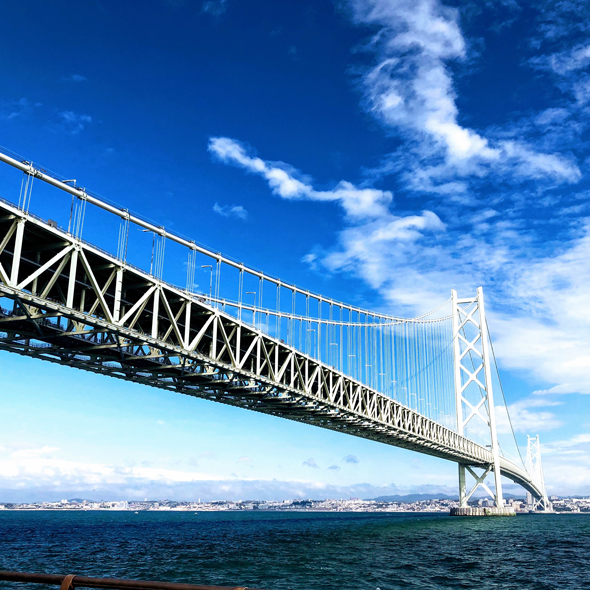 Address: 1873-1, Iwaya, Awaji City  
Tel: 0799-72-0001
Free parking lot : 10 large vehicles, 70 standard vehicles, 2 for physically-challenged persons