Awaji World Ballet Free Performance "Autumn Ballet Festa" Starts October 28th
We are delighted to present a special ballet performance filled with charm and grace, designed to bring the beauty of ballet to everyone in an approachable and enjoyable way.
This autumn's performance promises to be a ballet experience that's not to be missed!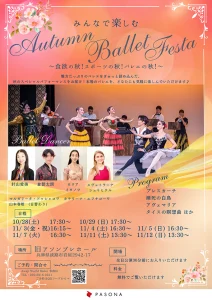 Location:
Former Assemble Hall
2942-17 Iwaya, Awaji City, Hyogo Prefecture
Admission:
Free for everyone
Dates and Times:
October 28th (Saturday) at 17:30
October 29th (Sunday) at 17:30
November 3rd (Friday) at 16:15
November 4th (Saturday) at 16:30
November 5th (Sunday) at 16:30
November 7th (Tuesday) at 16:30
November 11th (Saturday) at 13:30
November 12th (Sunday) at 13:30
Performance time: 35 minutes
Program:
The Dying Swan
Ave Maria
Tais Meditation from Thaïs
Pas de Quatre
among others Please note that the program is subject to change.
Performers
針山愛美 Emi Hariyama
倉智太朗 Taro Kurachi
Nelia Ivanova
Svetlana Shrikhter
Margarita Dushakova
Katerina Evchikova
山本春姫 Haruhime Yamamoto (rotating)
Reservation method:
Please apply using the application form https://forms.office.com/r/8qdeM5anZz