A seaside mall is a unique shopping and dining destination that combines the allure of the sea with a wide array of restaurants and shops. The charm of a seaside mall lies in its picturesque location, providing visitors with stunning waterfront views, fresh ocean breezes, and a tranquil ambiance that enhances the overall experience. In this article, we will introduce you to a seaside mall located on Awaji Island, known as Chef's Garden and Ladybird Road.
Awaji Island, situated in Hyogo Prefecture of Japan, is renowned for its captivating natural beauty and, most notably, its beautiful sea and beaches. The island is ideal for travelers seeking a serene escape, and its enchanting coastal setting makes it the perfect location for a seaside mall. Awaji Island's beautiful sea serves as the backdrop to Chef's Garden and Ladybird Road, located next to each other. The seaside mall is a must-visit destination for both locals and tourists seeking a harmonious blend of shopping, dining, and coastal views.
A Seaside Mall Offering Authentic Japanese and Global Cuisine
Awaji Chef's Garden by PASONA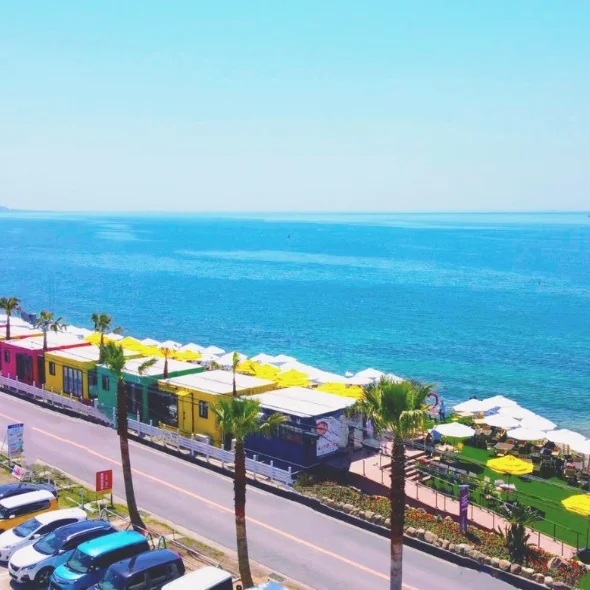 At Chef's Garden, you can find a fusion of regional flavors alongside an impressive selection of renowned specialty eateries from various corners of Japan. From the rich flavors of Awaji Beef, a celebrated ingredient known for one of the best meat varieties in Japan to a refreshing bowl of buckwheat noodles from a famous restaurant that has existed for 70 years, Chef's Garden has it all. The seaside mall offers a seaside terrace dining experience, accommodating over 600 visitors amidst the breathtaking coastal scenery.
This outdoor seaside mall adopts a distinctive approach by employing colorful shipping containers for each store, and for serving plates and cups, they opt for bagasse containers made from sugarcane pulp. Once customers are done with these containers, they are collected and composted, thus nurturing the company's farms and actively participating in the local resource recycling process. There are 27 restaurants at this seaside mall, but we will give you some options and recommendations to choose from.
1. Awajyu: Awaji-Wagyu Beef Specialty Restaurant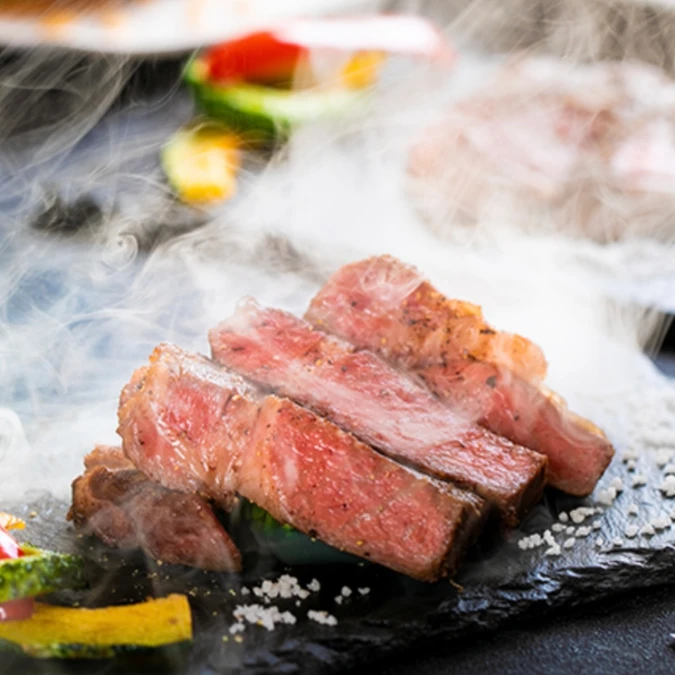 "Awaji Beef" holds a distinguished reputation, reserved exclusively for cattle with meticulously documented pedigrees and genetic attributes. Cattle must meet even more rigorous certification standards to earn the prestigious "Awaji Beef" title. These exacting criteria have led to the nickname "phantom beef," reflecting its exceptional rarity and scarcity in the culinary world. You will be able to enjoy a lot of beef dishes at this restaurant, but their specialty comes in two types of luxurious box dishes: "Awaji Wagyu Sukiyaki Jyu" which provides a strong yet refreshing flavor, and "Awaji Wagyu Steak Jyu" which provides a rich flavor from the steak.
2. 10W (Juwatto): Juicy, and Flavorful Kaarage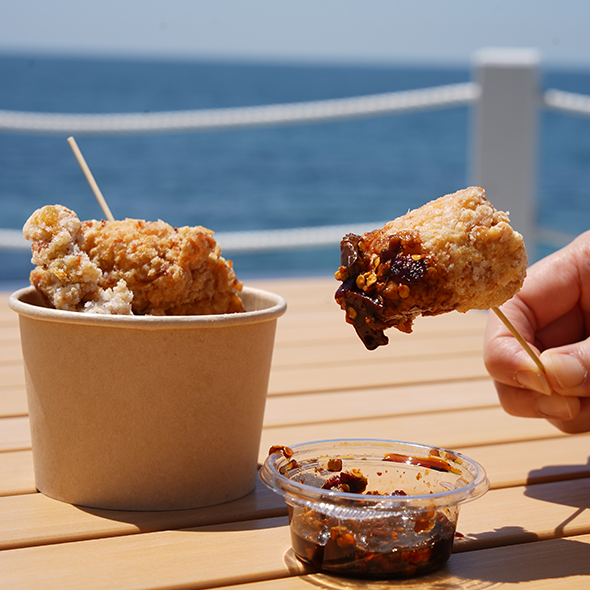 Few things can rival the sheer simplicity and delectable satisfaction of a classic serving of fried chicken, or "karaage". Yet, the fried chicken here provides a unique twist. The karaage at 10W is distinguished by a fermentation and aging process, enhancing and concentrating its flavors. What sets it apart even further are the five distinct sauces, working in harmony to tenderize the chicken by leveraging enzymes derived from koji (malted rice) mold, making it a health-conscious indulgence.
3. Hoshigaoka Seimenjo: Kishimen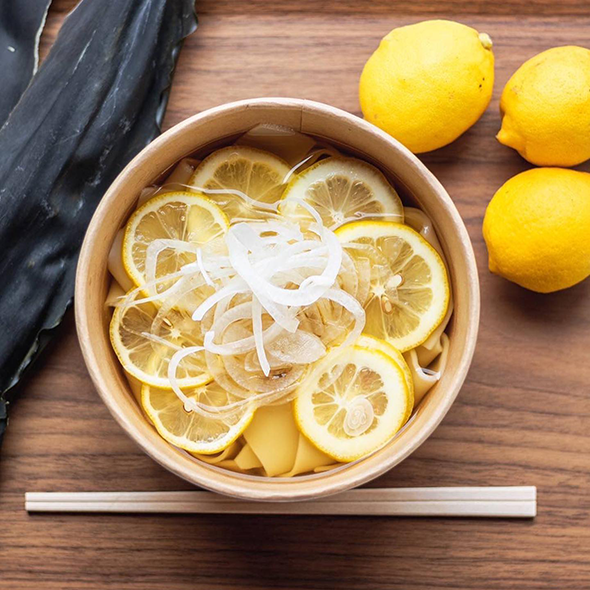 Hoshigaoka Seimenjo's renowned Kishimen, from Nagoya, the very birthplace of this dish, is now also available at Awaji Chef's Garden. Kishimen, featuring exceptionally wide and delightfully chewy noodles that resist breaking even when stretched, is one of the most refreshing dishes in Japan. The kishimen combined with meticulously chosen ingredients from Awaji Island resulted in a great opportunity to savor the silky, resilient, and invigorating noodles that invite visitors to savor every last slurp.
Visit here for more information about Awaji Chef's Garden.
Name
Awai Chef's Garden by PASONA
Address
57-3, Nojima Okawa, Awaji Shi, Hyogo Ken, 656-1723
Parking
Approx. 140 units
Phone Number
080-8177-4501
Website
https://www.awaji-chefgarden.com/
Business Hours
11:00~21:00 (last order 20:00) 
*Subject to change depending on the season and weather.
Click here for details of Awaji Chef's Garden
Ladybird Road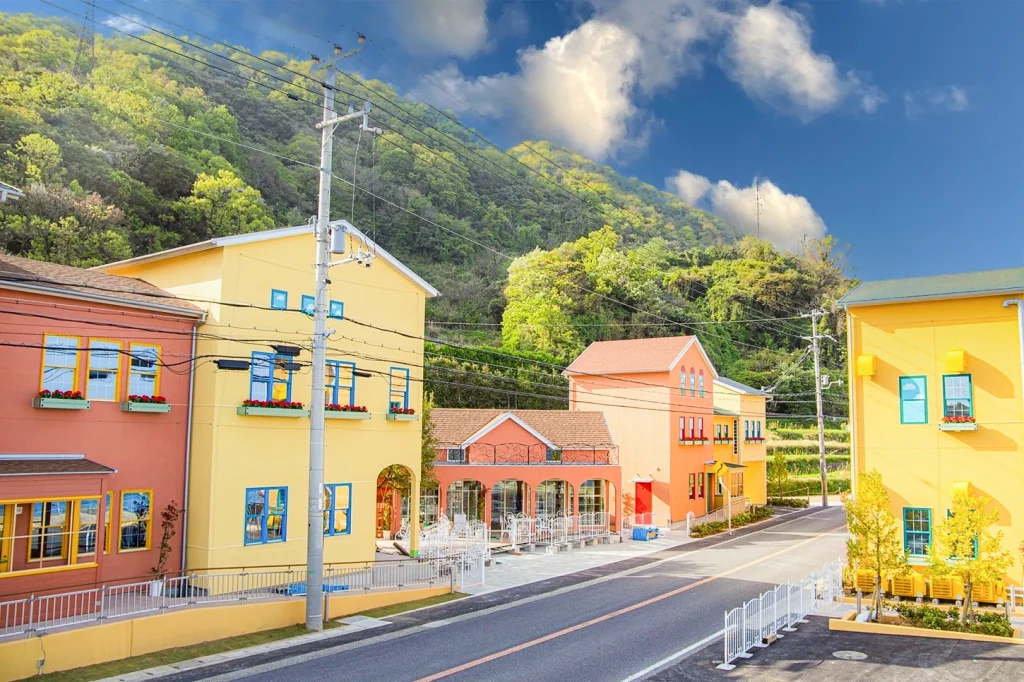 Just a stone's throw away from Awaji Chef's Garden lies a captivating seaside mall, designed to mimic the charm of a European townscape. Its colorful and elegant small buildings exude a Mediterranean ambiance that transports visitors to a world of beauty and sophistication. The seaside mall is not only for food enthusiasts with its array of global cuisine restaurants but also for shoppers. Here, you can explore unique stores that offer an eclectic range of items from various corners of the world. We will also be offering you top restaurant recommendations to help you decide where to dine.
1. KAENNABE Shangri-La: Chinese Hotpot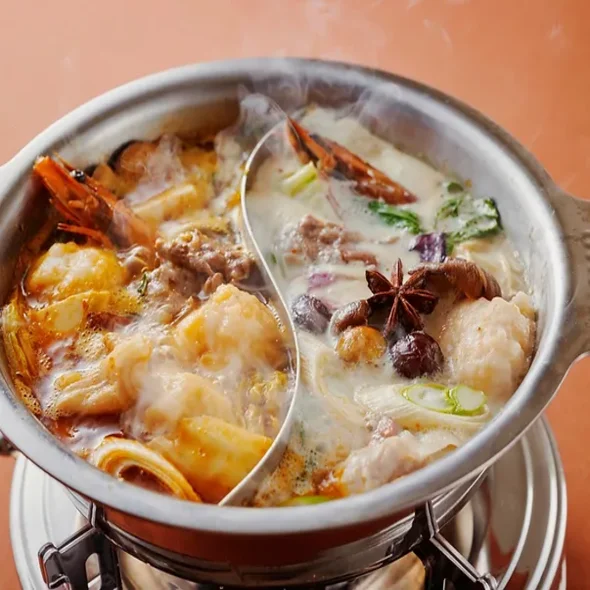 Shangri-la is a Chinese hotpot restaurant that excels in offering a delightful and customizable hotpot experience. The star of the show is the broth, allowing you to choose from an array of options to match your taste preferences perfectly. The high-quality ingredients from Awaji Island elevate the flavors and textures of your hotpot to a whole new level. Complementing this culinary journey are the numerous sauces available for your selection and mixing, enabling you to craft your ideal flavor profile.
2. Nojimahikinoura Shoten: Salt Ramen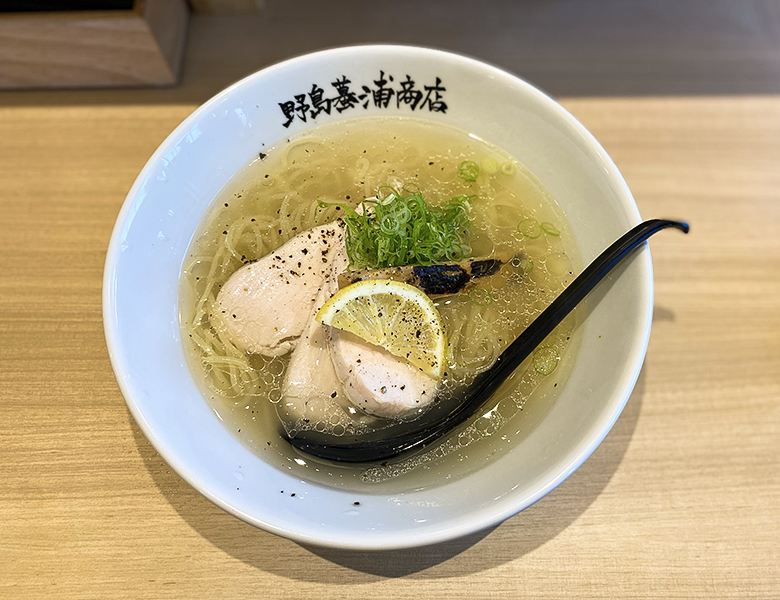 This unique ramen restaurant, renowned for its salt ramen in Osaka, Nojimahikinoura Shoten, presents a twist on the traditional ramen experience with a focus on Awaji Island's local ingredients. Their "Awaji Chicken Salt Ramen" features a refreshing lemon-scented broth, complemented by tender Awaji chicken or char siu pork. You can also savor "Island Premium Soy Sauce Ramen" and "Awaji Vegan DX Salted Cold Ramen", offering diverse and flavorful options to suit your preferences.
3. Vie Chocolat: Vegan Chocolate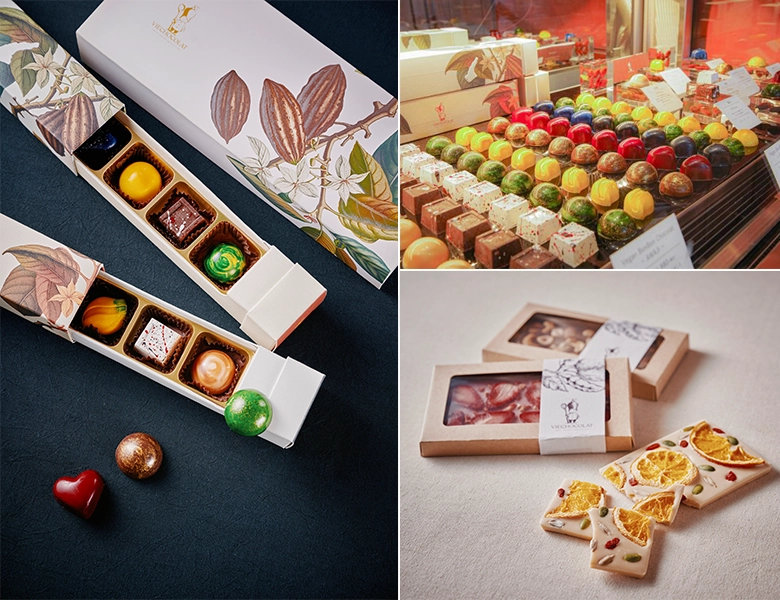 For all the sweet and chocolate enthusiasts who also prioritize health, there is a perfect spot at the seaside mall. You can indulge in a comprehensive range of vegan chocolates, crafted without eggs, dairy, white sugar, or any other animal products. This delectable collection includes unique flavors like "Lemon & Pistachio", "Yuzu & Ginger", "Basil & Strawberry," and more. These exquisite chocolates, as beautiful as precious gems, can be purchased individually, or you can opt for a box of 5 chocolates, ideal for gifting or simply as a delightful personal indulgence.
4. Global Market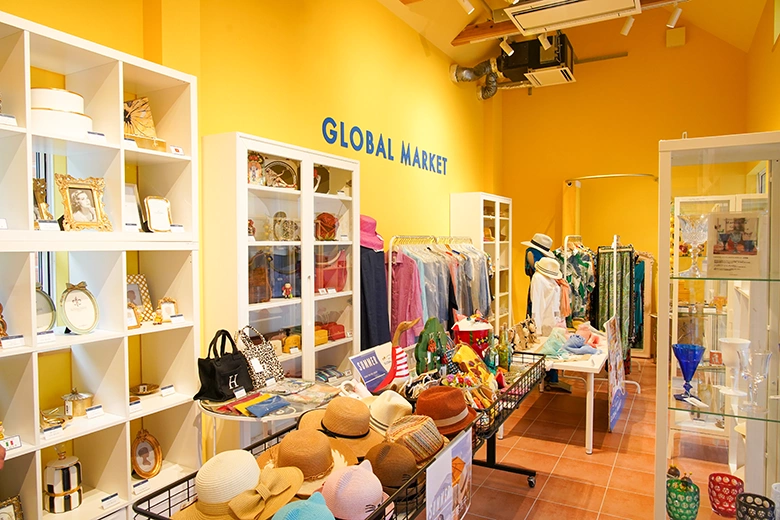 This store offers a wide array of traditional crafts and exclusive items sourced from both Japan and various corners of the world, such as Italy, France, Bali, Vietnam, Germany, Belgium, Poland, Sweden, and Thailand. Here, you can explore a captivating collection of diverse and one-of-a-kind products that reflect the artistry and craftsmanship of different cultures, making it a must-visit destination for those with a taste for the extraordinary.
In addition to the previously mentioned establishments, the seaside mall offers a wealth of other stores and restaurants, all conveniently situated in close proximity to one another. So, be sure to take a leisurely stroll through the mall and explore the various dining options that catch your eye. There is a delightful array of dishes and experiences waiting to be discovered, making it well worth your time to choose and visit the ones that stimulate your interest.
Visit here for more information about Ladybird Road.
| | |
| --- | --- |
| Name | Ladybird Road |
| Address | 95-2, Nojima Todoroki, Awaji Shi, Hyogo Ken, 656-1722 |
| Parking lot | 86 cars *Temporary parking is available nearby. |
| Operation Hours | Varies from store to store. |
| Tel | 0799-64-7530 |
A Seaside Mall with the Perfect Sunset Views
Awaji Island is known for the enchanting "sunset line" along Prefectural Route 31. It offers a splendid opportunity for visitors to witness the sun's exquisite descent over the Harima-nada Sea during the early evening hours. You will also be able to see the sunset views from Awaji Chef's Garden and Ladybird Road. Visit the seaside mall and enjoy Awaji Island's gourmet offerings at colorful seafront eateries, all while taking in one of the "Top 100 Sunsets in Japan".