It is said that more than 5 million Ukrainian refugees have fled to neighboring countries due to Russia's military invasion of Ukraine. In an effort to support the Ukrainian people, Pasona Group has launched the "Pasona Group Ukraine Support Project" to assist refugees coming to Japan, building new lives on Awaji Island, and developing new careers.
In addition to supporting the cost of evacuation to Awaji Island for refugees and their families, Pasona Group provides career and Japanese language training, employment opportunities, and other support for building a new life. The program has already supported several Ukrainian ballet dancers – Ukraine is a powerhouse in the world of ballet – but it also targets artists, IT engineers, and other experts of all sorts of industries to utilize their talents and skills to create a "Global Awaji Island".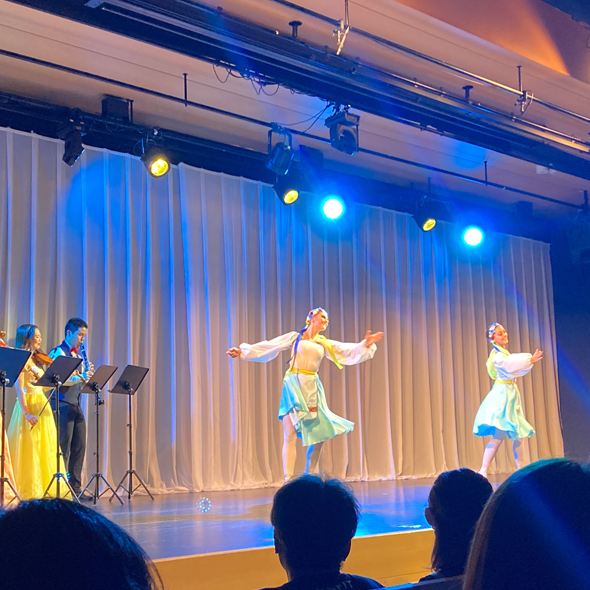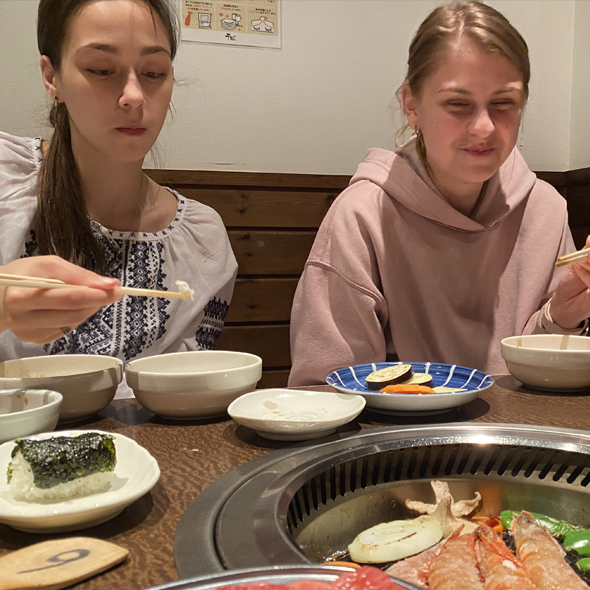 Profiles
Emi Hariyama
After graduating at the top of her class from the Bolshoi Ballet Academy, Hariyama joined the Stanislavski and Nemirovich-Danchenko Moscow Academic Music Theatre, the Boston Ballet, and more. She also danced in many major parts in the Berlin State Ballet led by Malakhov. She has received numerous awards, including the Special Prize at the Moscow International Ballet Competition, the Silver Medal at the Paris International Ballet Competition, and the Bronze Medal at the New York International Ballet Competition. In recent years, in addition to her activities as a dancer, she has been expanding her field of activity by planning and producing performances and being appointed as an Ambassador for International Exchange in Suita City and as the Dance Division Program Director of the Toyonaka Performing Arts Center. She has been profiled in Japanese well-known TV programs, "Jounetsu Tairiku" and NHK documentary program. She is a former visiting professor at Kobe College, and has extensive experience as a ballet instructor and competition judge both in Japan and abroad. She is the author of "Pointe Shoes that Dance the World."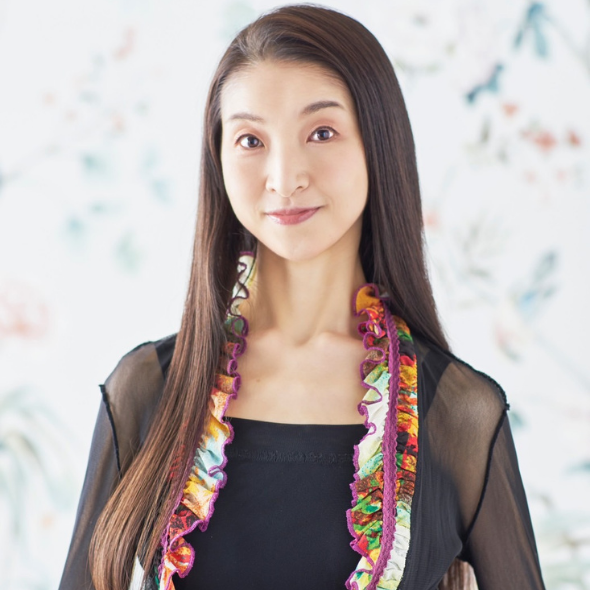 Margarita Dushakova
Dushakova laid the foundation for ballet with the Vaganova Method. She graduated from Kyiv Choreographic College (1992) as a professional dancer and was qualified as a choreographer at Kyiv National Pedagogical University. She has 25 years of experience as a ballet dancer and has performed in Europe and the United States as a soloist. She has been active in Japan for four years in Tokyo and Nagoya, and as a classical ballet teacher for three years at the Kyiv State Ballet School.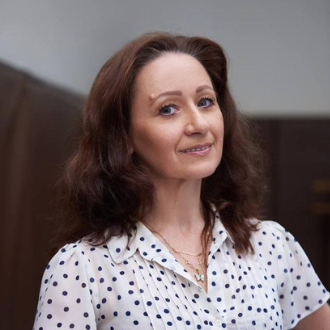 Svetlana Shlikhter
While studying as a professional ballet dancer at the Serge Lifar Dance Academy in Kyiv, Shlikhter performed as a soloist at the Kyiv National Ballet and participated in several classical and modern dance competitions. After graduating, she worked as a ballet choreographer for two years at the Lviv National Opera.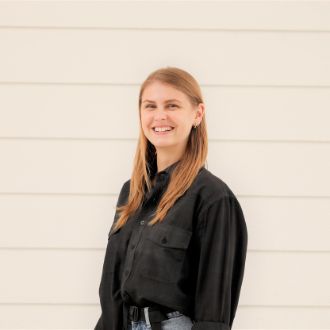 Nelya Ivanova
Ivanova completed her education as a ballet dancer at the Odessa College of Art and Culture named after K.F. Dankevich. After graduating, she worked as a dancer for two years at the Lviv National Opera. She has performed in ballet masterpieces such as The Nutcracker (solo part), Don Quixote, Giselle, Swan Lake, and Esmerelda.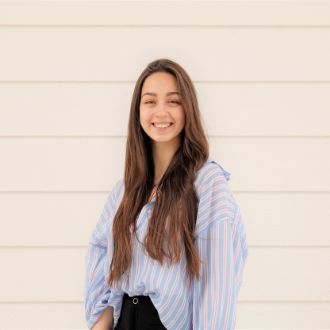 Interview with Ukrainian Ballet Dancers
We had the chance to speak with two of the Ukrainian ballerinas, Nelya Ivanova and Svetlana Shlikhter.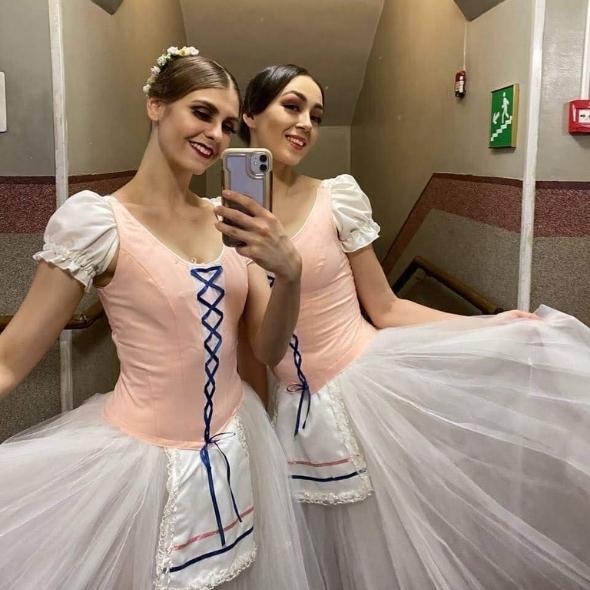 Q.How did you start ballet?
Nelya Ivanova:I started at a ballet studio that my mother found. Ballet became the only thing in my life.
Svetlana Shlikhter:My mother took me with her when I was 11 years old, and I started learning. Eventually I started working at the Lviv National Opera. Before I started, I never thought that I would learn to dance, especially ballet. My mother gave me that opportunity – I fell in love with ballet and continued to learn.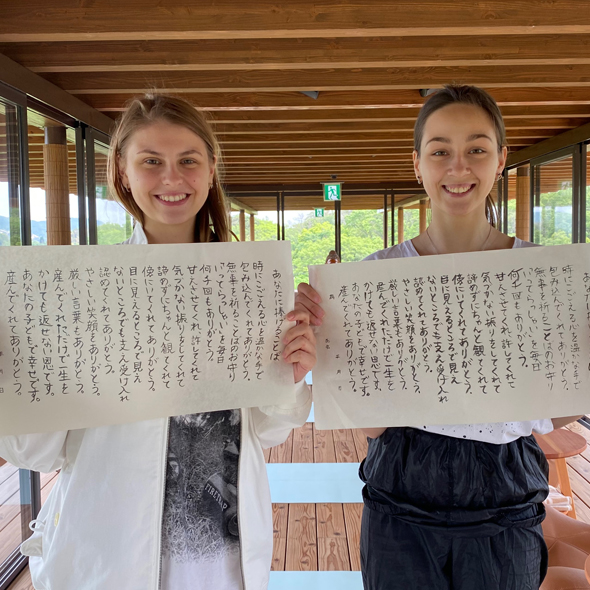 Nelya Ivanova:The nature is beautiful and serene. I have learned a lot about Japan from living on Awaji Island.
Svetlana Shlikhter:I love the beautiful sea, fresh air, and vast natural scenery. I want to learn about and experience the culture of Japan that is not always in pictures.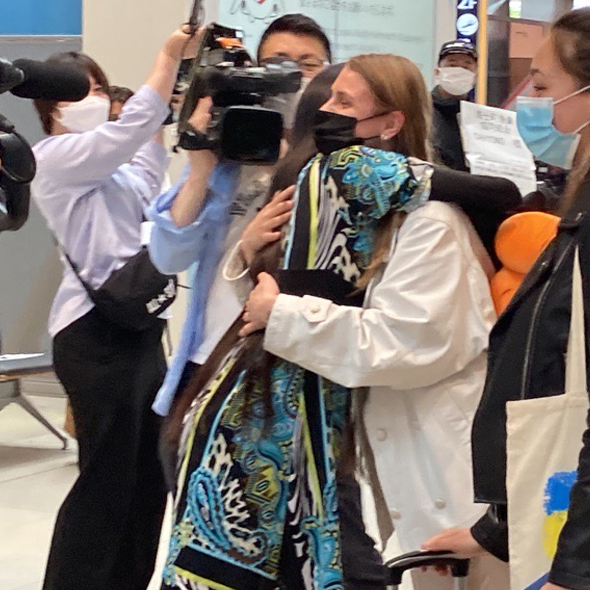 Q. What was your life like before coming to Japan?
Nelya Ivanova:There were many things that happened before I came to Japan. It became difficult to perform at our theater, so we went to theaters in Italy and other places. The war began and sirens would ring constantly. I was very scared at first, and we had fewer and fewer performances. The most frightening thing was the reality that a war had begun.
Svetlana Shlikhter:I agree.
Q. As a Ukrainian, what do you want to convey to everyone? 
Nelya Ivanova:We are safe now, but we are worried about our relatives and friends who are still in Ukraine, which is still at war. We are confident that the day will come when Ukrainians can return home in peace.
Svetlana Shlikhter:I believe that the war that has killed many people will end, and we can return to our normal lives.
Q. What do you want to do as a ballerina?
Nelya Ivanova:I want to dance in concerts and challenge myself to try new things.
Svetlana Shlikhter:I agree.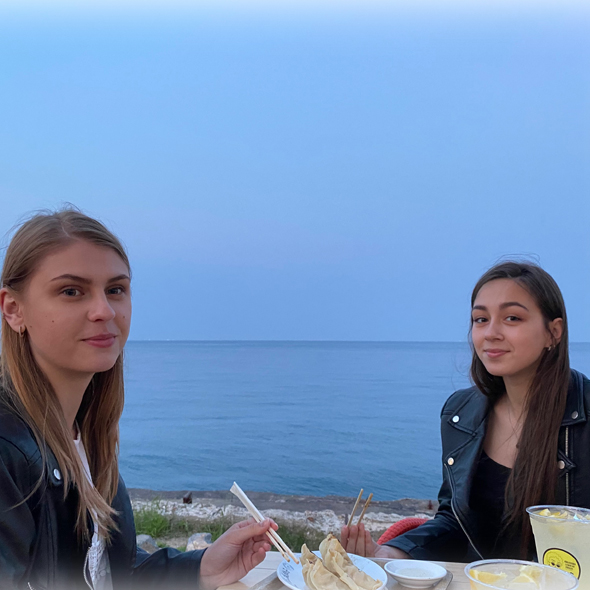 Q. Do you have a favorite restaurant or dish on Awaji Island? 
Svetlana Shlikhter:The fish is so delicious. It's interesting trying new food that Ukraine doesn't have. Everything is delicious. 
Nelya Ivanova:I go to the supermarket sometimes to buy ingredients, and I learn a lot whenever I do. I like learning about Japanese ingredients that are not known in Ukraine. I've also been trying many new dishes.
Q. Lastly, do you have a message for everyone? 
Svetlana Shlikhter:We hope that you enjoy our performances. I would like to show you the ballet and culture of Ukraine.
Nelya Ivanova:We will show you ballet as an art and as a part of Ukrainian culture. We would be so happy if you could come and see us. 

Pasona World Ballet Tent Theater
"Pasona World Ballet Tent Theater", built next to "Seikaiha Naminori-tei" on Awaji Island, is a new facility that hosts ballet performances by ballet dancers, a ballet school, and workshops. It is a valuable place to experience the performance of active ballet dancers who were active around the world up close.