It's that time of year again when the charming season of Shine Muscat has come to Awaji Island. These delectable grapes, in season from August to October, can be eaten at some facilities along the west coast of Awaji Island for a limited time. In this article, we will introduce the charms of Shine Muscat and where you can eat them on Awaji Island.
What is Shine Muscat?
Shine Muscat is a variety of seedless green grape known for its distinctively sweet and aromatic flavor. It is a popular table grape variety, often consumed fresh as a dessert or snack. Shine Muscat grapes are characterized by their large size, round shape, and skin that is typically pale green to yellowish. The grapes have a unique muscat flavor, which is sweet and floral, with a very pleasant aroma.
SEIKAIHA Uminoya: Shine Muscat Sweet Cake
At SEIKAIHA Uminoya, the star of the show is undoubtedly the exquisite Zuccotto Cake, beautifully revealing its Shine Muscat from the very first slice. The Muscat Zuccotto cake is a fruity delight, generously adorned with locally grown Shine Muscat, imparting a sensation of eating in the whole fruit itself rather than a cake. The combination of the distinct textures, refreshing sweetness, and aromatic Shine Muscat makes this a must-try sweet.
As you try the Shine Muscat Zuccotto Cake, you will also appreciate the nostalgic charm of this Japanese-Western restaurant, located in a retro Western-style house with panoramic ocean views. To enhance your dining experience, professional musicians also provide live music.  
Farmer's Restaurant Haru San San: Shine Muscat Parfait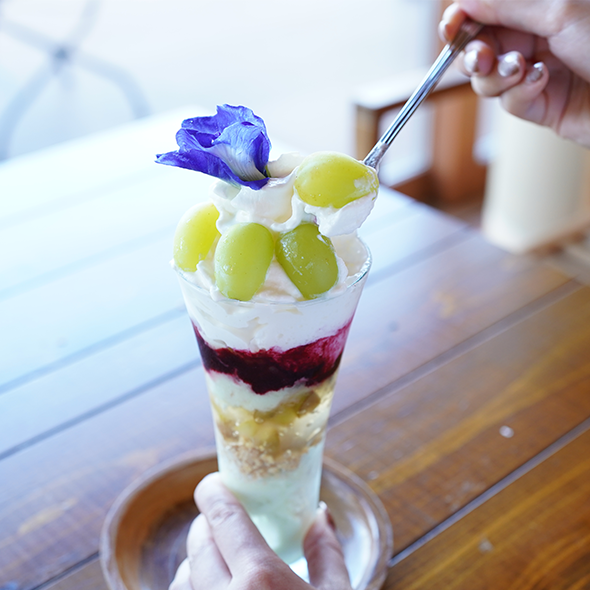 Haru San San offers their "Seasonal Shine Muscat Parfait", a decadent delight that gained massive popularity last year. This parfait has layers of jelly, crumble, sherbet, nougat, foam, and a lot of Muscat, creating a perfect combination of textures, sweetness, freshness, and autumnal sharpness. As you eat the Shine Muscat, complemented by the sour-sweet blackcurrant and the gentle sweetness from the foam, you will be impressed by this dish that encapsulates the essence of autumn.
Do not forget to look at the surroundings when you visit the restaurant. Haru San San's inviting surroundings include a field where freshly picked vegetables take center stage for their popular lunch and café dishes. The thatched-roof building, designed by the renowned architect Shigeru Ban, showcases an eco-friendly approach to its construction.
Miele the DINER: Shine Muscat Parfait Bowl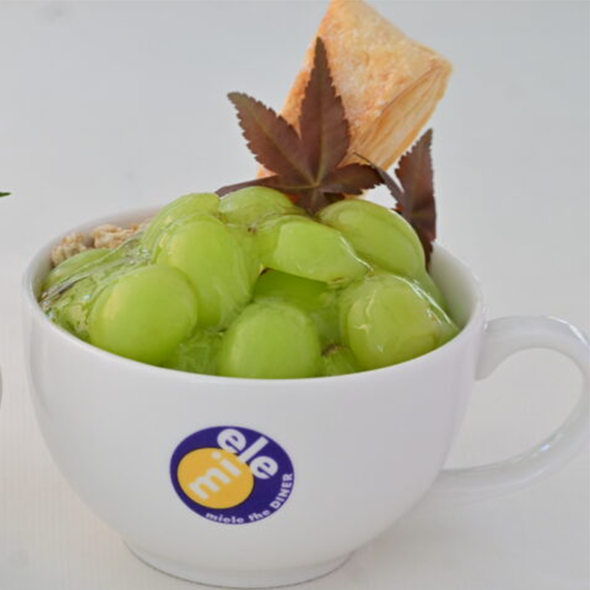 Miele the Diner adds a special touch to your Shine Muscat experience with limited-time parfait bowls. The parfait bowls are parfait uniquely decorated in a bowl with an abundance of Shine Muscat. If you prefer tarts, you will find two tempting choices – one graced with chestnuts and the other with Shine Muscat.
Closing
The west coast of Awaji Island is your gateway to time-limited sweets showcasing the beauty of seasonal fruits. In this article, we have introduced Shine Muscat and where you can find them on Awaji Island. However, Awaji Island has more autumn ingredients to offer. Come and join us on Awaji Island and sample the taste of autumn.