The World Expo is a large-scale global event that brings countries and companies together to showcase their innovations and culture. The exhibitions take place at various locations worldwide for a designated duration. World Expo Osaka 2025, hosted in Japan, aims to address global challenges and promote sustainability.
Pasona Group is a renowned multinational corporation that will be among the companies with a pavilion at the expo, displaying its commitment to innovation and a better future. This article provides valuable insights into this visionary project for Pasona Group's pavilion, accompanied by enlightening comments from none other than President Nanbu himself (YouTube below in Japanese only), offering a glimpse into the group's extraordinary vision.
Pasona Group has named its Pavilion at the Osaka Expo 2025 "PASONA Natureverse" (a compound of the words "Nature" and "Universe"). The pavilion embodies the concept of gratitude for life – Thank you for Life (Inochi, Arigatou), seeking to express appreciation for the wonders of existence.
The pavilion was designed by renowned architect Satoshi Itasaka, under the title "The Spiral of Life (Inochi no Rasen): From Ammonite to iPS Heart", drawing inspiration from the captivating ammonite spiral. Satoshi Itasaka, recognized for his notable works such as "Hajimari no Shima, Aman no Shokutaku" and "PASONA Global Hub Square" on Awaji Island, will bring his expertise to this remarkable project.
Location of Each Pavilion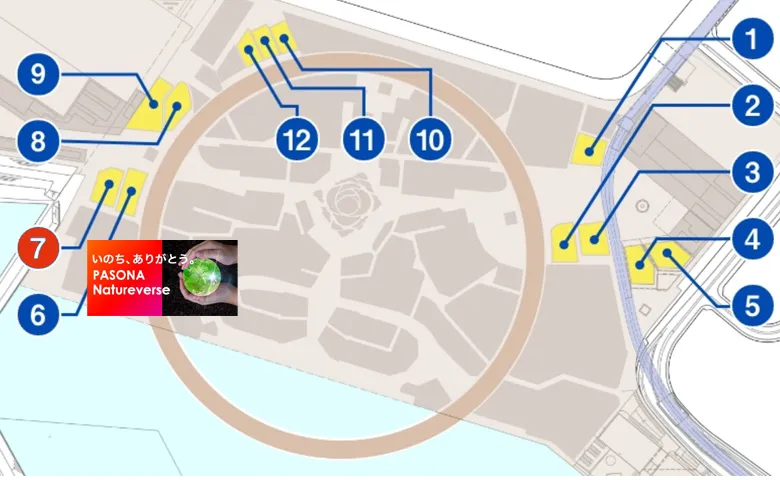 1) Nippon Telegraph and Telephone Corporation (NTT)
NTT PAVILION 2025 NATURAL: Between Life and IT
2) Federation of Electric Power Companies
Electric Power Pavilion (tentative name)
3) Sumitomo EXPO 2025 Promotion Committee
Sumitomo Pavilion
(4) Panasonic Holdings Corporation
Panasonic Pavilion (tentative name)
(5) Mitsubishi Osaka-Kansai Expo General Committee
Mitsubishi Future Pavilions
(6) Yoshimoto Kogyo Holdings Corporation
Yoshimoto Pavilion (tentative name)
7) Pasona Group Inc.
PASONA Natureverse
8) Zeri-Japan Non-Profit Organization
BLUE OCEAN
9) Bandai Namco Holdings Inc.
Gundam Pavilion (tentative name)
10) Tamayama Digital Tech Corporation
First Ambition & Innovation (tentative name)
(11) Japan Gas Association
Gas Pavilion
(12) Iida Group Holdings Corporation
Iida Group & Osaka Public University Joint Exhibition Pavilion
Media Coverage
Kensetsu Tsushin Shimbun (January 23, page 11, with photo)
Nikkan Kensetsu Kogyo Shimbun (January 23, page 8, with photo)
Rajitopi (electronic version, January 23, with color photos)
The article in Rajitopi (electronic version) is available at
What is the Osaka-Kansai Expo 2025?
The Osaka-Kansai Expo is set to take place for an impressive duration of 184 days, from April 13 to October 13, 2025. Located in Yumeshima, Osaka, the expo is expected to draw an estimated 28.2 million visitors, making it a truly momentous event.
Guided by the theme "Designing a Future Society where Life Shines Brightly," the Expo embraces three sub-themes: "Saving Life," "Empowering Life," and "Connecting Life." The main concept is "Testing Ground for Future Society," fostering innovation and progress. The character representing the Expo is named "MYAKU-MYAKU", featuring a red section symbolizing cellular division and multiplication, while the flowing blue part represents the nature of pure water. It is a mysterious character that can change its shape as it flows.
The official theme song for the Expo is "Kono Hoshi no Tsuzuki wo" by Kobukuro.
The Meaning Behind Pasona Group's Ammonite Pavilion for Osaka Expo 2025
The Pasona Group's pavilion takes on the remarkable shape of an ammonite spiral, serving as a profound symbol of life. Ammonites, having originated around 400 million years ago, have persevered through three major mass extinctions, including the Ice Age, showcasing their resilience and longevity. This spiral form, representing the helical shapes, can be observed in cosmic nebulae and powerful typhoons on a grand scale, as well as in the DNA structure on a microscopic level. Through the pavilion's design, the Pasona Group seeks to convey a profound message of interconnectedness and a truly vibrant world where gratitude resonates among individuals.
The Pasona Group hopes that visitors to the pavilion will be deeply touched by an overwhelming sense of gratitude for life. Through the pavilion which showcases the history of life, the wisdom of humanity that nurtures and sustains it, and the visionary design of a future society, the pavilion aims to inspire a world where gratitude exists within each individual.
The 2025 Osaka-Kansai Expo will be the second largest international event after the Tokyo Olympics and Paralympics. We hope that everyone will look forward to the event.